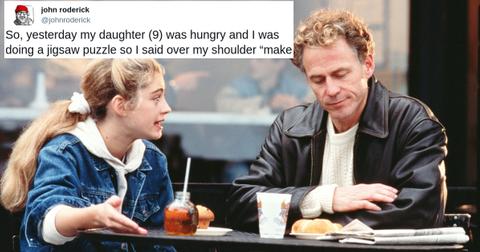 Dad Doesn't Let Daughter Eat Unless She Can Figure Out How to Use Can Opener
By Mustafa Gatollari

Jan. 3 2021, Published 4:54 p.m. ET
The line between helping your kids and empowering them to solve problems on their own is a fine one. Letting kids know that they can come to their parents for help while encouraging them in situations where they have to figure out things for themselves is a priority for many. Nobody wants to raise a person who isn't self-sufficient.
Which is probably why this Twitter story — posted by a father who has since been dubbed "Bean Dad" — is getting such a wild response on the social media platform.
Article continues below advertisement
John Roderick's Twitter story about his daughter learning to use a can opener earned him the nickname "Bean Dad."