Blind Golden Retriever Gets a Puppy to Help Him, and Now They're Best Friends
When Tao lost his sight, he couldn't do everything a dog should be able to do. But when Oko the puppy came into the picture, everything turned around.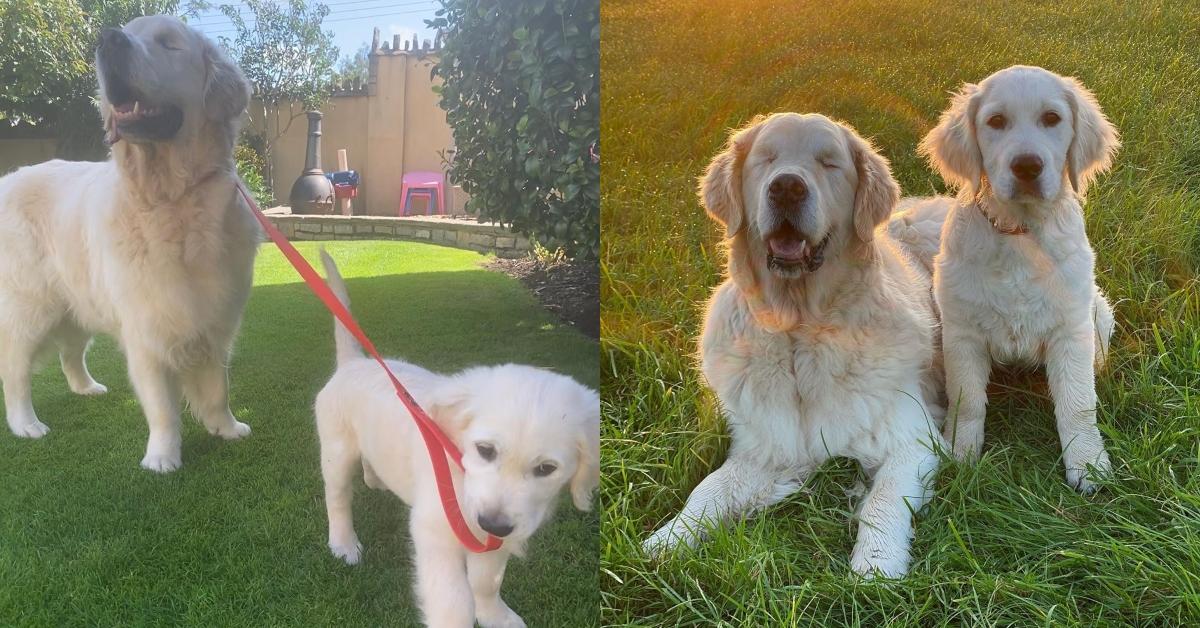 Usually, dogs are the ones leading blind people around. But what happens when you're a blind dog? Why, you get a guide puppy pal, of course! Tao and Oko have gone viral because they're extremely adorable and they prove that guide dogs aren't just helpful for humans.
Article continues below advertisement
Tao the golden retriever wasn't always blind. But once he lost his sight, he got a puppy pal named Oko, another golden retriever, to help him navigate the world. And together, they're unstoppable (not to mention super cute).
Article continues below advertisement
Tao was already an Instagram star, with over 14,000 followers. So once Oko came along, fans suddenly got twice the cuteness in the same account!
Tao had to have both of his eyes removed after he developed glaucoma. He's 10 years old, but he's as youthful as ever and did extremely well after the surgery, said his owner, Melanie Jackson. Mel told LAD Bible that she first noticed that Tao was having problems last year.
Article continues below advertisement
So she took him to the vet, who diagnosed the pup with glaucoma. One of his eyes was removed at the time, but within a year, the other one had to be removed as well. Mel said, "Glaucoma is the build-up of fluid in the eye — it's got nowhere to drain away. If you can imagine a migraine and times it by a hundred — that was the pain he was in."
Poor pup! The whole ordeal started in February 2019. "We had a normal morning," Mel said. "Everything was absolutely fine. But you just know when the dog is not his normal self. By the night, he was in the most pain I have ever seen so he took him to the vet.
Article continues below advertisement
"He was scratching his face. I said [to the vet], 'You are going to think I'm mad, but Tao has lost his sight.' The pressure was so high in his right eye. We didn't have any other choice but to have the eye removed."
Article continues below advertisement
Mel wants to share Tao's cuteness with the world, sure, but she's also hoping to help spread awareness of glaucoma in dogs to prevent other pets from going through what Tao went through.
"People who are going to buy puppies, ask the question," she said. "It's taken an immense amount of time and training to get him to this point."
Article continues below advertisement
She now works with The Kennel Club to help identify dogs that might be prone to glaucoma. Tao had a specific DNA marker that signifies the possibility of developing glaucoma. If it is caught early enough, it's treatable, and dogs don't need to lose their eyes.
Article continues below advertisement
But Tao has adjusted beautifully to life as a blind dog, and a huge part of that is thanks to his new best friend, Oko. Oko helps him navigate the world and feel sure on his feet. That's what best friends are for, after all.
Although Oko joined the family fairly late in Tao's life, the two quickly became inseparable pals. Tao probably trains Oko to follow the rules and be a good dog, and Oko helps Tao avoid walking into walls and leads him to all the good toys. You truly love to see it.