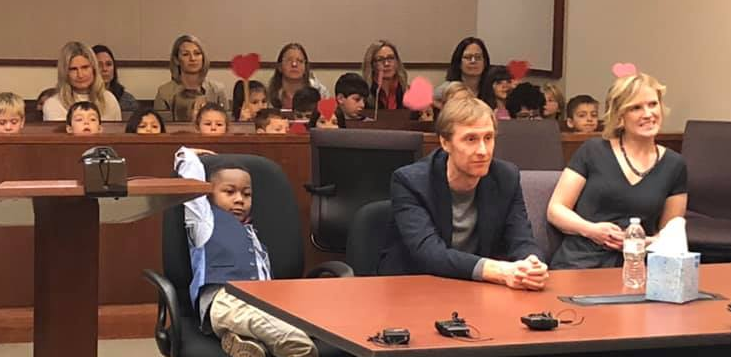 Boy Invites Entire Kindergarten Class to His Adoption Hearing
A boy in Kent County, Michigan, brought his extended family to witness him legally become part of his own family. Michael Clark Jr. was one of 37 foster children who were adopted during the Kent County court's annual Adoption Day Thursday.
Article continues below advertisement
And as well as his new mom and dad, Michael decided to bring along his entire kindergarten class for the event. Dozens of Michael's classmates attended the event along with their teacher from Wealthy Elementary in East Grand Rapids.
And yes, the pictures are just as adorable as you'd imagine.
Article continues below advertisement
Andrea Melvin and Dave Eaton, who have been Michael's foster parents for a year, said they decided to invite his class because they've been a family to Michael too.
"We were thinking, 'How can we build our family?'" Melvin told WoodTV.
Michael then cut in to add: "I love my Mommy!"
"And there are so many options, right, for building a family these days," Melvin continued.
"I understand we are joined by Michael's kindergarten classroom and teacher," 17th Circuit Court Family Division Judge Patricia Gardner announced as Michael's adoption hearing came up.
The children came alongside Michael's teacher, Kerry McKee, who got the kids to make heart signs to support their classmate on his big day.
Article continues below advertisement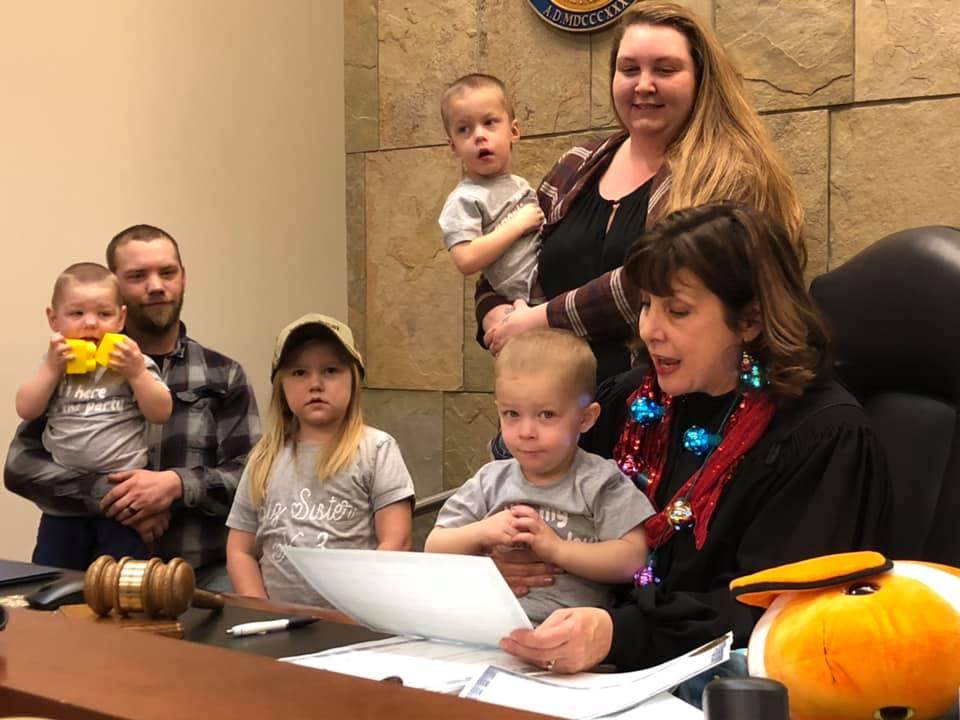 "The lesson is put a little love in your heart. We rise when we support others," McKee said.
McKee has obviously had a big effect on Michael, with the boy saying: "I love Mrs. McKee."
Eaton seemed to agree, saying: "He loves Mrs. McKee. We asked him and he said, 'You know, the class is kind of my family.' And he wanted them to be there."
Article continues below advertisement
While adoption hearings are usually held privately, they're held very publicly one day a year to encourage adoption.
Melvin and Eaton were quick to encourage others to try fostering a child if adoption has ever crossed their mind: "If it's something that's crossed your mind, you should consider it and get trained and just see what it's all about."
Michael's adoption photo went viral on Facebook, attracting over 113,000 shares and thousands of supportive comments.
One user wrote: "Huge props to the teacher, school and family for making this happen! So cool!"
While another added: "Aaaawwww. If those two are the parents they have different expressions. Yet each are filled with love and excitement. He looks like he is a chill lil dude."
One commenter concluded: "This is incredible! There is no shortage of love in this room, that's for sure. Congrats to Michael, all of his friends, and his new family!"