Six years after the Breaking Bad finale, Netflix has finally come out with the made-for-streaming film sequel, El Camino.
The movie picks right back up with Jesse Pinkman (played by Aaron Paul), set just after. But it turns out Jesse isn't the only returning character from the original FX series. If you're wondering which Breaking Bad characters will be in El Camino, expect to see some familiar faces.
Which Breaking Bad characters are in El Camino? Obviously, Aaron Paul.
Jesse, the beloved meth cook, dealer, and sidekick to Walter White will be the main focus of the Emmy Award-winning show's sequel film.
According to NPR, the movie is going to follow Jesse as he's on the run from the police. While he's getting a taste of freedom after being held captive, he's also grieving the trauma of getting in trouble, and being the reason for the death of two people he's loved.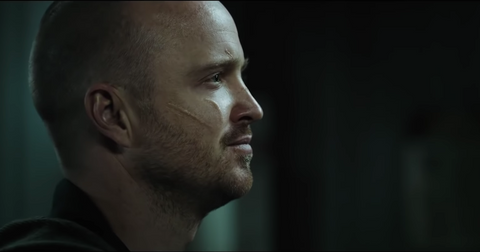 There are also several returning supporting characters.
After escaping from being held captive, according to The Independent, Jesse contacts two of his old buddies, Skinny Pete (played by Charles Baker) and Badger (played by Matthew Lee Jones).
One of Walt and Jesse's most reliable contacts, Old Joe, (played by Larry Hankin) also makes an appearance early on, as well as Jesse's parents (played by Michael Bofshever and Tess Harper), who Jesse calls before fleeing to Alaska.
Jesse also pays a visit to Saul's "last resort option," Ed, who you may know as "The Disappearer." According to Cinema Blend, after stumbling upon a secret stash of cash, Jesse wants to start a new life.
And he believes that Ed may be able to help him do this.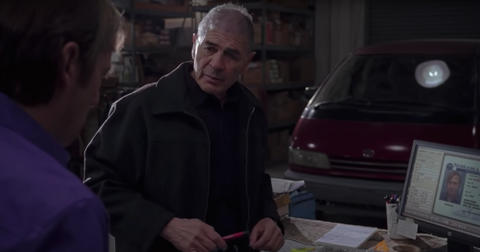 However, a number of returning characters only appear in flashbacks.
Walter White (played by Bryan Cranston) is obviously dead, but he shows up in a flashback scene, according to The Independent, in which he's telling Jesse to go to college.
Todd (played by Jesse Plemons) also shows up in a flashback to show what Jesse's life was like when he was being held captive. The scene shows Todd letting Jesse out to clean up his dead cleaning lady's body.
You may also recall Kenny (played by Kevin Rankin), a member of Tom's white supremacist group. He returns in a flashback, taunting Jesse when he's locked up.
And since Jesse will truly never be over Jane (played by Kristin Ritter) she, too, is featured in a flashback scene. RIP.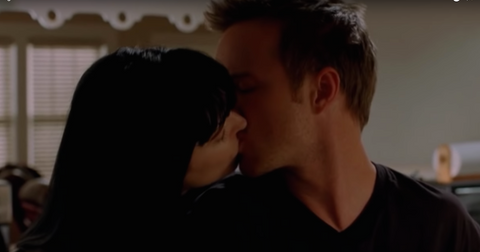 According to reviews, El Camino is "worth the watch."
According to Mashable, the reviews have been overall quite positive. Judy Berman from TIME said it "feels like a continuation of [the show] without also feeling like merely an extra-long TV episode."
Similarly, Shirley Li from The Atlantic said Aaron Paul "fully re-inhabit[ed] a role he hasn't played in years." Bottom line: it sounds great.
So it seems like the release of El Camino is definitely making today a flashback Friday.
With so many characters reprising their roles from the show, which ended in 2013, you'll feel like you've stepped into a real-life time capsule. Now, get cookin.'