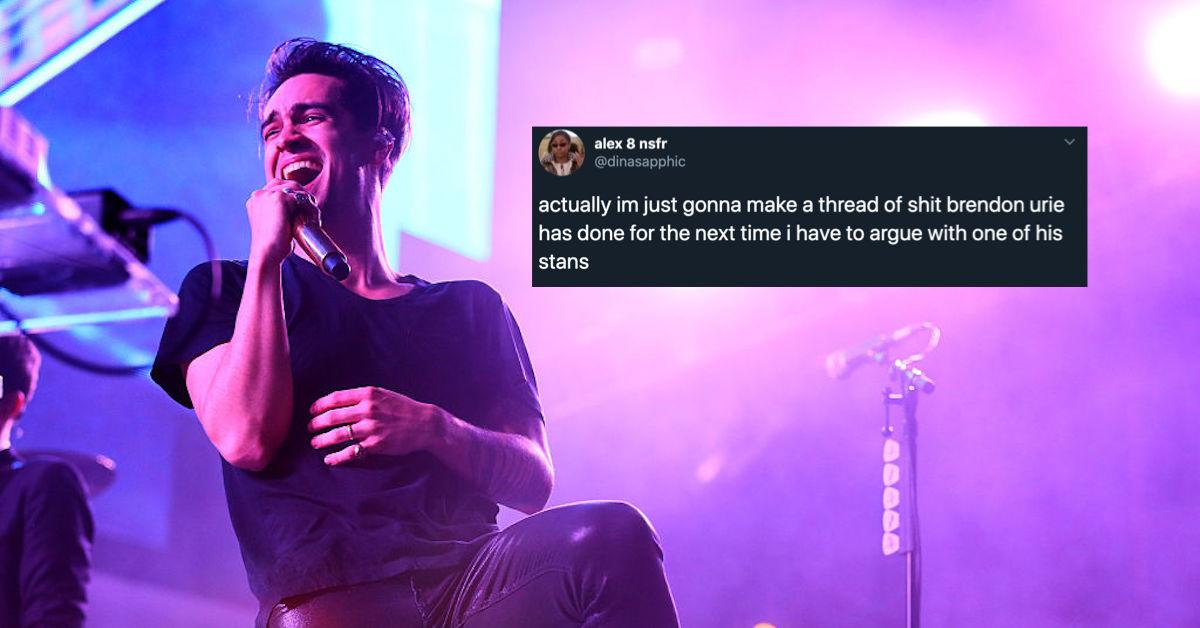 Why Fans Are Demanding #BrendonUrieSpeakUp
In the wake of accusations of sexual misconduct by Panic! At The Disco guard Zack Hall, the band is facing yet another major controversy. Frontman Brendon Urie has been accused of sexually assaulting a minor. With the rise of the new allegations, Urie's history of racist, sexist, and ableist actions, in addition to other times in which he touched someone without their consent, have come back to light.
Article continues below advertisement
Brendon Urie's latest controversy revolves around a new sexual assault allegation.
At the end of July, Urie was urged to speak up when band member Dallon Weekes' wife Breezy Weekes came forward to say that she faced sexual harassment by Panic! At The Disco bodyguard Zack Hall. He neglected to do so, and now he is being asked to speak up again, this time as he faces his own allegations. Twitter user @kam02700814 shared the experience he had with Urie in 2009.
Though he informed Urie that he was a minor, Kam says that Urie asked if he'd ever made out with a man before. When he said no, the singer then lamented that he tried to make out with his band member who wouldn't let him. When Urie attempted to touch Kam's thigh, he says that he ran away from the singer.
Article continues below advertisement
In the wake of Kam's statements, more accusers have come forward. Twitter user @leah62053062 says that she had a similar thing happen in 2011, when she was 15. As her friends left a concert to attend a party, she says that she was invited backstage, where she met Urie. When he called her beautiful, she responded that she was 15, to which he responded, "I didn't mean it like that. Can I not compliment a beautiful girl?"
Article continues below advertisement
She says, though, that after sitting on a couch and talking together for a while, he began placing his hands on her inner thighs. He then kissed her neck and attempted to grab her butt. She says that she ran out quickly when she felt him touch her genitals.
These allegations have caused more past controversy to come back up.
Article continues below advertisement
At one point, he also may have admitted to reportedly sexually harassing former Panic! bandmate Ryan Ross.
Twitter user @dinasapphic tweeted Urie's long list of shocking offenses, and honestly, things aren't looking good for him.
Article continues below advertisement
Did Brendon Urie use the N-word?
Using the N-word is never acceptable, even if it's just a lyric in someone else's song, and fans have caught Urie singing it on various occasions. According to @nerdjpg he was caught doing this during a livestream, and @dinasapphic called him out for doing so as well.
@dinasapphic also noted that Urie decided to recite Chris D'Elia's monologue "I Wish I Was Black" at one of his concerts, with no additional context. Fans were confused by this seemingly misplaced reference, and perceived it as seriously tasteless.
Article continues below advertisement
Article continues below advertisement
On multiple occasions, Urie has joked about raping fans.
In a disturbing video, Urie can be seen on stage saying, "If I see you after the show, I'm gonna f--k you. I don't care if you want it. I more care if you don't want it. Because then I really want it."
In another video, he can be seen talking about having wet dreams about his audience members, who @dinasapphic notes are primarily underage women. He goes further, explaining to those who don't know what a wet dream is that he's "straight up gonna f--k you in my dreams."
He exhibited disrespectful behavior to the LGBT community.
Although Brendon Urie has since come out as pansexual, he has said some relatively questionable things about the LGBT community in the past. In a past interview, he appeared to fetishize bisexuality, saying it was "attractive," despite still claiming he was straight.
Article continues below advertisement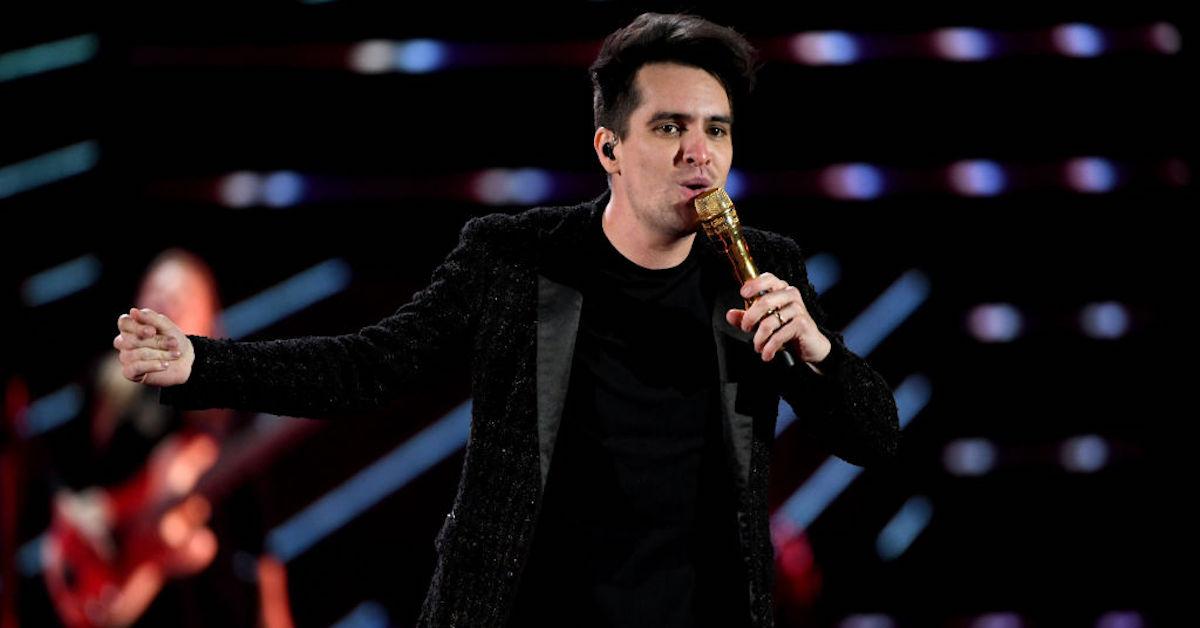 Many also feel he inappropriately poked fun at the trans community. When someone asked if he was a 9-year-old in skinny jeans and leather, he responded the comment was "offensive to 9-year-olds, jean-gendered and leather-gendered people."
Article continues below advertisement
At one point in 2015, Urie also apparently compared Caitlyn Jenner and Rachel Dolezal, a white woman who lied about being black and transracial, via Periscope. He also joked that, if he was born with a penis and a vagina, he would get nothing done because he'd play all day.
He's also under fire for laughing at an ableist joke, and for reportedly making sexist comments.
@dinasapphic called out Urie for laughing at an ableist joke reportedly made by Hall about a nun with Down Syndrome. While he didn't make the comment himself, the Twitter user felt he didn't have to egg on the joke in the manner that he did.
Article continues below advertisement
He has also made sexist and slut-shaming comments in regards to his song "Miss Jackson." While on stage, he described the song as being about "a girl I used to f--k. Yeah, I had sex one time. It was cool. But then she started to f--k all my friends while we were f--king." @dinasapphic noted that this was even more problematic considering it references Janet Jackson's "Nasty," a song about women's empowerment.
Article continues below advertisement
He can also be seen on video making additional comments about women such as, "To all the desperate girls on Vine, show us your boobs and that would be just fine."
Urie also may have admitted to kissing a former bandmate without consent.
Urie calls it "stage gay," others call it sexual assault. Apparently, the singer admitted to kissing his former bandmate, Ryan Ross, on the lips and on his neck on-stage, despite the fact that Ryan said he didn't like it, according to @dinasapphic. He also admitted to doing this in front of their friends, after drinking a few beers.
Article continues below advertisement
Additionally, @dinasapphic noted Urie said men should come out about their #MeToo stories, despite the fact that he outwardly admitted to making passes at Ryan against his will.
Article continues below advertisement
Fans continue to ask for Brendon Urie to speak up and address the many allegations against him.
If you need support, The National Sexual Assault Hotline is available 24/7 at 1-800-656-4673. You will be connected with a trained staff member in your area. Or visit RAINN.org to chat online with a support specialist at any time.