How a Fake Murder Became Twitter's Top Trending Topic
A hashtag calling for justice for Carolyn Gombell's murder has been trending all day on Twitter, linking Donald Trump to the murder of his personal assistant.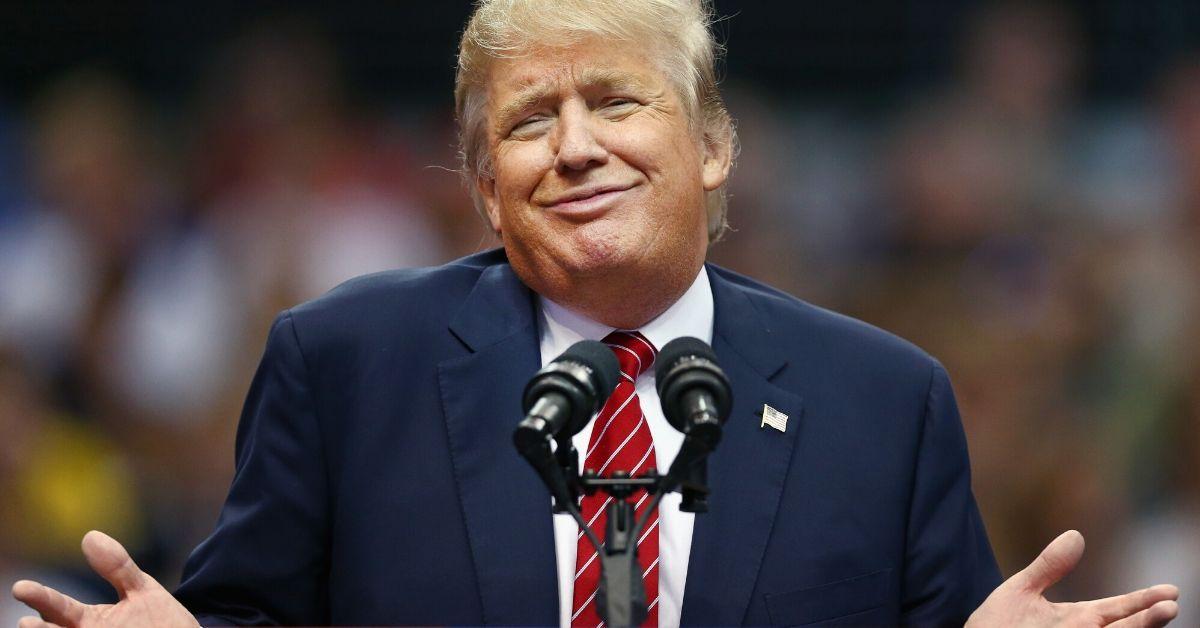 If you've been on Twitter today, chances are you came across the #JusticeForCarolyn hashtag. It's been trending all day, originating from a tweet by the popular parody account @TheTweetOfGod. The tweets detailed the murder of a woman named Carolyn Gombell and linked it to the current president, Donald Trump.
Article continues below advertisement
Where did the Carolyn Gombell murder story originate?
On May 26, @TheTweetOfGod sent out a tweet to its 6.1 million followers that read, "Donald Trump killed his personal assistant, Carolyn Gombell, in October 2000." The tweet continued, "He strangled her because he'd gotten her pregnant and was threatening to tell the press. Then he bribed NYPD Police Chief Bernie Kierik to cover it up. IT'S TIME TO INVESTIGATE." It then added the hashtag #JusticeForCarolyn.
Article continues below advertisement
The account then started a thread, adding more details to the story. "FACT: Carolyn Gombell's mother has AN AUDIO RECORDING of her daughter the night before she was killed saying, "If something happens to me it was Donald," a second tweet said.
Article continues below advertisement
The thread continued with even more details about the Carolyn Gombell murder, and the connection to Donald Trump. Other details included matching forensics, a page in the autobiography of Bernie Kierik where he allegedly details covering up a crime for a real estate developer, and a "suicide" of the roommate of Carolyn Gombell.
The thread ended calling for people to not fall for the coverup and urged people to get justice for Carolyn.
Article continues below advertisement
So, why are we only hearing about the Carolyn Gombell murder now?
We're only learning about this whole thing now because Carolyn Combell is not a real person, and she never was. Additionally, Bernie Kierik doesn't exist but Bernie Kerik was commissioner of the New York Police Department. The whole point of #JusticeforCarolyn and the following tweets is to campaign against Twitter's decision to not delete or censor tweets sent by Donald Trump that accused Joe Scarborough of murder.
Article continues below advertisement
On May 24, the president tweeted, "A lot of interest in this story about Psycho Joe Scarborough. So a young marathon runner (Lori Klausutis) just happened to faint in his office, hit her head on his desk, & die? I would think there is a lot more to this story than that? An affair? What about the so-called investigator? Read story!"
Article continues below advertisement
This wasn't the first time he brought up the story, tweeting just the day before alleging there is more to the story.
Article continues below advertisement
After the Donald Trump tweets, the husband of Lori wrote a letter to the CEO of Twitter, Jack Dorsey, asking him to remove the tweets that pointed to falsely accuse Joe Scarborough of being at fault for his wife's death.
Donie O'Sullivan, a reporter for CNN later tweeted that the request by Lori's husband was denied. "Despite plea to @jack from Lori Klausutis' widow, Twitter says this morning it will NOT be removing Trump's tweets that insinuate @JoeNBC was responsible for Klausutis' death," he wrote.
Article continues below advertisement
The plea by her widower didn't stop Donald Trump from continuing to tweet about this situation. Days later, he tweeted about Joe Scarborough again saying, "The opening of a Cold Case against Psycho Joe Scarborough was not a Donald Trump original thought, this has been going on for years, long before I joined the chorus. In 2016 when Joe & his wacky future ex-wife, Mika, would endlessly interview me, I would always be thinking...."
Article continues below advertisement
According to Fox News, Twitter issued a statement regarding the President's continued tweets regarding Lori's death. "We are deeply sorry about the pain these statements, and the attention they are drawing, are causing the family. We've been working to expand existing product features and policies so we can more effectively address things like this going forward, and we hope to have those changes in place shortly," a Twitter spokesperson told Fox News.