Cashier Blasts Customers Who "Forced" Her to Stay Late, Sparks Debate
A TikToker gets accused of trying to "guilt trip" a customer so they can close the store despite being open 30 minutes after closing.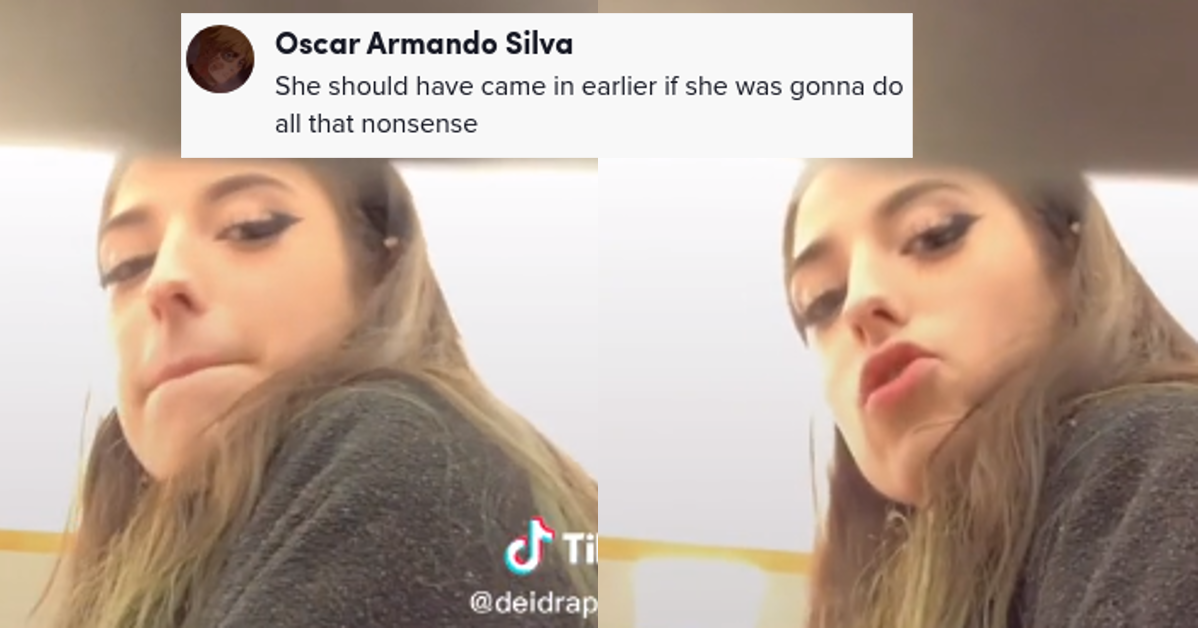 There are a lot of high-profile business execs and even hourly employees who would argue with the notion that "the customer is always right." Take Steve Jobs, for example, he was very much concerned with exacting his vision of tech products and functionality, even if there was an outcry at the beginning against them. Today, Apple is worth over $2 trillion, so yeah, maybe the customer was wrong about hardware keyboards on smartphones.
Article continues below advertisement
And if you work in retail, you'll definitely agree that there are many instances where the customer is most definitely wrong or at least in the wrong. Like when they try and get employees to factor in their own employee discounts, or magically make an item appear in their size, or ignore the litany of other customers they're assisting and drop everything they're doing to help them.
Let us not forget about the customers who think it's a good idea to shop right when a store is closing and expect the folks working there who are ready to get home to keep the store operational so they can purchase to their heart's content and leave whenever they feel like it.
This is probably why there are so many TikTokers reacting to this video posted by @deidrapimental.
Article continues below advertisement
In the clip, she records an encounter she had with a customer who was upset that she wasn't trying to stay open well past her shift ended, even though she had been closing out for the past 30 minutes and they were there some 15 minutes after the store officially closed.
Article continues below advertisement

Employees typically begin the close-out process of the stores they work in some 15 to 30 minutes prior to the doors being shut, however, the shopper stayed in the store and was there some 15 minutes after it's official closing time.
Article continues below advertisement

The employee recorded her interaction with the woman explaining that they had to close up.
"However, we have been closed for well over 15 minutes," the TikToker says.
"Oh, you're gonna put the guilt trip on me," the customer says.
Article continues below advertisement

"I hate to do it, but I've been here since at least 3 o'clock." The customer then follows up by asking if all of the coupons they've given the retail worker and the appropriate discounts for the items have been applied to the order.
Article continues below advertisement

"Your bill right now is $228.27," the employee tells the customer.
"Are you serious?" the customer says.
"Everything that should have come off did come off," the TikToker assures the shopper.
Article continues below advertisement

"There's something wrong. Two-hundred-and-something dollars, and there's nothing really that—most of it is fruit and vegetables. I didn't even do deli or anything," the customer says, further extending the interaction with the worker, forcing them to stay after even longer than they already have.
Article continues below advertisement

The shopper's behavior irked a lot of TikTokers who said that this was unfortunately similar to many of their own experiences while working retail.
Some remarked that it was ridiculous for the customer to take it out on the employee that the "cost of living" increased.
Article continues below advertisement

Others thought that if they knew they were going to spend a lot of time in the store and being as pedantic as they were, then they should've come in earlier.
What do you think? Should the customer read the room? Or should the employee have been more upfront at the start of their interaction that they only had until a certain time to help them?