Tenant's Negative Review of Apartment Gets Management to Break Her Lease for No Charge
A tenant shared their "lease break hack" on TikTok after the owner of their apartment building allowed them to break their lease without fees.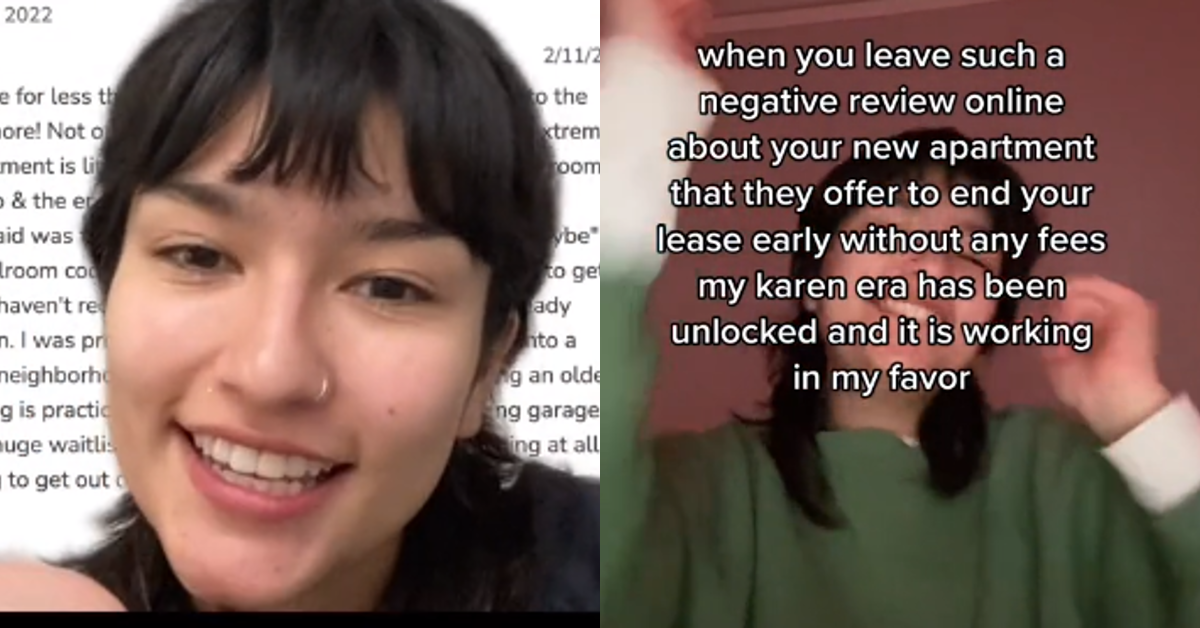 To say that the United States has a housing problem would be a massive understatement. The median cost of homes increased by a whopping 16% from 2021 and 2022. Much of that increase is attributed to massive investment/financial institutions being allowed to purchase affordable homes and plots of land that would otherwise be reserved for families and are instead turned into corporate "flipping" opportunities.
Article continues below advertisement
It's looking like the current state of housing, which was already in dire straits prior to 2021/2022, is starting to closely resemble the student loan crisis: with debts and interest rates so massive that individuals are unable to pay them back. Many have argued that this is a trademark of Joe Biden's, as he lobbied for a removal on the cap on Federal Student Loan aid as early as the '70s.
Now with investment firms buying homes above asking price, folks are afraid that they'll artificially jack up the prices of all homes, forcing folks to get into mortgage agreements that'll take them forever to actually pay off without any actual equity.
With people being unable to qualify for financing these homes, they'll have to turn to renting, which means big profits for property owners.
But even renting comes with a slew of additional costs outside of owning a home, something this TikToker learned the hard way.
Article continues below advertisement
But learned, and dealt with it they did. User @iamjessvaladez wrote that they weren't exactly stoked with the new apartment they were staying at and aired their grievances online about how much they disliked their new place.
Article continues below advertisement

Since many people base their purchasing decisions on personal reviews left by others (and it's usually easy to spot which reviews are genuine or not with a few taps/clicks) online, it's understandable why many businesses would want to make sure that their online ratings are as high as they can possibly be.
Article continues below advertisement

Some companies will even go so far as to message a customer privately asking for more context/information about their less than stellar experience, asking for different ways that they can fix whatever the issue is. Depending on how tactful the customer service rep is, they may ask or just flat out expect the reviewer to either take down or edit their rating.
Article continues below advertisement

For Jesse, the negative review that she posted to Apartment Ratings actually culminated in her saving a good amount of money in fees, as well as being able to break the lease to her apartment without any additional issues or penalties.
Article continues below advertisement

She celebrated this fact in a now-viral TikTok with a seated dance. A text overlay on the clip reads: "When you leave such a negative review online about your new apartment that they offer to end your lease early without any fees."
Article continues below advertisement

The clip continues with Jesse writing: "My Karen era has been unlocked and it's working in my favor."
Jesse would go on to share screenshots of the reviews she left on the website, stating that the building's mailroom was broken into and management didn't do anything to address the fact that a bunch of her packages was stolen.
Article continues below advertisement

She also added that the walls in the building were thin and finding parking was extremely difficult, and that the floors inside of her living space were very lopsided.
Article continues below advertisement

Other TikTokers began sharing their own stories of customer complaints: whether it was someone getting $100 worth of gift card love from The Olive Garden, people being harassed by doctor's offices that they left negative reviews on.
Article continues below advertisement
While Jesse poked fun at herself for being "a Karen" others rejected this idea, stating that when it comes to paying a grip of money for your living situation, it should be well worth the price.
What do you think? Did she go about things the right way and if you're renting, do you think that whoever owns your building would need to be dissuaded to break your lease free of charge with a negative review?
Or are you giving up on the rental life and living in an RV/custom-made tiny house off-the-grid somewhere, because you refuse to participate in the insanity that is the housing market right now?