Expecting Dad Applauded for His "Honest" Conversation on Pregnancy in Viral TikTok
A couple shared an honest conversation they had about wanting children on TikTok and it garnered a variety of reactions.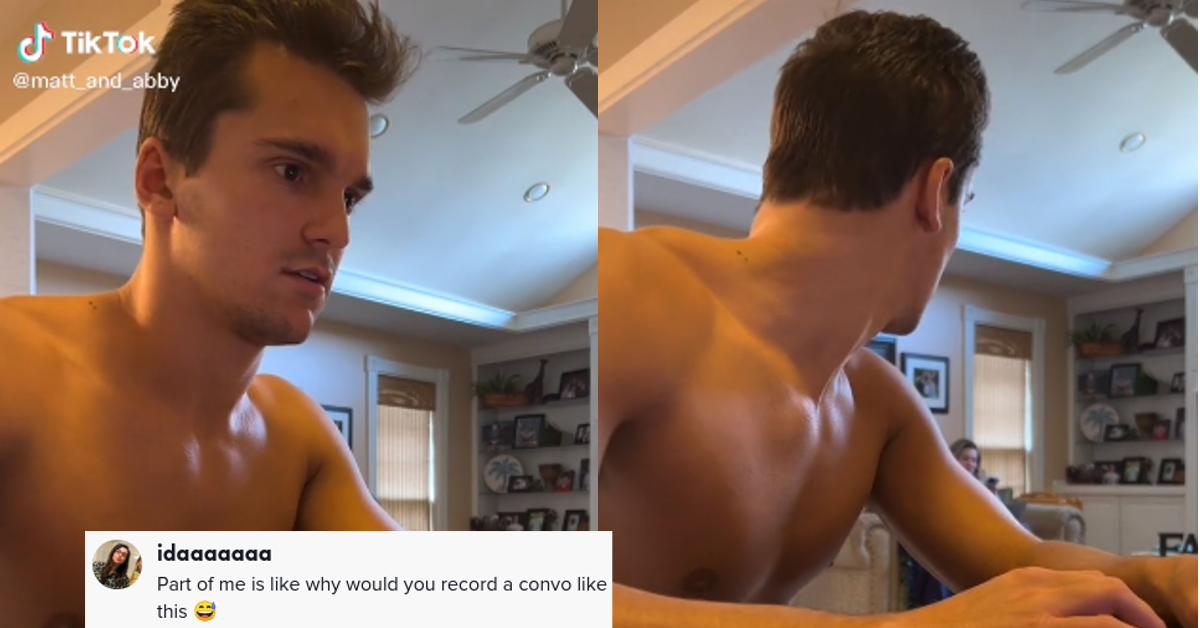 People are putting more and more of their personal lives on social media and it's kind of difficult to believe whether or not they're doing so from a place of authenticity. That's because many Influencers have specific brands that they're trying to shill, which constantly brings up conversations about "Instagram vs Reality."
Article continues below advertisement
That's not to say adopting a specific persona for a fulfilling reason can't be authentic, however, as it all depends on the reason that one is adopting that persona. If you're naturally an introverted individual who has a danger of public speaking and you want to become a stand-up comedian, for example, working on your personality from that introverted place to become someone who is unafraid to talk in front of audiences can be healthy.
But with social media, there's always the question of "clout." It's no secret that there are tons of Influencers out there who make decent livings garnering revenue off of TikTok and YouTube posts, not to mention the brand deals they can secure after getting large followings on other platforms like Instagram, Twitter, and Facebook too.
This could be why there's a debate circulating this now-viral TikTok from couple Matt and Abby.
Article continues below advertisement
The TikTokers have a massive following of 3.2 million users and often make posts about their relationship, via typical TikTok tropes: text overlay videos with enthusiastic gesticulations and synchronized dance routines. They also make posts about tons of "couple" things that they do: shopping together, doing dishes, assembling IKEA furniture, and discussing their upcoming pregnancy.
Article continues below advertisement
A lot of their most recent content has been centered around the fact that they're going to become parents for the first time, and one clip from Matt, in particular, is garnering a ton of reactions. In the video, it looks like the TikToker has set up his phone to record a candid discussion between the two of them.
Article continues below advertisement
In it, they talk about the fact that they don't necessarily feel "ready" to be a mom and dad. Abby in particular shared her fears with pregnancy and labor itself, and all of the "variables" associated with it. She even expressed that she felt somewhat "selfish" thinking this way, which is something that many commenters said was not the case.
Article continues below advertisement

Some users offered up words of comfort to the couple: "Childbirth is hard but my mom always says that a lot of moms forget how hard it was when they get to hold their precious new baby☺️+ U got this!"
Article continues below advertisement

Many others said that the talk they had is "so normal" and that it's important for more couples to discuss their fears surrounding parenthood so candidly.
Article continues below advertisement

But there were some who found the process of recording and uploading their discussion a bit odd, especially the transition from having a frank talk about their readiness for parenthood to "OK let's put this on TikTok."
Article continues below advertisement

However, since Matt and Abby regularly post about their lives on social media, it could very well be that this is par the course for their dynamic. What do you think? Should specific aspects of one's personal life remain offline? Or are Matt and Abby helping to foster more healthy conversations about parenthood between couples?