Barista Blasts Customers Who Try to Use Gift Cards at Barnes & Noble Starbucks
A Starbucks Barista who works at a Barnes & Noble location took issue with customers using gift cards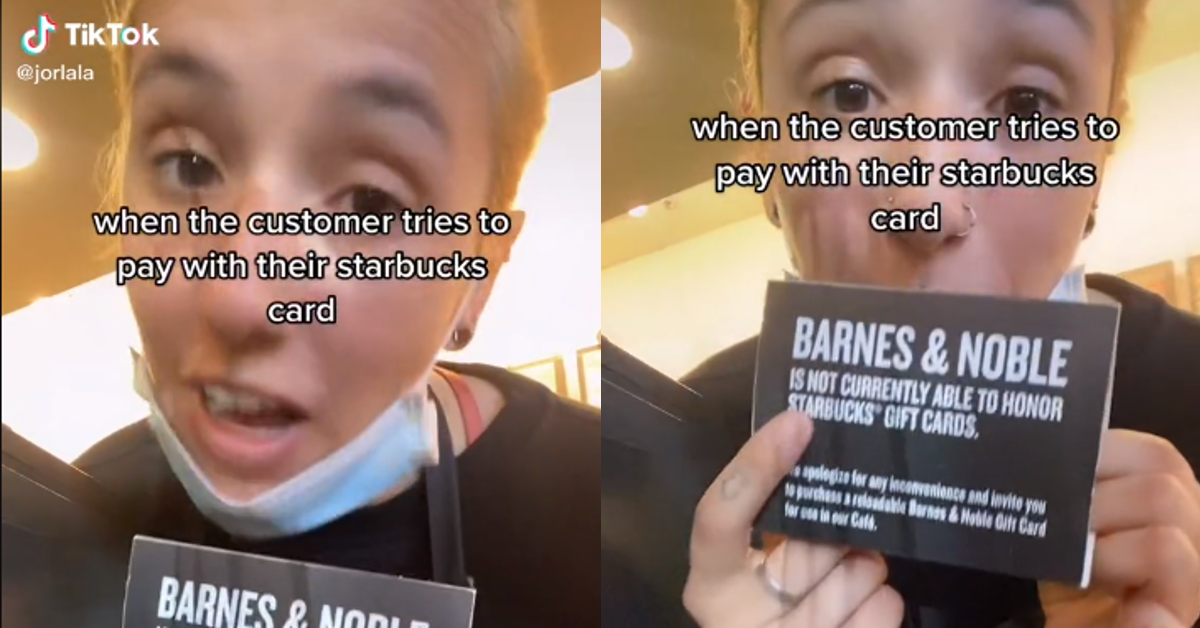 A 2021 count of all Starbucks locations places a massive 33,295 franchises of the coffee shop worldwide, with slight aberrations in that total number varying from report to report. Forbes has placed the chain's total worth at a whopping $52.83 billion, so it shouldn't come as a surprise that there are tons of different places where you can find the Seattle-based coffee/fast food provider.
Article continues below advertisement
Airports, retail stores, university campuses, and book stores like Barnes & Noble locations will regularly sport a Starbucks location, and these particular spots operate a little differently than some of the "fully corporate" 'Bucks franchises.
Sometimes they won't offer particular featured beverages, nor do they honor certain promotions, like free birthday drinks.
A recently uploaded TikTok that went viral features yet another disparity between corporate Starbucks locations and at least one particular franchise that operates out of a Barnes & Noble book store: they don't accept gift cards.
User @jorlala uploaded a clip showing off a sign that indicates they don't accept gift cards as they exasperatedly explain that some customers just can't seem to get the hint.
Article continues below advertisement
A text overlay in the video reads: "when the customer tries to pay with their Starbucks card" as they lip-sync a vulgar line calling the customer behavior "embarrassing." The caption for the clip reads: "ma'am this is a bn cafe !!"
Article continues below advertisement

Starbucks' website states the following when it comes to eligible locations that allow the use of Gift Cards: "Most Starbucks stores in North America including Puerto Rico accept your Starbucks Card. Certain Starbucks-branded locations may not permit you to use the Starbucks Card for payment, including some airport, grocery and bookstore locations, or stores in Guam."
Article continues below advertisement
The site continues, "To find out if a store will accept the Starbucks Card as a payment method, please inquire at that store or visit https://www.starbucks.com/store-locator. Any store that lists "Digital Rewards" as one of its amenities is a store that accepts the Starbucks Card."

Article continues below advertisement

Article continues below advertisement
The TikToker's post started a chain reaction of baristas and foodservice employees calling out customers who don't pay attention to signage: "I WORK AT A BN CAFE TOO. We have a literal sign that says we don't take the app and ppl still try to use it."

Article continues below advertisement
"Regulars who try to pay with the gift cards or the app like every day are a different breed. I'm like 'girl we just did this yesterday,'" another commenter added.
Others chimed in by saying, "signs are just decorations in customer service jobs."

Article continues below advertisement
"No matter how big the sign is, they won't read them," @jsoccer55 wrote.
However, there were other commenters who stated that it isn't the fault of the customer not knowing the difference between Starbucks location protocols, and pointed out that the text on the sign is too small too read.

"That's so tiny to read man I print all my signs at 62 in Microsoft," @bigtiddygothbeth penned. But other TikTokers said that no matter how large the sign is, they still receive questions from customers that are clearly explained in said signage.
What do you think? Does the TikToker have a point? Or are they just nitpicking about a minute detail in a job they clearly aren't having fun at, and taking that personal dissatisfaction out on the customer?