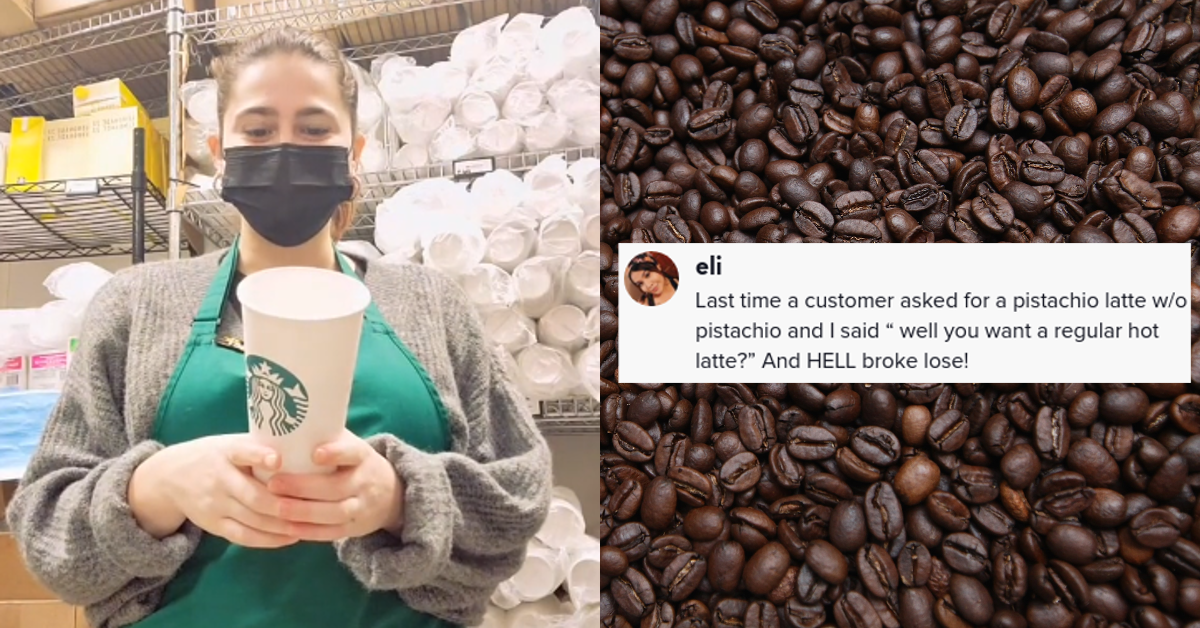 Barista Creates Poem Out of "Ridiculous" Starbucks Order in Viral TikTok
A Starbucks Barista got TikTokers sounding off on all the strange orders they received in a viral clip, but some folks pushed back.
There are more and more TikTokers uploading content about what life on the job is like on a daily basis. Take Dylan LeMay for example, who garnered a massive following by recording footage of him making Cold Stone concoctions. Dylan's initiative took him from being an ice cream maker to a brand ambassador of sorts for the company, and the extra money he earns from making TikToks is probably a pretty sweet bonus.
Article continues below advertisement
While the majority of Dylan's content is seemingly predicated on how much fun he has crafting desserts for Cold Stone customers, there does seem to be a large number of employees who lament about the ways they've been treated at the workplace or lambasting customers for some of their orders.
Thanks to mobile ordering applications, customers can customize their meals/beverages to their heart's content, and Starbucks is a franchise that really takes that mantra to heart. There are throngs of Baristas who have no problem sharing some of the most insane drink orders that they've ever received.
One TikToker even went so far as to make fun of a coffee drinker's order so much that they performed it as a piece of poetry.
Article continues below advertisement
It elicited a bunch of different reactions. There were some folks who nodded their heads in agreement and were absolutely befuddled by some of the flavor combinations that the chain's customers came up with.
Article continues below advertisement

A bunch of other questions were posed: like how in the world did someone discover that this was the beverage that they wanted? Others speculated that many mobile order customers basically tick off boxes as if they are a child just willy-nilly adding whatever it is that they want to their personalized drink.
Article continues below advertisement

Others were particularly perplexed by this specific order which consisted of a "Grande Cinnamon Dolce Latte with no Cinnamon Dolce Syrup, almond milk, whipped cream, extra cinnamon Dolce topping, 2 pumps of vanilla, 2 pumps of peppermint, light foam, and vanilla sweet cream cold foam in a Venti cup."
Article continues below advertisement

Baristas began sharing their own order horror stories: "At this point, I'm putting vanilla sweet cream in the nitro keg cause I use it more than cold brew itself lol," Juliana V. wrote.
A TikToker who goes by Emma was befuddled by some of the drink options that Starbucks allows customers to make: "why is cold foam even an option for a hot drink ????" she wrote.
Article continues below advertisement

However, there were some commenters who found it strange that the Barista would take the drink to the back and make a poem about it before uploading the TikTok. But, what most probably happened was that she made the video after serving the order to the customer.
Article continues below advertisement

"Imagine ordering ur drink and the barista takes it to the back to do this LMFAOOO," a TikToker who posts under Rylee:) said.
Article continues below advertisement

And even though there are a lot of Baristas who aren't exactly thrilled that customers have free reign over their drink-ordering experience, Starbucks corporate released a statement indicating that they are going to allow whoever buys coffee at their franchises to get the exact beverage the exact way they want it.