TikToker Records Karen Cutting Him off at Gas Station, Causing Traffic Jam
A TikToker recorded a woman who cut him off at a gas station and folks can't stop laughing at how "Karen" the entire situation is.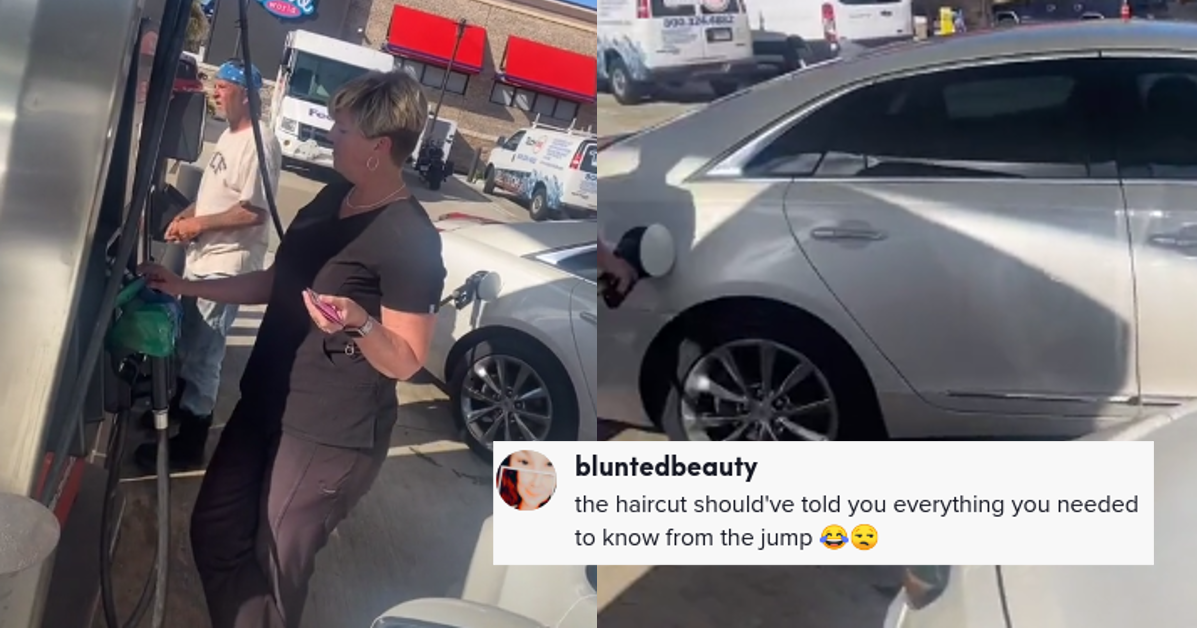 There are some rules that seem to be arbitrarily annoying for no reason: like business casual clothing for back-end office workers, or not allowing folks to telecommute for jobs that really only require a laptop and an internet connection to fulfill.
However, there are some stipulations groups of people collectively agree to that are ultimately for the greater good: like driving.
Article continues below advertisement
Like understanding that reserving the left lane for passing other cars is inherently a good thing. Giving people who are turning the right of way at a busy intersection so traffic doesn't pile up on their end, or making way for folks who are using their turn signals to merge — these are all irrefutably "safe" driving practices to adhere to.
The same applies to cars that are turning into a gas station. Traditional etiquette strongly suggests that folks "line up" behind other cars when they're fueling up, as cutting someone will result in pandemonium.
Apparently, one woman who was recorded in a viral TikTok thought it'd be a good idea to throw a wrench in the traditional gas station fuel-up line, and folks are saying her response is "peak Karen."
Article continues below advertisement
In the video which was uploaded by TikToker @babyjvice, a woman can be seen with her vehicle parked at the fuel pump and turned at a strange angle. It certainly looks like she cut in front of whoever was supposed to be next in the line, and the conversation that she has with the TikTok user off-camera doesn't seem to suggest why she decided to fill her car up with gas in this fashion.
Article continues below advertisement

As the TikToker points out that the woman is parked across at least two gas station spots, not to mention the one that she purportedly cut in front of, she says, "Oh my gosh, are you kidding me? I swooped up on you? Are you kidding me?"
Article continues below advertisement

The two bickered back and forth and the woman seemed to brush off the TikToker's comments, who called her "crazy" as she continued to finish pumping her gas.
Article continues below advertisement

Many commenters pointed out the many "Karen" elements of the situation, down to the haircut that the woman in the altercation was rocking. Others thought it was fairly obvious that the woman was in the wrong just based on the positioning of her vehicle.
Article continues below advertisement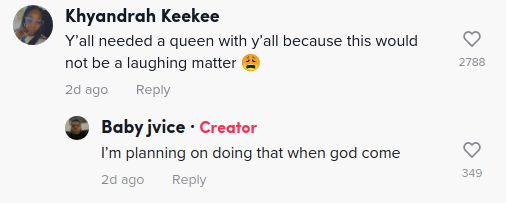 "The haircut should've told you everything you needed to know from the jump," one user said.
A commenter who goes my bishkittie wrote:
"The haircut [✓] The uniform [✓] The entitlement [✓] The odassity [✓]"
Article continues below advertisement

In addition to the "citations" provided to support the fact that the woman's behavior was Karen-esque, others mentioned that the woman in question was lucky the TikToker was as polite as he was. "She's lucky that guy is nice cause nowadays people get hurt for less than what she did so she's very lucky."
Article continues below advertisement

What do you think? Is the TikToker making a big deal out of a simple gas station misunderstanding? Or should people who don't follow simple car and driving etiquette need to be called out for breaking generally accepted rules of the road?