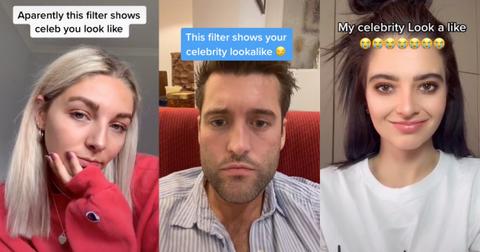 Here's Why You Can't Trust Those Celebrity Look-Alike Videos on TikTok
By Abi Travis

Sep. 14 2020, Published 2:28 p.m. ET
Do you ever get told you look exactly like a certain celebrity? Or are you perhaps waiting for the world/the internet to tell you who your celebrity look-alike is? If so, you're definitely not alone. There's something super intriguing about finding out that your face — on someone else's body — is totally famous!
Article continues below advertisement
Recently, people have started making videos on TikTok that showcase their own celebrity look-alikes. The videos make it look as though they're using a special TikTok filter, and they kind of are, but there's a reason why you might be having a hard time finding it if you're trying to make your own video. Don't worry, though. We can help!
Article continues below advertisement
Here's how people are making celebrity look-alike filter videos on TikTok.
The celebrity look-alike filter videos are pretty impressive. We definitely won't deny that the filter appears to be pretty accurate in most of the videos that we've seen. However, in nearly every video we've come across, there are people in the comment section asking how to make their celebrity look-alike video.
Unfortunately, it doesn't look as though there is a specific TikTok app that can look at and analyze your face and then reveal your celebrity look-alike. So then, how are people making these videos? Well, they're cheating a little bit.
Article continues below advertisement
Basically, people are using the Shapeshift effect to make it appear as though TikTok is revealing their true celebrity look-alike. It's actually really easy to do. First, you'll want to save a picture of the celebrity you want to look like to your phone's camera roll. You can choose any celebrity. It doesn't actually matter if you really look like them (although it will look more realistic if you choose a celebrity to whom you bear at least a passing resemblance).
Article continues below advertisement
Then, find the Shapeshift effect on TikTok. Open the TikTok app and search for "#shapeshift" in the search bar in order to add the effect to your favorites. Then, upload the celebrity photo and record your video. The filter will automatically "morph" you into your chosen celebrity.
Article continues below advertisement
However, at the moment, the Shapeshift effect is only available in certain countries — and unfortunately, the U.S. isn't one of them. But don't despair! You can still participate in this trend! We recommend using the Morph effect rather than Shapeshift if you don't live in a country where Shapeshift is available. It won't have the same fancy reveal, but you can still accomplish the same thing.
In order to use the Morph effect, you'll still need to download pictures of your chosen celebrity to your phone, and you'll also need a selfie to use as the first image. You can make a video featuring up to five photos, and your face will slowly morph from one into the next.
Article continues below advertisement
Ultimately, TikTok's celebrity look-alike trend is just a fun way to spend some time, even if you could argue that it's slightly dishonest because you're choosing your own celebrity look-alike rather than letting a fancy algorithm do it for you. It's also a great way to prank people by choosing their look-alikes for them. Just think of the endless possibilities!