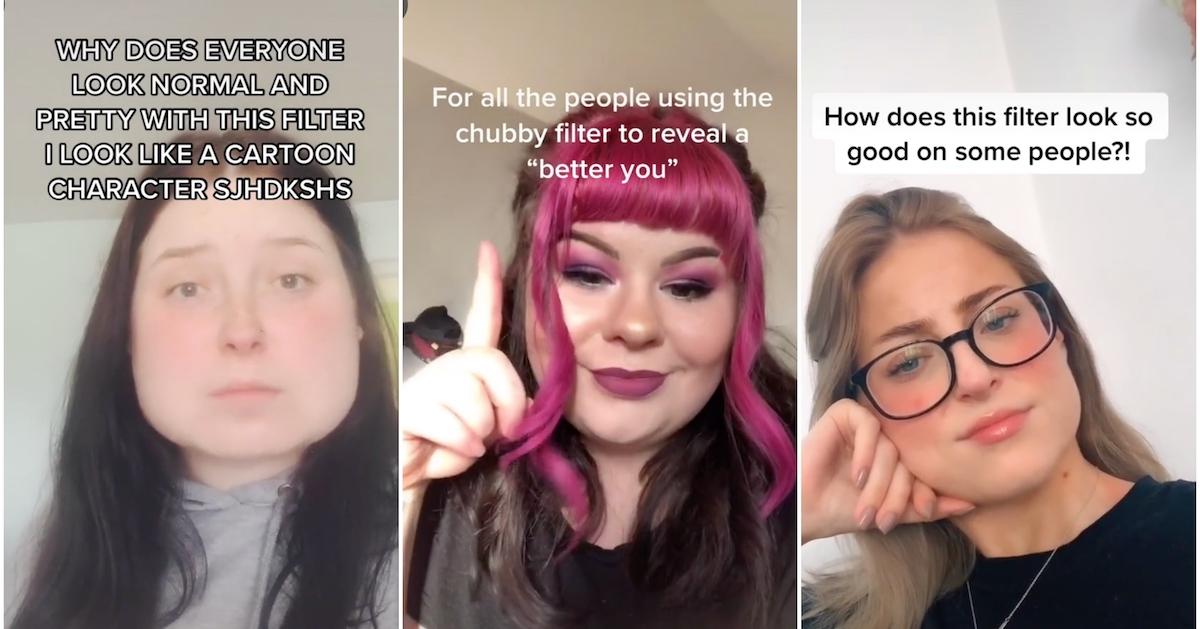 People Are Not Feeling the Chubby Face Filter on TikTok (and for Good Reason)
New effects and filters come out on TikTok all the time to keep up with the ever-changing trends on the app. While many of them are harmless, the Chubby Face trend is being labeled as fatphobic. Though filters have become commonplace on social media for people to hide their imperfections, they have become polarizing because they can set an unrealistic and unattainable standard for others.
Article continues below advertisement
What is the chubby face filter on TikTok? Many users think that it is spreading a message about body shaming, and that it has the potential to be very harmful to people's self esteem, confidence, and their perception of beauty. Trigger warning: body Image and fatphobia.
Article continues below advertisement
What is the Chubby Face trend on TikTok?
If you've been scrolling through your "For You" page and you've heard the song "Eyes Blue Like the Atlantic" by Sista_Prod, then you've likely seen the chubby face filter in action.
The filter that accompanies the song is one that makes users' cheeks look fuller, and it is meant to show them what they would look like if they gained weight. The idea behind the effect is that, after it wears off, people will be able to see their "true" face, and their confidence level will increase as a result.
Many who have participated in the trend look relieved when the filter goes off, and that it worked for a "confidence boost." Others have explained in their video captions that once the filter was gone, it was the first time they really saw what they looked like to others.
Unsurprisingly, a lot of people took issue with this trend for promoting fatphobia, and for further equating beauty with being slim.
Article continues below advertisement
Several people posted videos about how it was harmful for them to see videos of their natural features being made fun of. They noted that it was unsettling to see people "turn off" a physical appearance that a lot of people have, and to see them look so happy when their faces were no longer round.
Article continues below advertisement
While the filter may have been meant to increase confidence, it had the opposite effect for many people. Others were concerned that the filter could be triggering for people who have struggled with their body image and with eating disorders.
A TikTok spokesperson said that the chubby face filter wasn't meant to be released worldwide.
After the chubby face filter received a lot of negative attention online, a spokesperson for TikTok U.K. claimed that it was accidentally released there. It was meant to only be available in East, West, and South Africa.
"Healthy, filled-out cheeks are perceived differently in different cultures and markets. We have a review process in place wherein our global team reviews filters and effects that we think would be popular and appropriate in specific markets/local regions," a spokesperson for the U.K. edition of the app told BuzzFeed News.
The person also confirmed that the filter has since been taken down, so users cannot make new videos with it.