Man Criticized for "Exposing" Cheating Mom by Uploading Footage of Him in Her Home
A viral TikTok claiming to expose a cheating mom sparked controversy online and a proverbial battle of double standards when it comes to infideliy.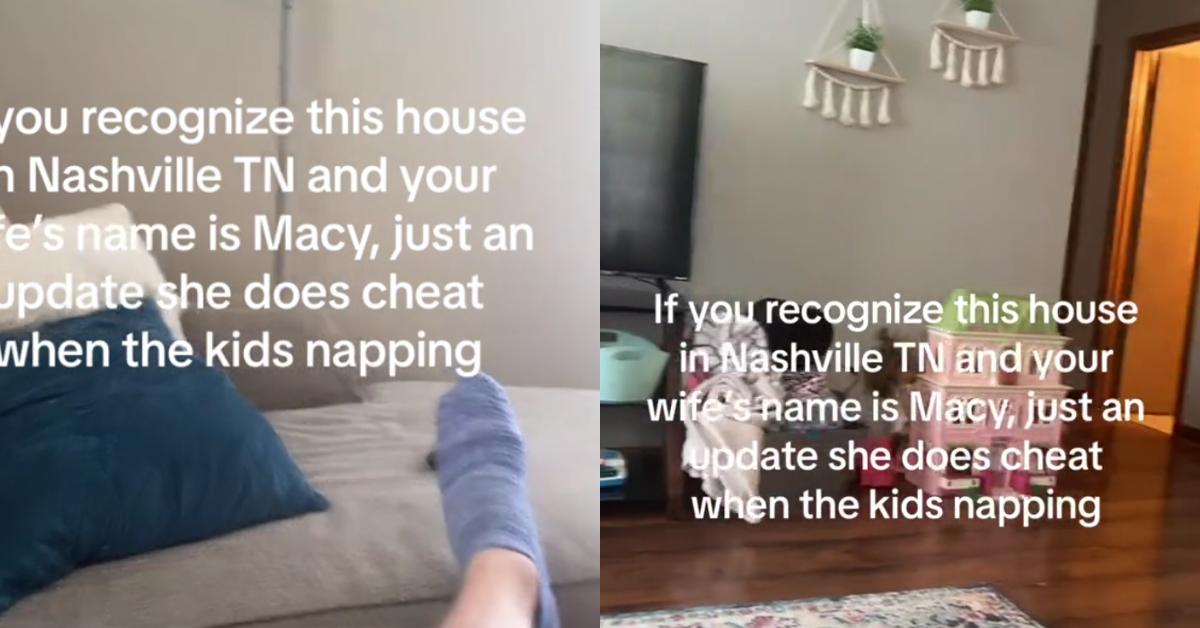 Nashville, not Las Vegas, is earning a reputation for becoming the cheating capital of the United States these days, after a series of viral social media clips and posts from several people have been posted about how folks who are otherwise linked to significant others have populated the internet.
Article continues below advertisement
A viral video that popped up on the @tiktokerrhltv account purportedly shows another "good Samaritan" attempting to out another cheater he may have hooked up with: a woman named Macy who is a mom, and wife, and who likes to get frisky with other men while her children are asleep.
Article continues below advertisement
The clip, which shows what looks like a man's leg on a couch, pans to a living room that shows kids' toys and an open bathroom door. He writes in a text overlay of the clip: "If you recognize this house in Nashville TN and your wife's name is Macy, just an update she does cheat when the kids napping"
Article continues below advertisement
Several people who saw the video joked that they, too, had the same rug in their home: "I saw all the comments about everyone having the same rug so I watched it again and I have that rug too," one said.
"I was seeing all the comments about the rug and was like 'ain't no way all these people have the same rug' until I looked and realized I also have it"
Another quipped: "I have that same lamp. And couch. And rug. Anddddd wait a damn minute……"
Article continues below advertisement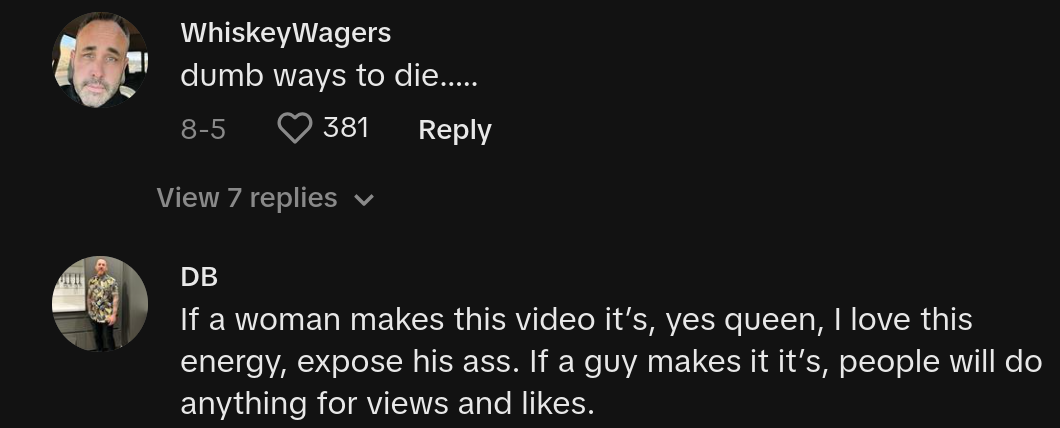 However, there were several people who thanked the man for his video, stating that they were happy to see cheaters getting exposed online:
way to go dude. I'd expose her a-- too. should have just left a note under the toilet seat for him"
Article continues below advertisement
Another user couldn't wrap their heads around how a parent would allow a stranger into their home while their kids were in there just for a d--- appointment: "Screw the cheating, what kinda mom invites strange men over with her kids in the house?!"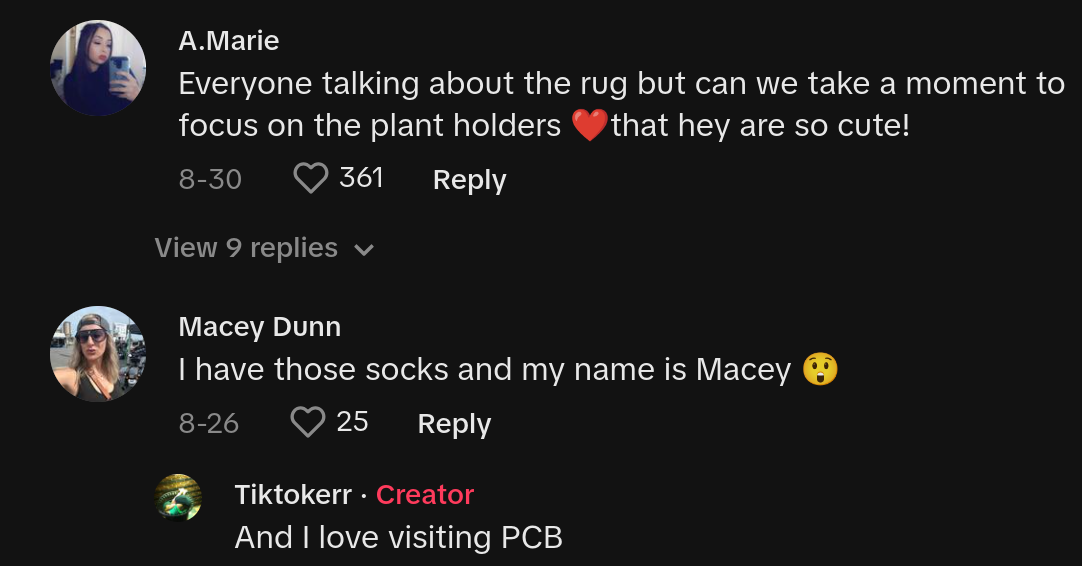 Article continues below advertisement
"dude I would live to buy you a beer. if more men did this less would pay out the a-- in court," another wrote, seemingly applauding the content.
But there was another commenter who thought that these types of videos exposed a gender double standard when it comes to exposing cheaters online: "If a woman makes this video it's, yes queen, I love this energy, expose his ass. If a guy makes it it's, people will do anything for views and likes."
Article continues below advertisement

Another echoed the sentiment, writing: "Women do the same s--- on TikTok. Now a dude does it and they want to talk about rugs and 'oh this dude needs attention' Gtfoh"
But that still didn't stop folks from thinking that the TikToker was lying about his post: "Tell us you needed views and followers without telling us you needed views and followers"
Article continues below advertisement

Someone else thought that this was simply more ammunition for people to stay single and not commit to folks in a relationship: "stay single guys they put out either way"
Article continues below advertisement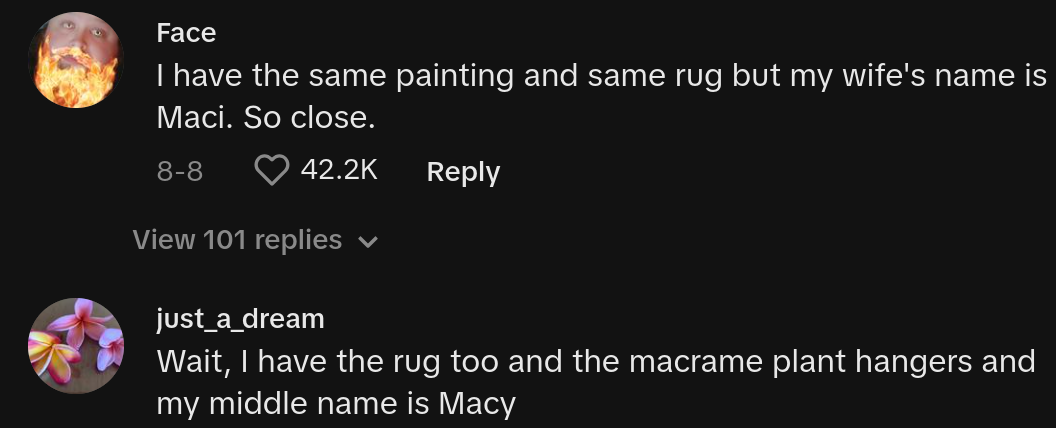 Monogamy has gone down considerably since 2016: a 5% drop occurred from then until 2022 when surveyed folks were asked about their "ideal relationship style." So maybe all of the cheating Nashville videos have more to do with people not willing to have one romantic partner in general than there being something in the water in the Tennessee city that celebrates country music.