'Below Deck: Med' Chef Mila Kolomeitseva Is Already Grossing Us Out With Her Cooking
Will Chef Mila get fired on 'Below Deck Mediterranean'? Who is her replacement? Plus, everything you need to know about the Cordon Bleu-trained chef and how to follow her on social.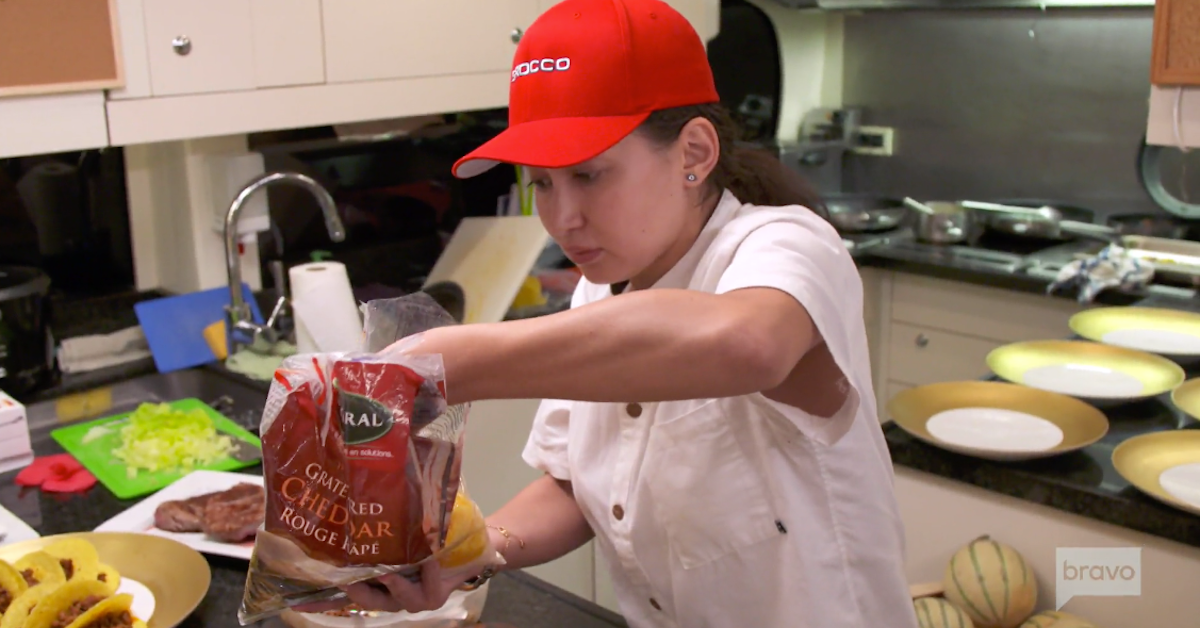 Mila Kolomeitseva is the first female chef to ever join Below Deck Mediterranean, and let's just say she might not last long on this season's yacht, The Sirocco. No one was more excited to welcome this Cordon Bleu-trained chef on board than Captain Sandy Yawn, who's no stranger to sexism in the yachting industry and makes it a point to support women whenever she can.
Article continues below advertisement
But after serving guests — who splurged close to $100,000 for a weekend aboard the yacht — with your average Taco Tuesday fixings, talking back to Chief Stew Hannah and Captain Sandy, and — oh yeah — touching and licking guests' steaks before microwaving them, we're betting this chef won't be on board for long.
Keep reading for everything you need to know about Mila.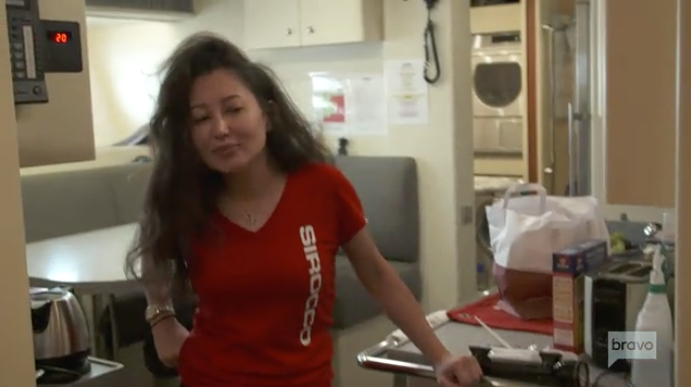 Article continues below advertisement
Mila's Rough Sirocco Start
Siberian-born Mila, who sadly isn't on Instagram, gets quite seasick when she arrives on board the Sirocco. As she tells it, she's suffering from food poisoning, and pops in and out of meetings to vomit in the bathroom throughout the episode.
Although it isn't the first time a member gets sick when they come on board, the chef's job is the most indispensable since none of the others can cover for her. However, this seasickness-food poisoning episode of Mila's seems to be the least of anyone's problems.
Article continues below advertisement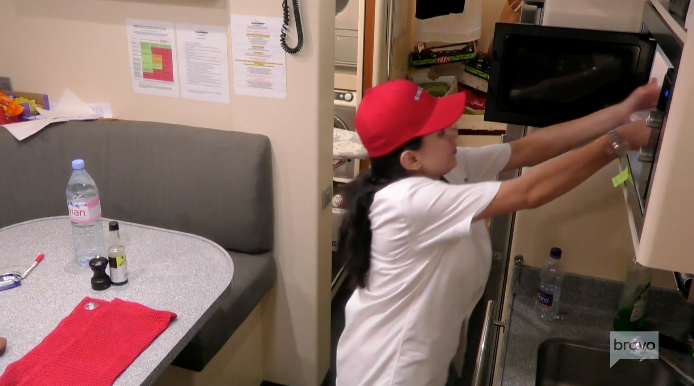 In fact, the foods she attempts to prepare for the extravagant charter guests are nothing short of revolting. First, her menu choices are basic: burgers and Mexican food — not the kind of meals that one would pay tens of thousands of dollars for, in our humble opinions.
Article continues below advertisement
But then she decides to spruce up the burgers with a dollop of Hidden Valley Ranch dressing straight from the bottle. And because a picture is worth a thousand words, it's better if you just see the "nachos" she prepared (again, why are we spending tens of thousands on nachos?) rather than have us describe them to you.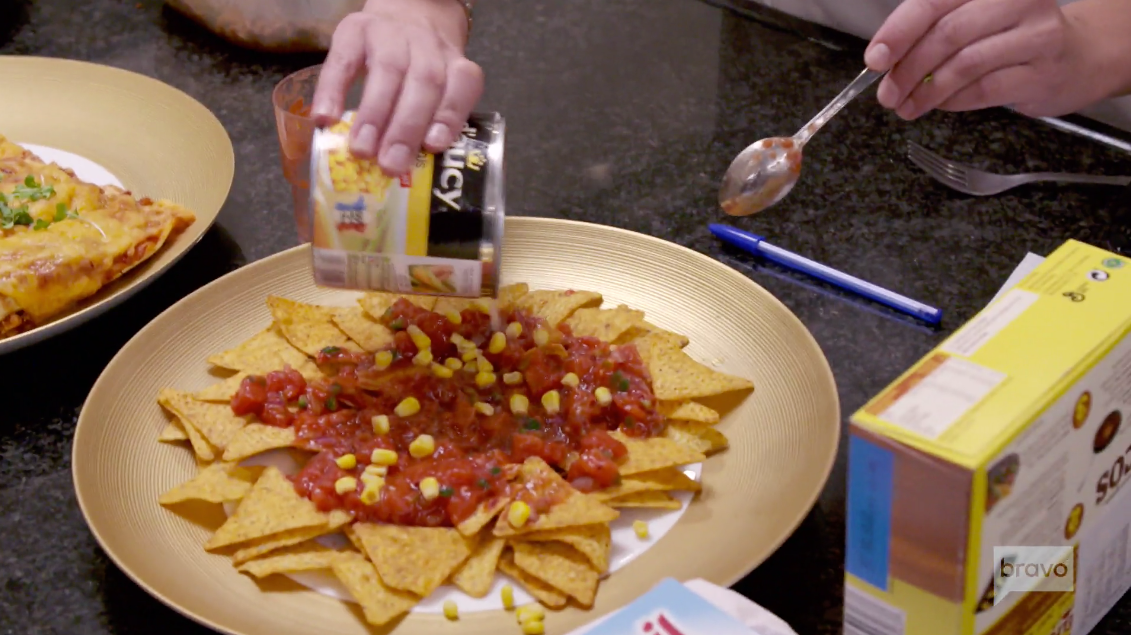 Article continues below advertisement
The dish is so startling to the interior crew that Chief Stew Hannah refuses to take it out to the guests. "In nine years of yachting, I've never refused to take a dish out," she said. "But I just cannot serve that to guests. It's disgusting."
Wait. It gets grosser.
Chef Mila's culinary creations were quite stomach-turning, if you ask us, but that's not even the half of it. Before she goes to microwave the steaks before serving them to her guests, she also licks them raw. And then she licks her fingers and touches the steaks again!
Article continues below advertisement
Remember, she has food poisoning and has been sick until this point. Fans of the show — both stars and regular people — can't keep quiet about Mila's egregious kitchen offenses. "Pay 10's of thousands of dollars..." wrote co-star and deckhand Colin Macy-O'Toole, "gets Hidden Valley ranch on burgers..."
Article continues below advertisement
"Oh my god!!! That chef licked her fingers after she touched the steak, then touched it again!!!!!!" added another viewer. "She was just throwing up!!!!!" Even TV food queen Padma Lakshmi herself chimed in with a stinging, "Absolutely no comment."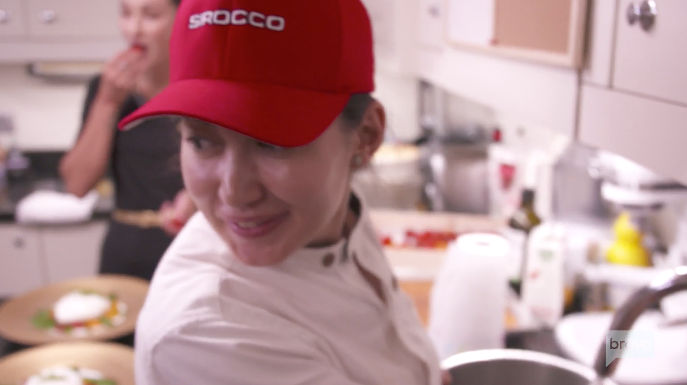 Article continues below advertisement
Wait, what is Cordon Bleu?
Pretty much since she joined Sirocco, everyone's been talking about how Chef Mila has Cordon Bleu training. First, it's a credential that wows Captain Sandy, but it quickly becomes the object of ridicule, having viewers thinking Mila graduating from Cordon Bleu is not unlike Elle Woods graduating from Harvard Law. What, like it's hard?
Le Cordon Bleu is actually one of the most prestigious culinary schools around the world, and Mila attended the one in Paris. "I believe female chefs are a bit underrated and I want to change this opinion," she says by way of introduction. "Boy, do you have some training," exclaims an excited Captain Sandy. "I'm looking forward to witnessing you create these amazing meals."
Article continues below advertisement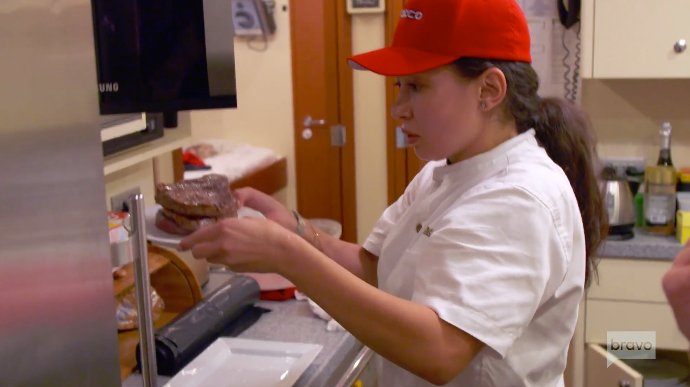 But we're wondering if she'll get the chance to prove her knife skills on the Sirocco for long after all. Because if the cooking disasters weren't enough, it also came up in the Season 4 premiere that the Eastern European chef and mother is also a homophobe. Not cute!
If not her cooking, her homophobic remarks might get her fired. 
Article continues below advertisement
In a teaser trailer for Season 4 of Below Deck Med, Mila can be seen in a car and heard saying, "I don't want my son seeing two men kissing each other. I don't want a man kissing a man in front of me. In your home, you guys can do whatever you want."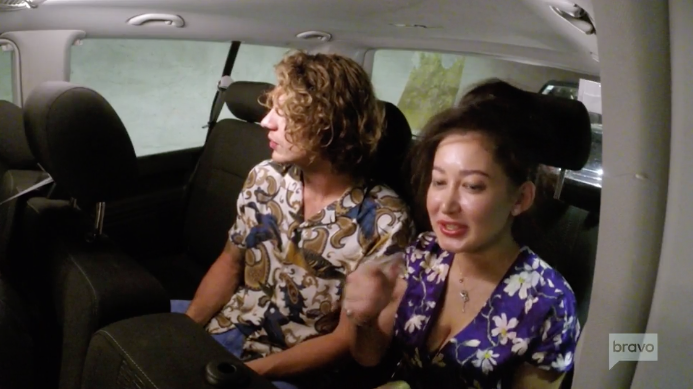 Article continues below advertisement
"I don't want my son to be growing up and seeing two men kissing each other and thinking this is normal because this is not f--king normal!" the chef continues. It's unclear whether this remark marks the end of Chef Mila's tenure, but one thing's for certain: Captain Sandy, who's been the victim of homophobic remarks in the past, isn't too keen on her demeanor.
"Someone mentioned it, and I just thought, 'Wow'," said the Below Deck Med boss. "So that's her opinion. That doesn't reflect [me]." Doesn't bother me! That's her thing she has to deal with. Not mine."
Of course, this comes one week after Captain Sandy and her girlfriend have experienced intolerance after going public with their relationship. And even though the Captain isn't personally offended by Mila's remark, we have to admit that, on top of all of her other fireable offenses, things aren't looking great for the first female chef in Below Deck history.
Don't miss Below Deck, Mondays at 9 p.m. on Bravo.