"Who's In the Wrong?" — Passenger Insults Mom for Booking Toddler in First Class, Tries to Get Them Moved to Economy
A woman wanted to know if she was in the wrong for booking a first class seat for her child after a nasty encounter with a fellow passenger.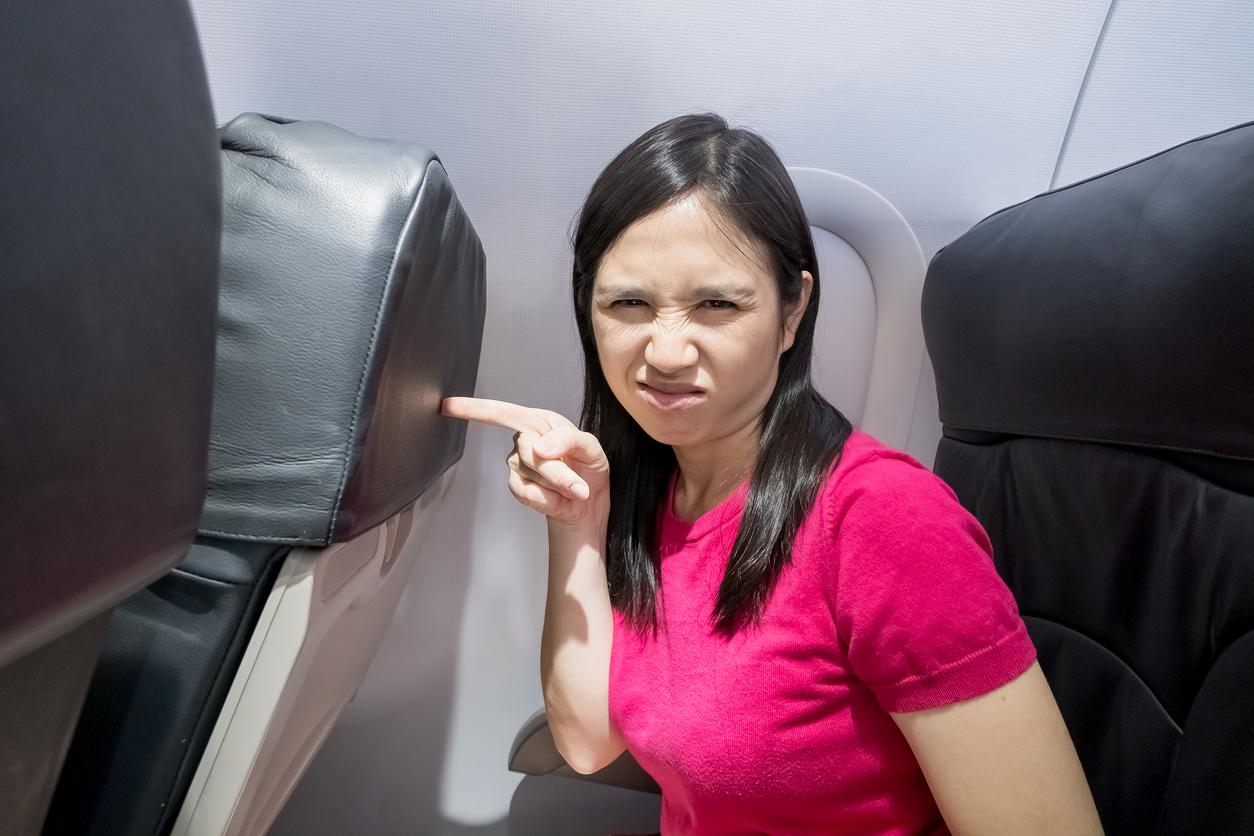 Airline travel can be a stressful experience. From constantly worrying about whether or not your plane is going to be delayed or canceled, to trying to make it to the airport on time, checking your bags and hoping they aren't lost somewhere in the vortex of transportation, to paying up to wazoo for food and beverages, it's no walk in the park.
Article continues below advertisement
And these are all things you have to deal with before you ever even step foot in an airplane. Once you're inside, there's a slew of other problems. Like whether or not you're going to have enough room in the overhead bin for your carry-ons, or if you're going to sit next to someone who treats seat assignments as a suggestion and/or deodorant as some kind of government conspiracy that should be avoided at all costs.
And of course, one of the most prevalent "ugh flying, amirite?" tropes is the screaming baby. Even if you've never personally experienced a crying child while aboard an airplane, you've probably experienced enough secondhand horror stories involving children in aircraft that the mere sight of a child on your flight probably has the wheels turning in your head.
Article continues below advertisement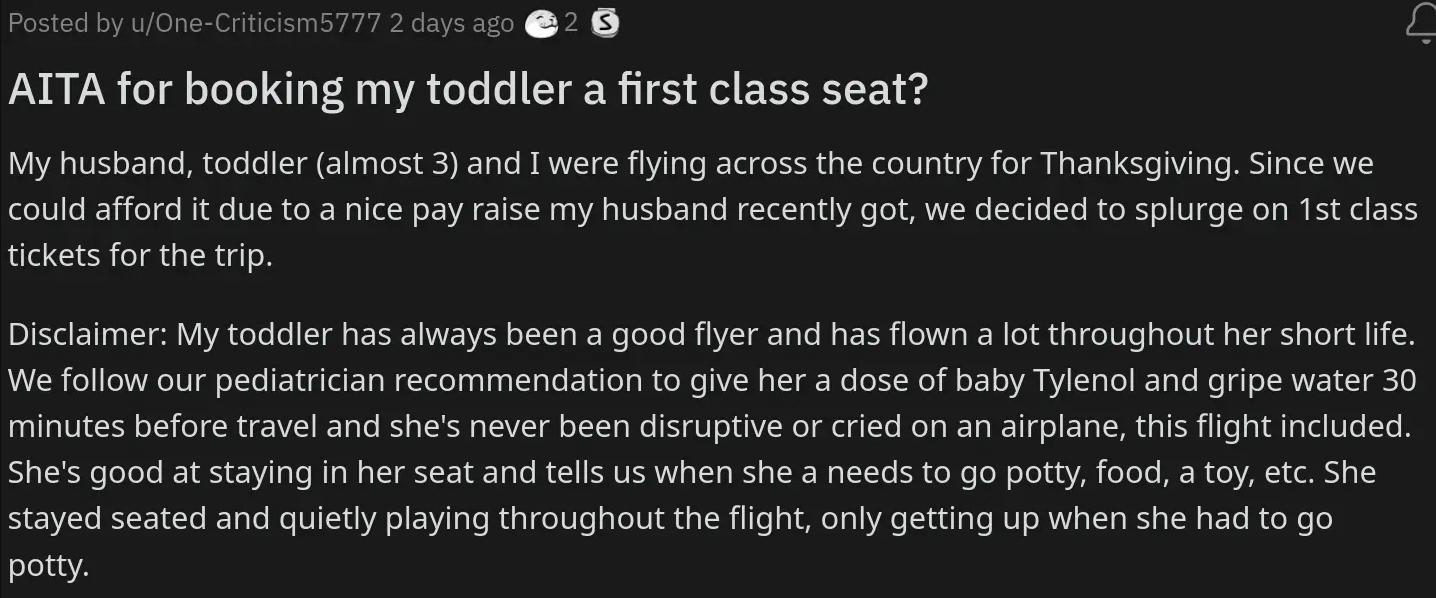 But according to Redditor @One-Criticism5777, she's extremely punctilious when it comes to flying with her child to ensure that her kid isn't a nuisance to other passengers. She follows her doctor's orders about the best ways to prep her kid for their journeys, and even though her daughter is still a kid, she's a pretty experienced flyer at this point.
Article continues below advertisement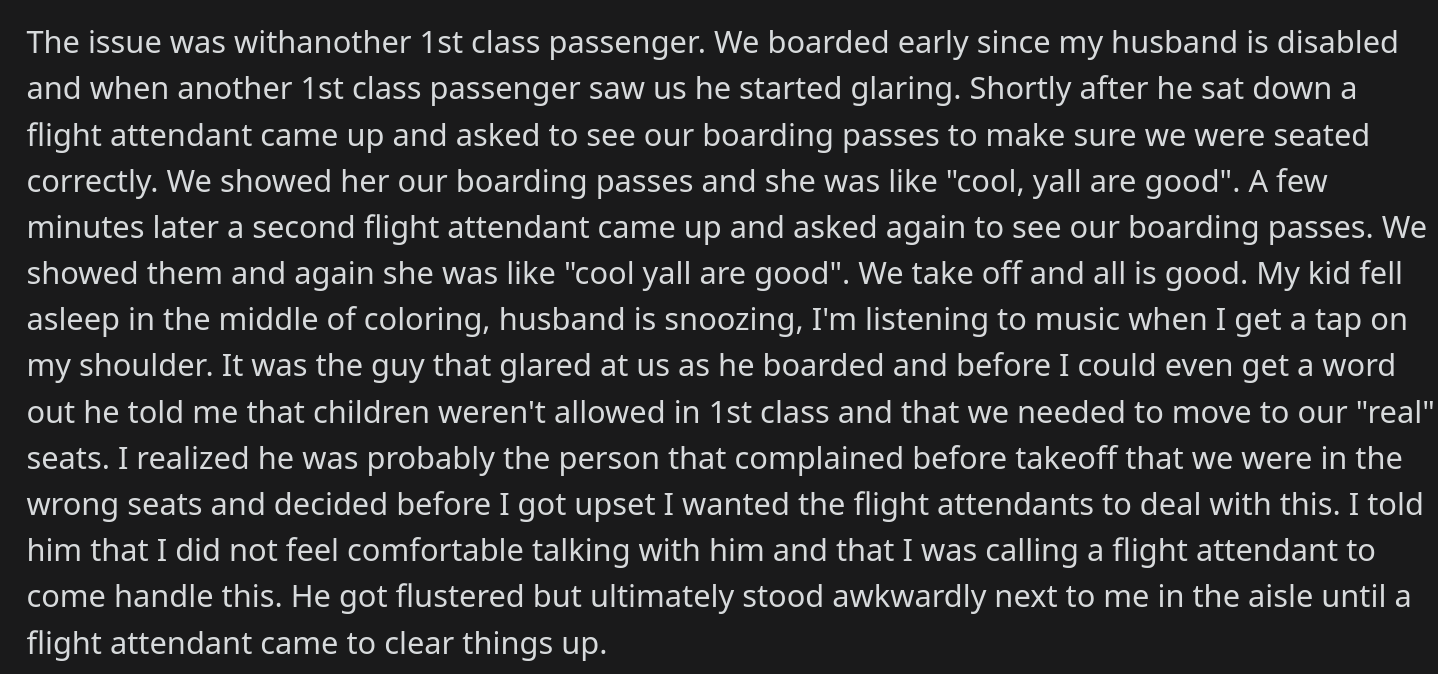 This is why she was shocked to receive such a nasty response from a fellow airplane passenger on a recent flight she took with her husband and toddler to visit family for Thanksgiving.
Since her partner received a substantial raise recently, they decided to fly in a bit more comfortably and book themselves first-class seats.
Article continues below advertisement

Problems began the very minute they boarded the plane, as her husband is disabled and he got priority seating. She noticed that a fellow first-class passenger began "glaring" at the three of them. Shortly after, a flight attendant came to ask them to show their boarding passes.
Article continues below advertisement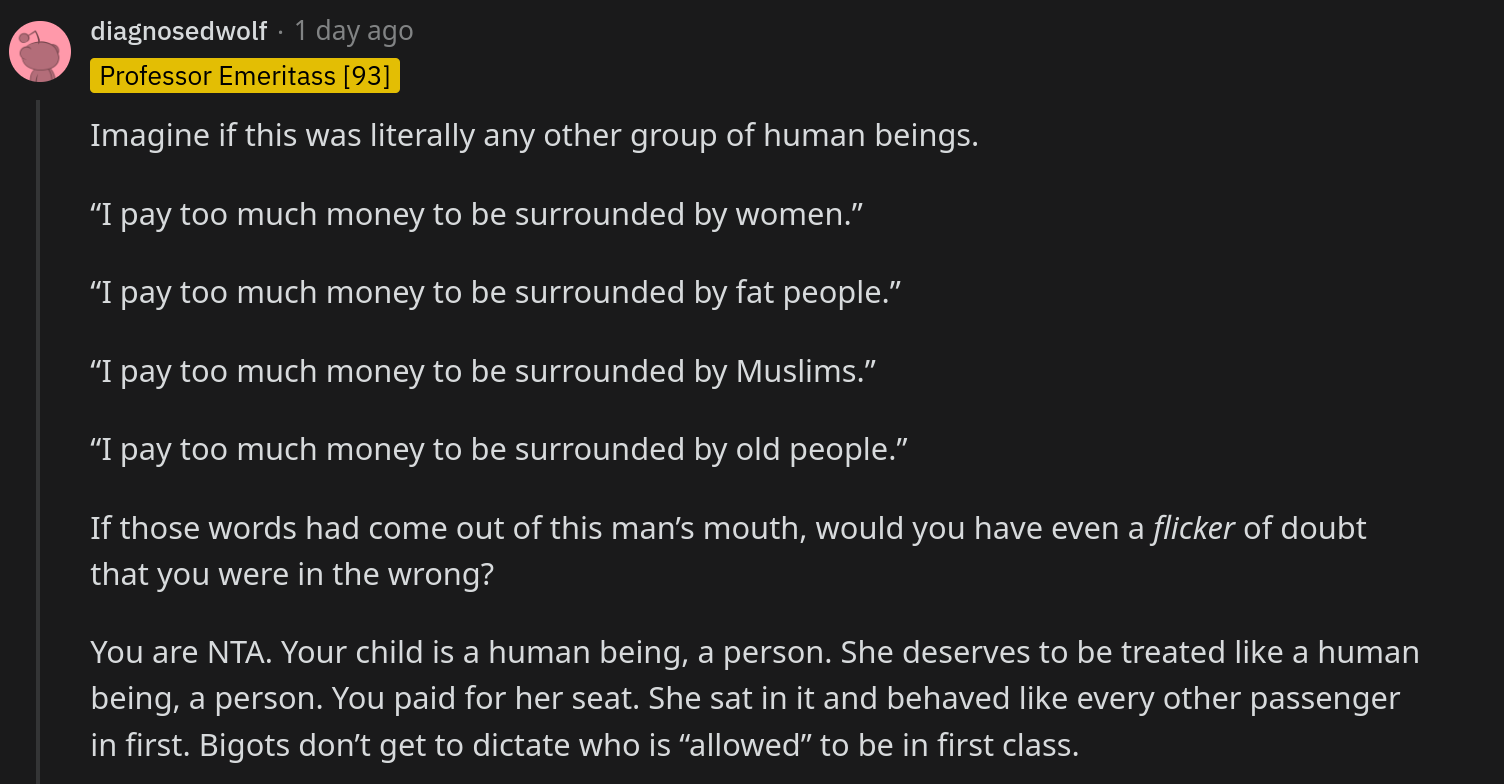 They did and the airline employee said "y'all are good" and went on their merry way. Shortly after, a different flight attendant approached them to ask the same thing. The Redditor's family complied, they showed their boarding passes, and then commenced the flight.
Article continues below advertisement
Then, they were accosted by the mean-mugging passenger himself who was furious that there was a child in first class. He even went so far as to say that kids aren't allowed in first class.
Article continues below advertisement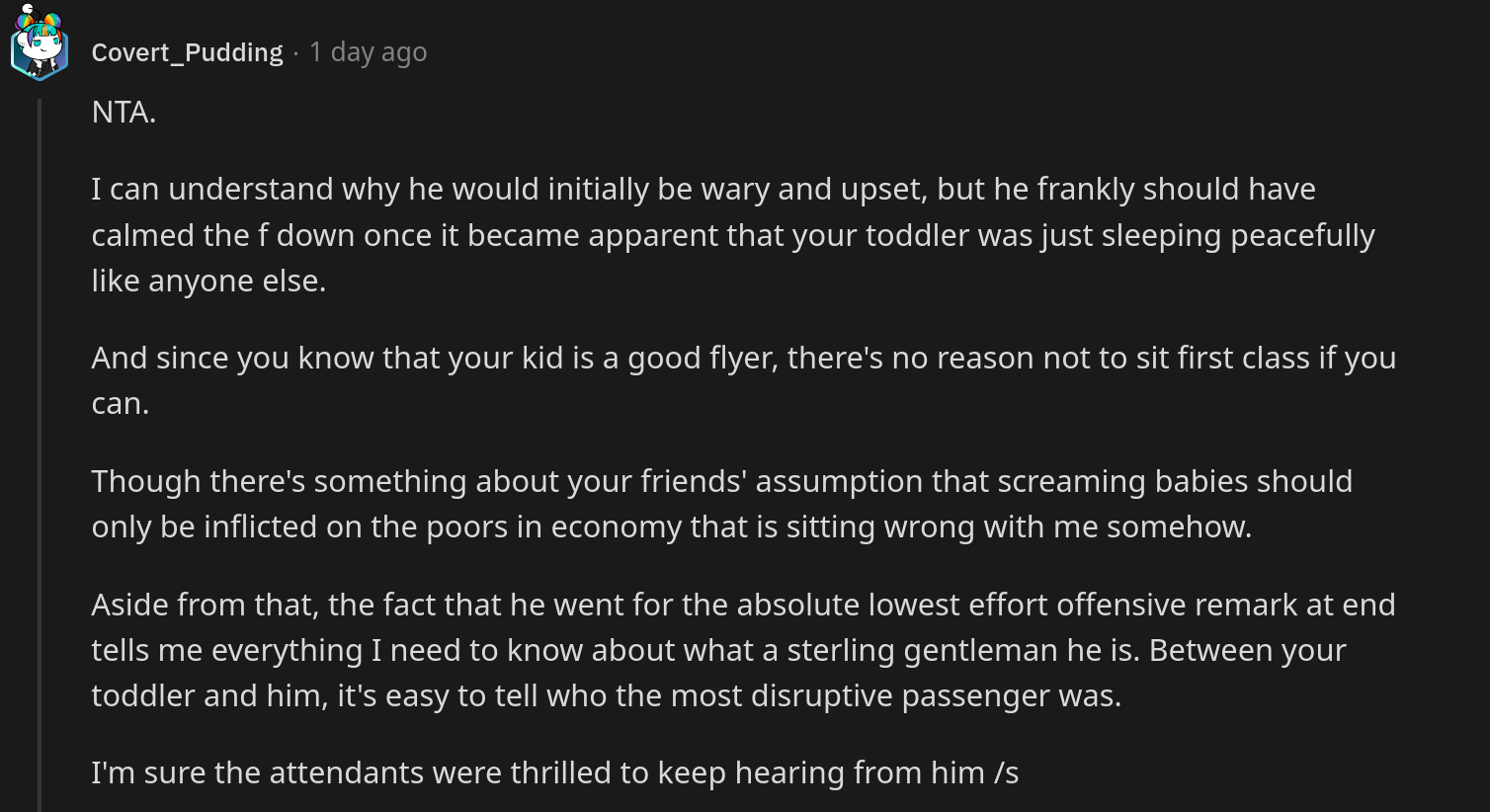 OP told the man that she didn't want to discuss the matter with him and that he should just speak to a flight attendant about the matter. The airline employee explained to the irate individual that the woman and her family were entitled to their seats and they didn't have to go to the back of the plane like the man requested.
Article continues below advertisement

The angry passenger then called OP a rude word as he walked back to his seat after grumbling about not being surrounded by kids. The Redditor pointed out that her toddler wasn't causing any issues and was extremely well-behaved, and that her daughter was the only child in first class.
Article continues below advertisement

OP said that she relayed the story to her family members at Thanksgiving, and a lot of them suggested to her that she fly economy next time to avoid any confrontations from first-class passengers who paid for premium seats at the front of the plane in order to avoid having to see or experience kids around them.
Article continues below advertisement

Throngs of Redditors said that this shouldn't be the case and that even if their child was crying or having a tantrum on the airplane then they would still be entitled to their seats because they paid for them.
What do you think? Is there an "unwritten rule" about bringing children in the first class section on airplanes? Or is OP's family wrong about suggesting she fly economy next time?