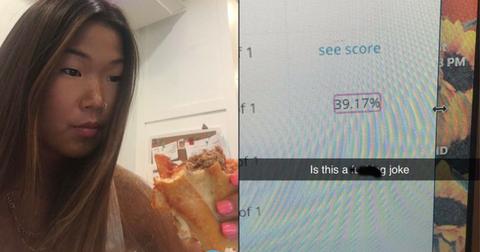 College Girl's "Excuse" for Low Test Score Is a Big F-U to High School Teachers
By Mustafa Gatollari

Jul. 18 2020, Published 12:41 p.m. ET
As far back as I could remember, it seemed like every single teacher I had was portending that "winter was coming" for me and my fellow classmates the further we progressed in our academic careers. Kindergarten was nothing compared to first grade, and then elementary school was a walk in the park compared to middle school. High school was this big gnarly demon, and then undergrad in college was the final boss ready to take all of us out once we finally graduated.
Article continues below advertisement
But then, when I and my friends were in college, we were kind of surprised by how ... lax everything was. It wasn't this soul-crushing, stressful experience (at least not for us). In fact, I had a way more difficult time, academically speaking, in high school. All of the wild restrictions and unacceptable behaviors we were called out for, like drinking or eating in class, wearing sweatpants all the time, or having informal discussions with our teachers, were A-OK by college standards.
Whether that says more about "the decline of the American university" in our society and our high school teachers trying to hold us to a higher standard (heaven forbid) than it does about them being "wrong," is a discussion for another time.
We have bigger meatballs to discuss — like the ones that fell out of this young woman's sandwich mid-exam, exited her out of her test, and causing her to have a tremendously low score.
Seriously.
Article continues below advertisement

While we all haven't been in this kind of specific situation (unless you're eating Gary Busey from Point Break levels of meatball sandwiches every day, then, it's just bound to happen), we can definitely relate to Samantha Lee's "how the heck am I going to explain this" scenario.
But, she bravely sent her economics instructor, Professor Lastrapes. an email — along with Snapchat screenshots — that proved what happened.
Article continues below advertisement
"Dear Professor Lastrapes," she wrote. "I had some technical difficulties and outside distractions during the test today. Something hit my computer and caused it to submit the test when I had less than half of the questions answered. By something, I mean a meatball that had tragically fallen onto my keyboard as I was taking the exam. This said meatball caused some malfunctions with my laptop and caused the test to submit itself."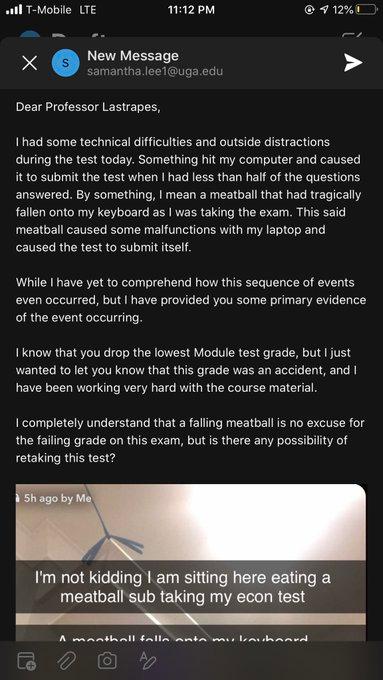 Article continues below advertisement
She sent the email, along with her Snapchats proving that the unfortunate sequence of events occurred.
Now one of two things could be going on here, and I'd like to think that Professor Lastrapes had considered both scenarios thoroughly before replying to Samantha.
The first, could be that she's telling the truth. Her entire message wasn't demanding in any way, and she seemed thoroughly fine with whatever Professor Lastrapes was willing to do.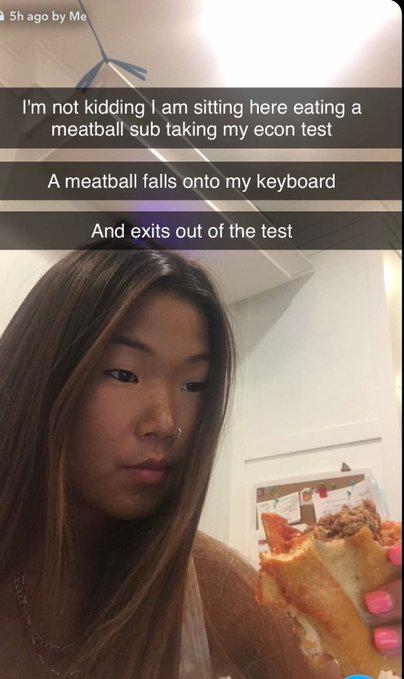 Article continues below advertisement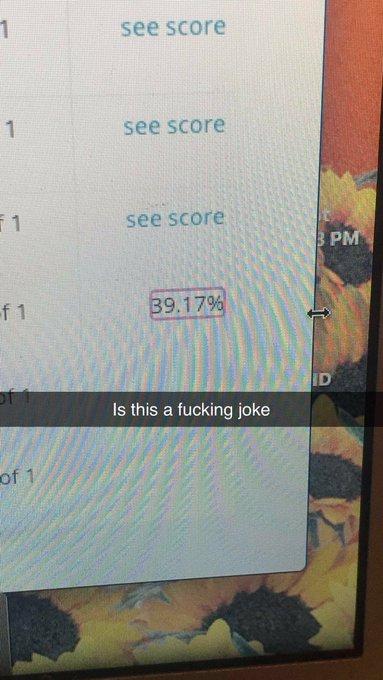 As per the course policy, she could have dropped her lowest test score so as not to affect her overall grade, something that she referenced in her email.
Now, by "ornery high school teacher" logic, Samantha probably wouldn't even have received a response from her professor, and maybe, even worse, her academic career would've been in jeopardy.
Article continues below advertisement
Word would've gotten out that she had a penchant for eating sandwiches all over the place willy nilly and put not only her future at risk, but marvels of modern technology as well.
As it turns out, however, Professor Lastrapes did respond. And because he was either sympathetic to Samantha's plight, or entertained by the fact that she went to such great lengths to tell a wonderful story, or both, he decided to give her another chance to take the test.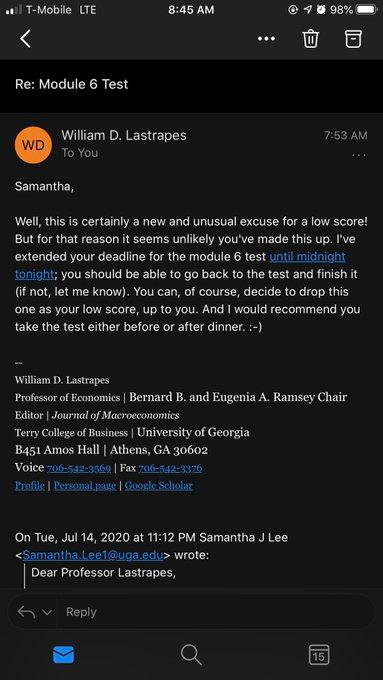 Article continues below advertisement
He even ended his email with some words of wisdom: that she take the exam either before or after dinner, and not during.
As it turns out, there were plenty of other students who had similar college experiences where their professors weren't the "hard-a--es" that they thought they would be.
Got into class one morning, prof started collecting huge essay assignment that was due. I had completely forgotten. Talked to him after class. "Eh, have it in by Friday."

— danideskjob (@danideskjob) July 17, 2020
Source: Twitter
Article continues below advertisement
once emailed a professor a pic of a drawbridge on the way to school that malfunctioned & got stuck in the up position with the caption "this stupid fucking bridge is stuck so I'm sitting here like a jackass" & my prof just responded "lol me too what kinda car you in?"

— Ross Vegas (@Duraraross) July 17, 2020
Source: Twitter
I've had high school and middle school teachers full on LOOSE tests and papers, then go "ohh well"

My psych professor two semesters ago, when she lost my test, apologized profusely and offered for me to retake it or she could drop my lowest score

— BLM💻 TennoCon 2020 💻BLM (@tomthebeardie) July 17, 2020
Source: Twitter
Article continues below advertisement
my ethics professor was the realist dude I ever met. guy would come in and talk about the reading for like 10 minutes and have us do some group discussion then give us the reading for next week and send us home. It was an hour and a half class.

— Austin Burchfield (@a_burchfi) July 17, 2020
Source: Twitter
My senior year of high school, I had an 8+pg essay for my final. I finished it at work the day it was due. On a Mac, unfamiliar with the eject rule. Unplugged the USB w/o ejecting. Lost that file! Panicked, but teach let me redo the essay over the next couple days. Got an A!

— Allicat (@allicatlive) July 17, 2020
Source: Twitter
Article continues below advertisement
I forgot to do my final paper for my credential and my professor emailed me after the final class saying she gave me the 100% because I'd been consistent throughout the program and she trusted my judgement and to please send her my paper because she wanted to read my thoughts

— 🌿fern🌿 @ commissions open! (@pygmy_fern) July 17, 2020
Source: Twitter
I've noticed that when HS teachers say that grades don't matter focus on learning, they don't mean it, but college professors actually treat the class so you learn and your grade reflects that

— sam ⁷🌸 (@h0bi_biased) July 18, 2020
Source: Twitter
Article continues below advertisement
I actually had a paper I submitted one semester that got fubared because of a source link I placed making it unreviewable. My professor caught up to me next semester and let me resubmit it, because from what he could read he loved it and wanted to give me an A+

— Torvin Tiger (@DragoKnight88) July 18, 2020
Source: Twitter
My Econ professor had a grading scale of:
85-100%= A
75-84.99%= B
65-74.99%= C
55-64.99% = D
54.99 or lower= F
Basically if you didn't show up/ or take the tests, you failed the class.

— Kylie #BLACKLIVESMATTER 🦄🦋🌈 (@Dancing_Swiftie) July 17, 2020
Source: Twitter
Were you surprised by how low-key/forgiving a college professor was, compared to your experience in high school or your expectations leading up to college?