Credit Card Theft Victim Saved from Fraudulent Transaction Because They're So "Broke"
An iPhone user was perplexed by a credit card thief's repeated attempts at placing a $96.00 DoorDash order, showing the declined charges on their phone.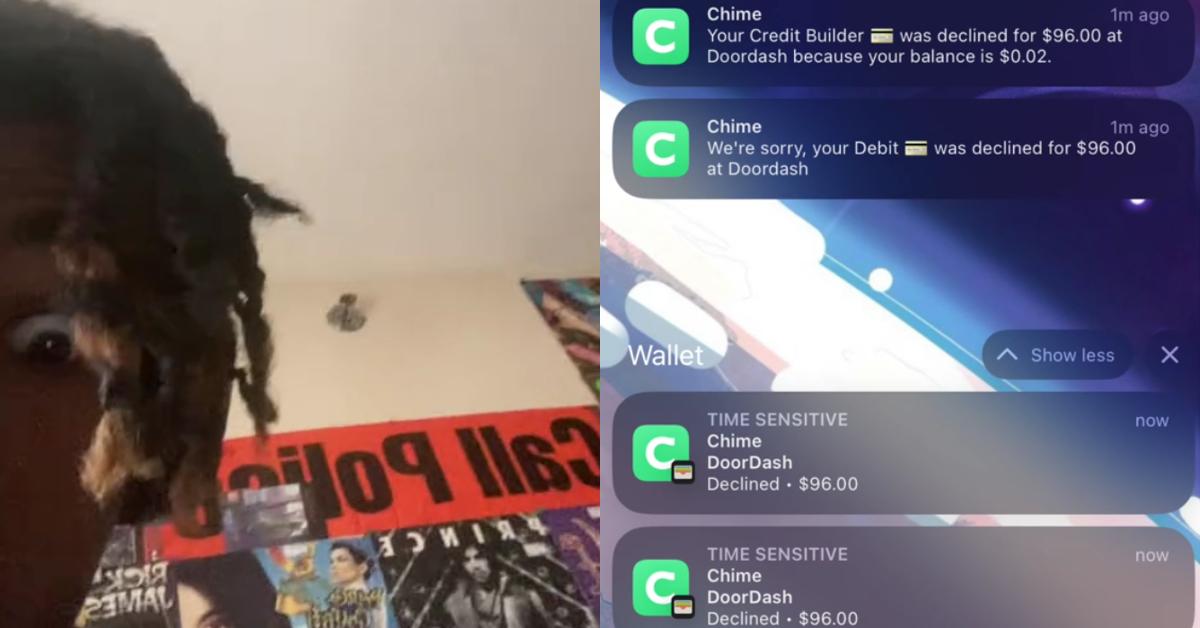 An iPhone user was shocked to see several failed DoorDash transactions, totaling $96.00 each on their credit card, which was summarily declined due to a lack of available funds.
Article continues below advertisement
Franco (@hellomrfranco) posted a viral TikTok that's accrued over 638,000 views on the popular social media platform, lambasting the crook for their doggedness in attempting to place such a large order via the food delivery app.
Franco says in the video as he looks wide-eyed into the camera: "Who's ever trying to use my card right now I don't have $96.00 in my bank baby. You're not gonna get nothing."
Article continues below advertisement
He uses a screenshot of the charges as a backdrop of his video where he explains his financial situation and the futility of the crook in question trying to secure themselves a sizable delivered meal.
Article continues below advertisement
A series of notifications popped up on his phone, the top one shows an alert from Chime, which is a "secured card designed for people who are trying to build credit"
The top notification on the screenshot of his phone's notification screen reads: "Your Credit Builder was declined for $96.00 at Doordash because your balance is $0.02."
Article continues below advertisement

Several other Wallet notifications on his phone show that the $96.00 charge was declined, indicating that whoever got a hold of Franco's credit card information attempted to put the charge through numerous times.
Article continues below advertisement
Some commenters were shocked at the amount of food someone was ordering through DoorDash: "LMAOO $96 ON DOORDASH??" they wrote.
Another found comedy in how little money Franco had in his bank account: "'Because your balance is $0.02' is INSANNNNNNEEEEE"
Article continues below advertisement

Someone else just couldn't believe the number of times the crook in question kept attempting to charge the order to their credit card: "and they keep trying... like it's going to decline every time."
Article continues below advertisement
It would appear that Franco's credit card information was somehow stolen/being used through Apple Pay, and there have been other folks who've taken to the Cupertino-based tech giant's forum also complaining about fraudulent DoorDash charges using the mobile wallet technology.
Like one Apple user, @RazRaz3 who wrote that they were a victim of "some fake doordash service" that saw their card is being charged through Apple Pay which isn't linked to their new account for a $9.99 monthly DoorDash charge, which is presumably the popular food delivery application's DashPass monthly membership that allows for free delivery and other member perks.
Article continues below advertisement

One user in the forum responded that the only thing the user would need to do is head into their Apple Pay account and then select the transaction(s) in question and report an issue with them.
Article continues below advertisement
In a separate Apple forum post, another user, @chidis, stated that three of their cards were "reporting fraudulent charges in 1 month" when they were "only used on iPhone"
They go on to add that they only used the credit cards to pay for services like BritBox and DoorDash, and that the transactions were only ever made on their home WiFi network.
Article continues below advertisement

One user speculated that DoorDash was the culprit, but it's unclear as to whether or not these instances of credit card fraud are linked to the August 2022 data breach that DoorDash experienced, revealing a number of driver and customer user data in the process.
Article continues below advertisement

TechCrunch went on to say that hackers were also able to steal individual user's personal information, like their names email addresses, delivery addresses, and phone numbers, along with the last four digits of their cards and the types of cards used.
Have you ever noticed fraudulent charges on a card you just used with DoorDash? What about other places after using mobile phone wallet/payment services?