Female Uber Passenger Records Driver Blasting Explicit Song as She Tries to Act "Unbothered"
An Uber customer recorded herself trying to stifle a reaction to their driver blaring music with obscene lyrics during the course of their ride.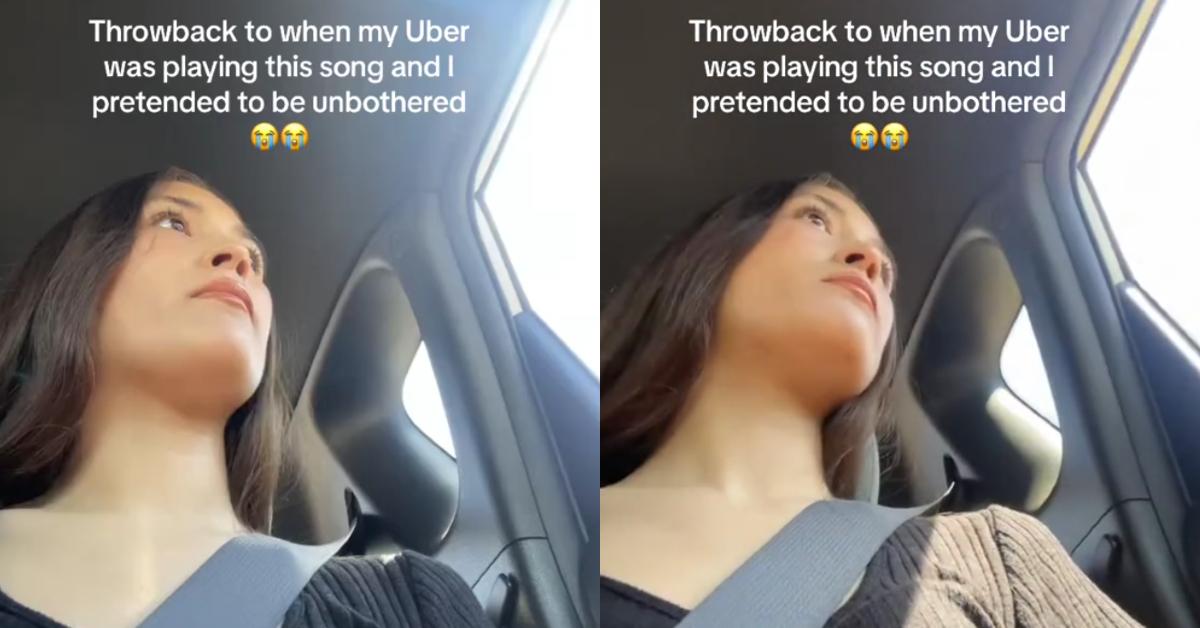 Article continues below advertisement
Fear of being kidnapped, assaulted, or murdered aside, there are other low-level awful experiences folks have complained about in Uber rides as well, and you've probably come across some of them yourself.
Whether it's an overly chatty driver who uses every single ride they give a person as a way of playing 21 questions, probably so they can pass their time driving more quickly.
Article continues below advertisement
Or maybe they play music you'd rather not listen to. Which is what happened with a TikTok user named Angie (@angiethevirgo4) who recorded herself on an Uber ride where the driver was playing a song containing some explicitly vulgar lyrics.
Article continues below advertisement
She records herself casually looking out the window of the car as the song in question blares throughout the vehicle's sound system, writing in a text overlay: "Throwback to when my Uber was playing this song and I pretended to be unbothered"
In the song, the musician can be heard saying some, well, pretty rated R stuff. With lyrics, you wouldn't normally expect to be played during a uber ride.
Article continues below advertisement
Commenters had a litany of different reactions to the video, some said that if they were in the car ride, they wouldn't have been able to contain their laughter.
"girl i would've laughed out loudd," one TikToker wrote.
Another said: "i would be laughing so hard"
Someone else remarked that they thought it was highly inappropriate for the Uber driver to be playing the track.
Article continues below advertisement
"This song is so outta pocket"
While another person thought the Uber driver was doing his best to woo Angie by playing the uniquely-worded amorous track: "he was tryna throw them hints"

Article continues below advertisement
There have been a few people who've complained about Uber drivers playing explicit music during their rides, like Reddit user @Geemonet who chronicled their experience during a ride they booked through the popular transportation app.
They said that when the driver picked them up and their 5-year-old nephew, the music was turned down decidedly low, however, after the ride commenced and they were on the road, that's when they began blasting the track they were listening to.
Article continues below advertisement
"I politely asked him to change the song to something less explicit (the lyrics were literally about licking p---- & sexing some chick) either he was ignoring me or simply didn't hear me but after a few more attempts he sucked his teeth and put on another song; and surprisingly it was another inappropriate song. At this point I was almost to my destination so I decided to just bite my tongue and give him a poor rating," the Redditor wrote.

Article continues below advertisement
They went on to say that they didn't believe they were in the wrong for giving the driver a poor rating as a result of them playing such vulgar music so loudly.
The post was uploaded to the r/uberdrivers sub, and one of the commenters who was an Uber driver themselves said they would never think to play a raunchy track while there's a passenger in the car, especially if one of their riders was a child.
Article continues below advertisement

"When I use to drive I never played anything aside from the top 100 for this very reason. I have a kid of my own OP so I know exactly how you feel about not wanting to expose a child to that."
What do you think? Do Angie and the aforementioned Redditor have a point? Or do you think that folks need to lighten up?