"I'm Just Not Built for 9-5 No Matter What It Is" — Woman Plans to Quit New Job After 4 Days
A woman went viral on TikTok after posting about wanting to quit her new job just four days after starting it. Other users said they hate working too.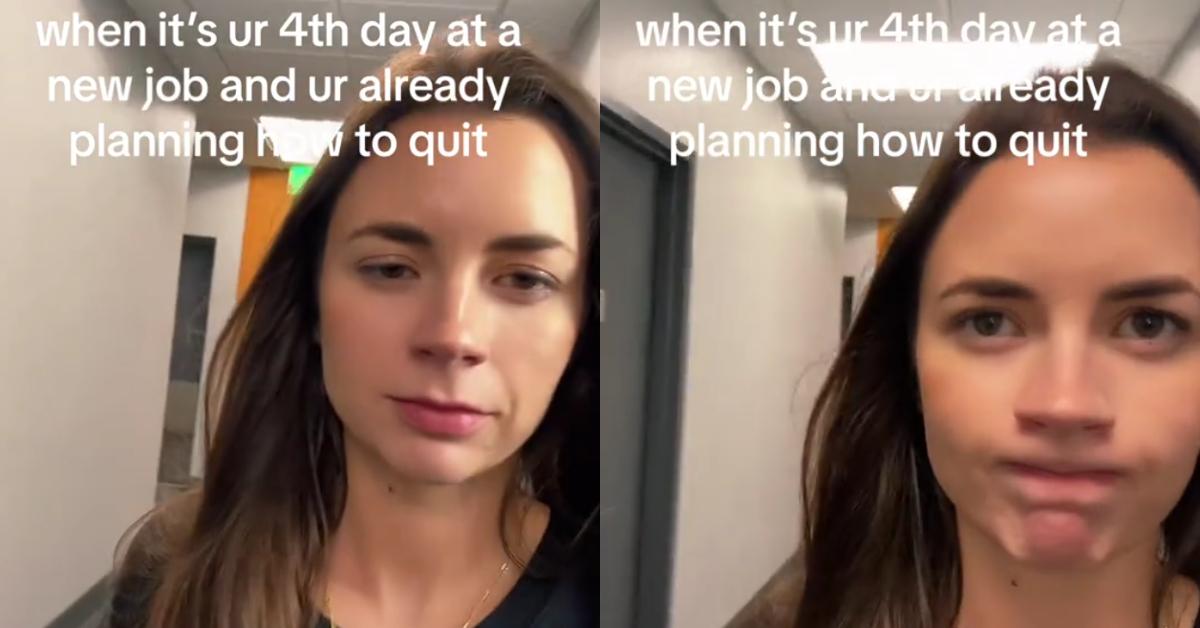 A woman shared her disdain for a new job she received that is so intense, she's already considering leaving the gig after being hired just four days prior.
Article continues below advertisement
The TikToker, who goes by Sara (@sarasn99) writes in the comments section of the video that despite looking for a job for a year, she still doesn't like working there, and suggests in a caption for the post that she isn't "built" for a 9 am-5 pm work day no matter she's doing.
In the video, Sara records herself walking through the halls of what looks like her an office building passed various doors as she looks deadpan and unenthusiastic into the camera.
Article continues below advertisement
She writes in a text overlay of the video: "when it's ur 4th day at a new job and ur already planning how to quit"
There were a slew of other TikTok users who wrote in the comment section that they have never found a job that they enjoyed either.
Article continues below advertisement
"I've hated almost every job I've ever had. you are not alone," one person wrote.
While another person said that probationary periods for jobs shouldn't just apply to the employee who applied to them, but to the businesses as well.
"I really think jobs should have a 30-day trial," they said.
One commenter provided a reason as to why they've job hopped so much, however — it all boiled down to the workplace environment and behavior of the other employees there.
Article continues below advertisement

"I quit 5 jobs in the last 3 years... it's the miserable co-workers n hostile environment for Me."
Someone else penned that they were in the same boat as Sara, writing that they too began a new job, and even though it's only been a few months, they've already sent out applications to places in search of a new position.
Article continues below advertisement
"Started a new job in April and felt this way since I started. Already started applying"
According to a survey referenced by The Conference Board, it would appear that job satisfaction in the United States has been going up since 2021.
The outlet mentions that the employee workplace satisfaction survey has been gathering results from workers since 1987, and stated that the overall job satisfaction recorded from those who participated in the survey reached an all-time high number.
Article continues below advertisement

The non-profit business membership and research group organization states that in 2022, 62.3% of people said that they liked their jobs, which is a boost from 2021, where the figure landed at 60.2%.
Article continues below advertisement
An Economist for the group, Eren Selcuk said that due to unemployment being at "record lows," in the United States, this has created a "seller's market" for job applicants.
As a result, "US workers are reaping the rewards," Eren said, adding that "Demographic trends suggest tight labor markets are here to stay, putting the onus on employers to compete for talent."
Article continues below advertisement

According to Chron's small business section, the leading cause of job dissatisfaction in the United States is attributed to "being or feeling underpaid."
Article continues below advertisement

Salaries have not historically kept up with inflation, either. This makes The Conference Board's findings on job satisfaction all the more interesting. Perhaps folks are happy to have a job after being forced to stay indoors due to government-mandated stay-at-home and social distancing orders that were implemented in response to the fervor fomented over COVID-19.