Server Says Restaurant Made Her Pay for Customers Who Walked Out on $300 Bill
A server posted a viral TikTok claiming that she was forced to cover the cost of a customer's bill after their card was declined.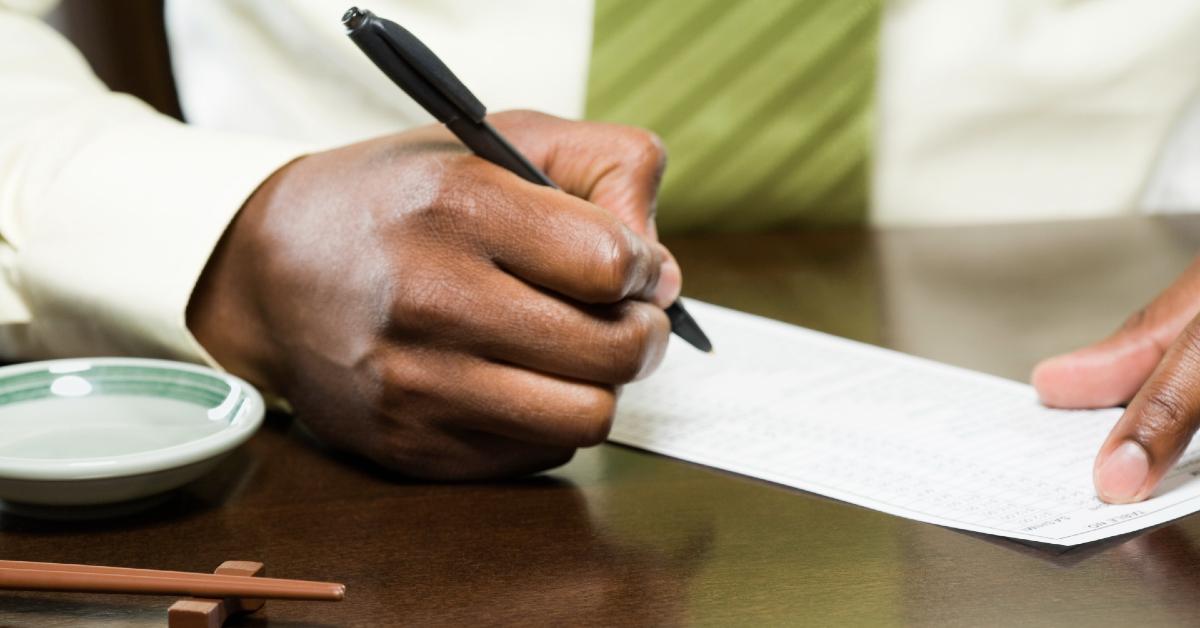 A server by the name of Audrey who posts on TikTok under the handle @meow.ak47 posted a viral clip on the popular social media platform blasting customers who walked out on a bill after their credit card was declined. Audrey claims that restaurant management made her cover the cost of the bill, which resulted in a huge ding to her paycheck.
Article continues below advertisement
Audrey wrote in her now-viral video: "A big f*ck you to the people who walked $300 worth of food and alcohol and the card declined and I had to pay part of their bill since I was your server."
Article continues below advertisement
So what happened in this instance where the customers couldn't pay their bill? Well, Audrey says that it all came back to make a massive dent in her wallet: "not only did I lose a $55 tip I lost $70 of my own money because of y'all. Treat your servers better and don't order s**t you can't afford."

Article continues below advertisement
There were a number of TikTokers who remarked that this practice is illegal and that there's no way an employer can force a worker to cover the costs of walk-outs.
And it appears that this is very well the case in most parts of the country. Of course, labor laws vary from state to state, but the verbiage on management taking gratuities from servers appears to be very clear.

Article continues below advertisement
Thomas Wright, a rep from the New Jersey Department of Labor told NJ.com that there is no way an employer can make a worker "pay for the meal of a customer in a dine-and-dash situation."
You might be thinking, "Well that's probably a Tri-State area thing, and Jersey is the diner capital of the world..." but Texas is pretty strict about its laws pertaining to sever pay as well
Article continues below advertisement

Wiley Wheeler writes: "Some restaurants will force waiters to pay for damaged items, walked tabs, or other business expenses. This is strictly illegal."
So why are there so many reports of restaurants dipping their hands into the proverbial gratuity pockets of so many servers? Well, it could have something to do with a "gray area" that Consumer Reports discusses in this piece.
Article continues below advertisement
The outlet wanted to find out exactly what the law stated about restaurants that force their workers to foot the bill of dine-and-dashers, and the Department of Labor stated that it's illegal...if the tips in the question that are removed to cover the costs of damages put them at below minimum wage.

Article continues below advertisement
But the Department of Labor also states that gratuities are the property of the employee but the restaurant cannot touch them unless those gratuities are part of a general pool that all workers from the restaurant share. Sometimes, restaurants will get workers to "payback" walked-out-on bills by deducting it from the tips servers collected previously.
Again, according to the US Department of Labor, that appears to be illegal, however, the agency's website does ask workers to contact them in order to report or inquire about any deductions their employer makes that they feel may be unlawful.
Article continues below advertisement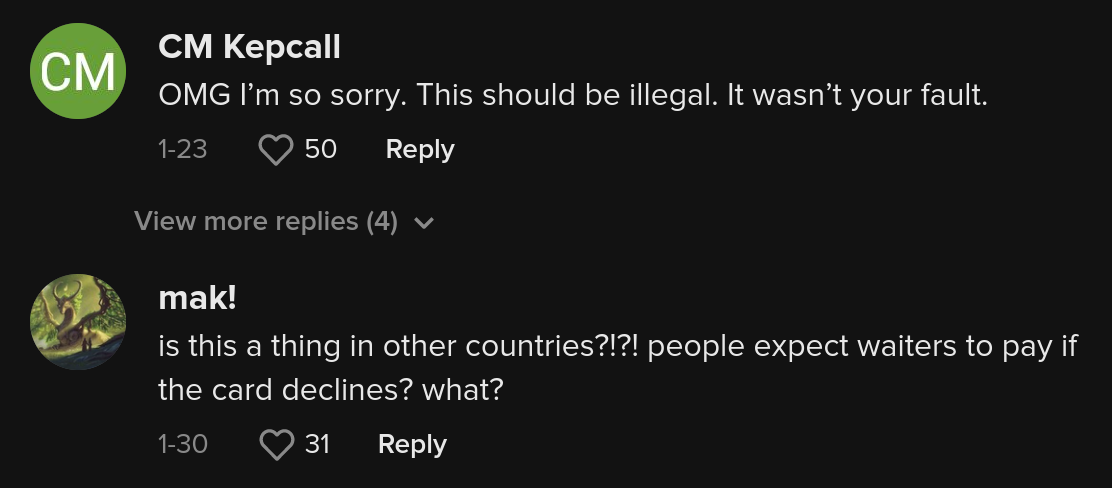 Audrey posted a follow-up TikTok video where she responded to a user who said that her losing out on the money for the card being declined was ultimately on her and that she must've done something wrong.
She prefaced the clip by stating she was "mentally and physically" exhausted after working a double shift and only getting 4-5 hours of sleep the previous day.
Article continues below advertisement
She said that by the end of her shift she "just wanted to get out of there and go home" because she worked 24 hours in two days and was tired, which is why she didn't put up a fight with her employer when asked to foot the cost of the bill.
Article continues below advertisement
She said that she has no plans on quitting her job and that she likes the people that she works with and she's not familiar with the laws in the state she's currently living in as she recently moved there. In the clip, she said that she plans on approaching her manager and telling them that asking her to foot the bill is illegal as it wasn't her fault the customer's card was declined.
At the end of the clip she didn't seem too bothered by whether or not she gets her money back, but continued to say that "it's on the people that walked out."