Boss Forces Employees to Take PTO Day for Being 1 Minute Late, Backfires Spectacularly
A Redditor delineated how they once worked for a boss that considered being even one minute late as being out for the day in a viral post.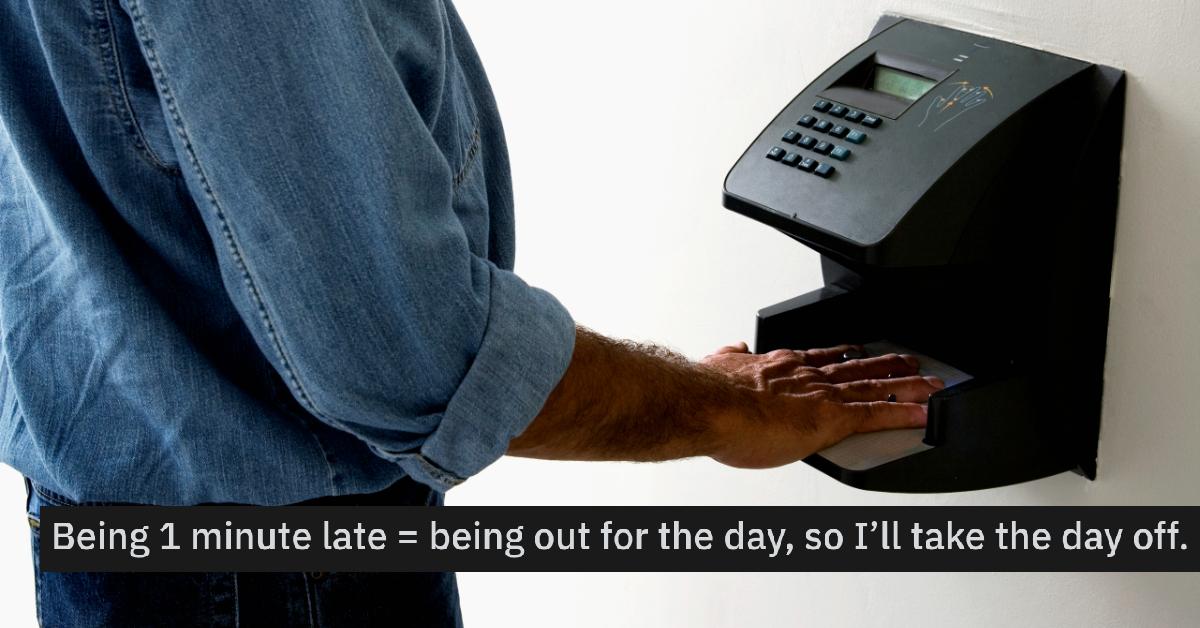 There are tons of metrics put into the amount of time employees work while they're on the clock, along with analytics that delves into the metrics of how much money is lost per employee for tardiness.
Of course, these metrics really depend on the industries that are being analyzed. Full-time employees typically work more than 40 hours per week in the US across various types of businesses.
Article continues below advertisement
Things get a bit more granular when you consider that some periods of time are busier than others. For instance, if you work at University Computer Help Desk, you're probably going to get inundated with more password reset and account set-up requests at the beginning of each semester as opposed to the middle of one or right before the holidays/finals.
But there are some companies that keep strict time cards and really zero in on whether or not employees are sticking to those times or not. Like a business that Redditor @jade__99 worked for who said that they once worked for a boss that equated being one minute late to work as being out the entire day.
Article continues below advertisement

Jade posted the story to Redditor r/maliciouscompliance sub and said that when they found out they were going to be late one day, instead of just showing up a few minutes tardy, they simply called out sick.
Article continues below advertisement

The Redditor stated that they worked for the business for about two years and never once had any issues brought up about their work attendance or being tardy. Then, around the time they were fielding workers for a promotion, they said that their boss began bringing up all the instances that they were one minute late to work.
Article continues below advertisement

It's an eye-rolling thought, especially when you consider that the boss even mentioned the single minutes they were late coming back from their lunches. To top it all off, Jade says that even though they only used two of their sick days in those two years, those still counted against them for their promotion.
Article continues below advertisement

The amount of total late time they had accrued resulted in about 5-10 minutes, and the boss decided to write them up for their tardiness and stated that they wouldn't be considered for the promotion until there was another review. This is despite the fact that they were still attending training seminars for said promotion.
Article continues below advertisement

Fast forward to a day, Jade was having "car issues" and if they decided to get back to their house to work from home (they are expected in office 4 days a week) then they would've only been a minute or two late.
If they decided to go into the office for the day they would've been about 20 minutes into their shift already.
Article continues below advertisement

So the Redditor, considering that their boss counted a single minute late as being gone for the whole day, ultimately decided that they would take a sick day as the day would be counted as them being "absent" from their duties anyway.
Article continues below advertisement

Jumping to promotion time: it turns out that the Redditor was given the higher position anyway. But their boss' behavior didn't sit right with them, so they decided to start applying elsewhere and then ultimately got themselves a job with a bigger salary as a result.
Article continues below advertisement

Other Reddit users who saw Jade's post were shocked that the boss counted it as a strike against them for being sick, while others were happy they were able to get a new job away from such a petty manager.
What do you think? Have you ever worked for an employer who meticulously accounted for every minute their workers were on the clock?