Woman Orders Curbside Kids Meals 5 Days a Week Because It's Cheaper Than Groceries
A TikToker said she's able to constantly eat out and it's cheaper than getting groceries because she orders kids meals for curbside pick-up.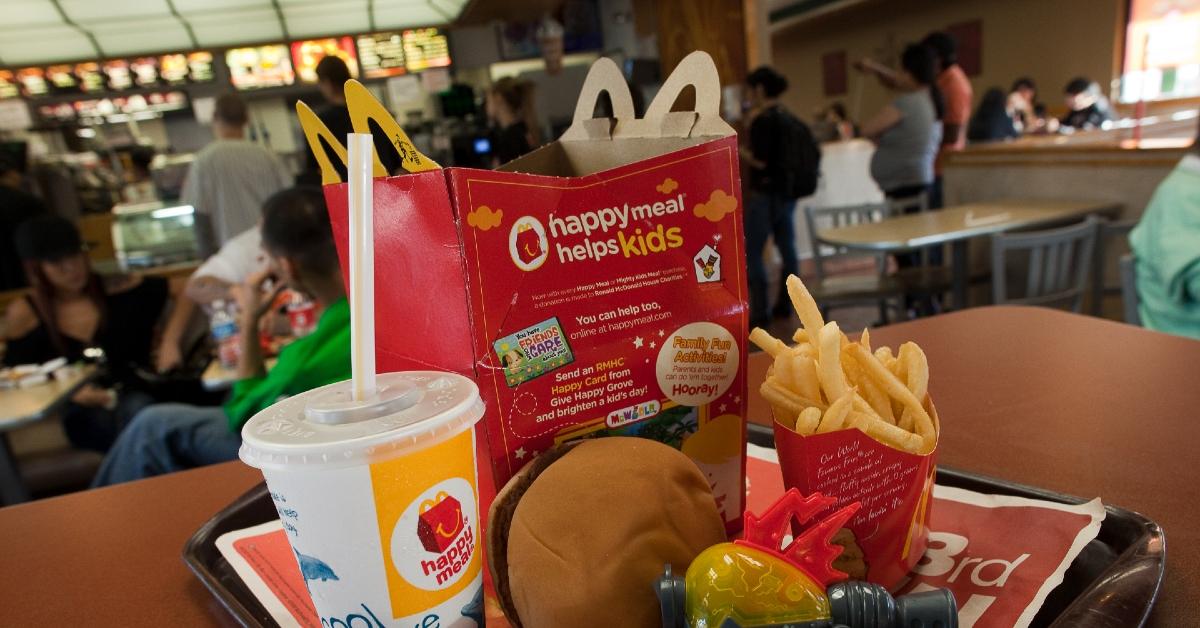 Depending on who you ask, being an adult who orders children's meals at a restaurant is either a brilliant way to save money or a low-down dirty trick that "games the system."
Children's meals usually pack large enough portions for a grown-up to eat and are served at a fraction of the price. They're primarily placed on the menu as a means of making parents/guardians feel comfortable about eating out with their little ones.
Article continues below advertisement
Kids will get a substantive amount of food on their plates while mom and dad order the bigger ticket items that the restaurant makes a margin on. At least, that's the theory in most places, and why many spots will put an age limit on who can order a kid's meal.
So what's a diner on a budget to do? If you feel embarrassed about being a fully functioning adult who drives a car, pays and files taxes, and has to stand in line at the DMV who wants to order kid's meals, then this TikToker's child-meal-ordering method might be for you.
Article continues below advertisement
Ashley, who posts on TikTok under the handle @thedisneygirlie posted a now-viral clip that shows her enjoying a plate of food with a text overlay that explains her kid's meal ordering hack: she just gets the stuff to-go via curbside pick-up.
Article continues below advertisement

She writes in a text overlay for the now viral TikTok: "POV: a child free adult is dismantling capitalism by ordering curbside kids meals 5 days a week from chain restaurants bc it's cheaper than groceries. $2 more than fast food, the portions are more than enough and the drink comes with it."
Article continues below advertisement

She smiles in the video showing off her discounted spoils along with a container that appears to contain rice, grilled chicken, and some cheesy covered vegetables and/or what looks like macaroni and cheese.
Article continues below advertisement

Ashley isn't the first person to suggest ordering off of the kid's menu on social media in order to save a few bucks on food. And while she stated that ordering from chain restaurants are only marginally more expensive than ordering from the kid's menu, there are still those who implement the kid's menu trick at their favorite fast food spots as well.
Article continues below advertisement

Probably because the average price of fast food menu items have skyrocketed a whopping 13% in 2022 alone. And what about Ashley's claim that purchasing kid's meals is cheaper than groceries? Well, she may have a point there too, depending on what she's buying and from where.
Article continues below advertisement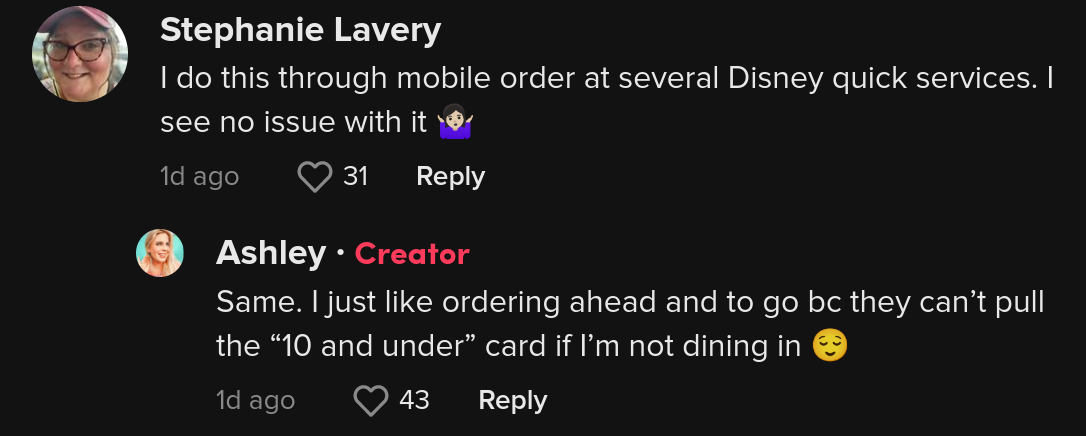 Article continues below advertisement

TikTokers who saw Ashley's post remarked that they, too, are huge fans of kid's meals, and even shared some of their own favorite places for getting the most bang-for-their-kids-meal buck. One user said that Chipotle, Applebees, and Olive Garden have great kid's meal choices.
Article continues below advertisement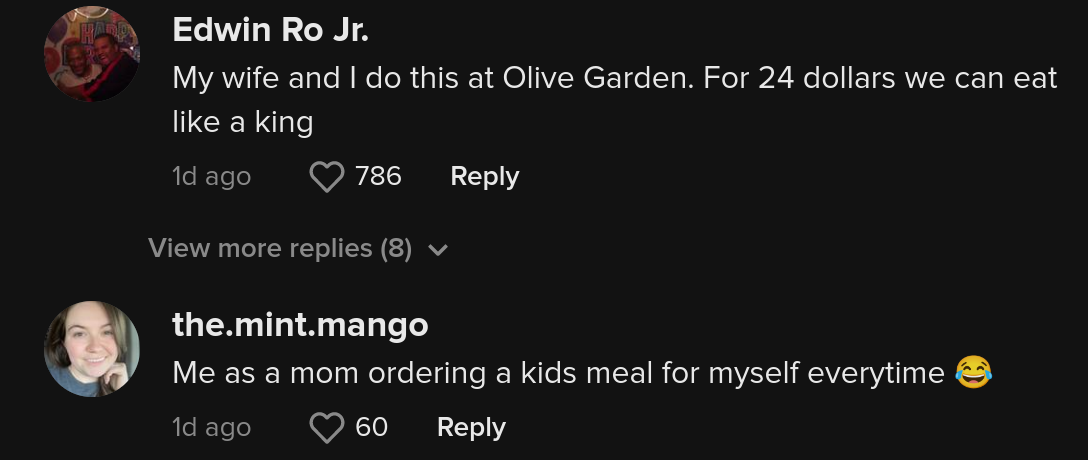 Another remarked that they would purchase $5 kids mini-pizzas at BJ's that come with a drink, and another did the $5 Buffalo Wild Wings survey "hack." They then use the $5 they get at BWW to buy a kid's meal and then rinse, repeat the process whenever they want to get some food.
Article continues below advertisement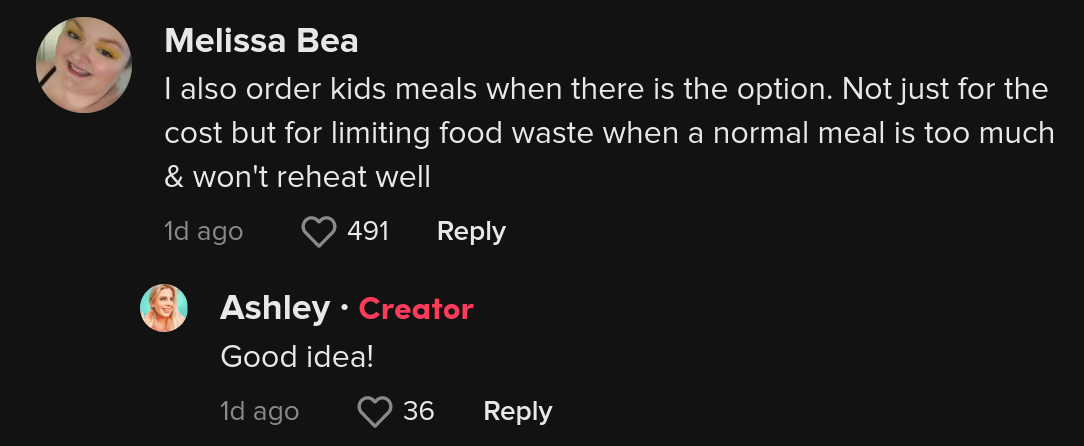 How do you feel about getting kid's meals from restaurants? Do you feel a little less guilty picking up some curbside children's meals from a chain? Or do you think that it's a dishonest practice altogether? Or maybe you don't think there's anything to feel guilty about at all?