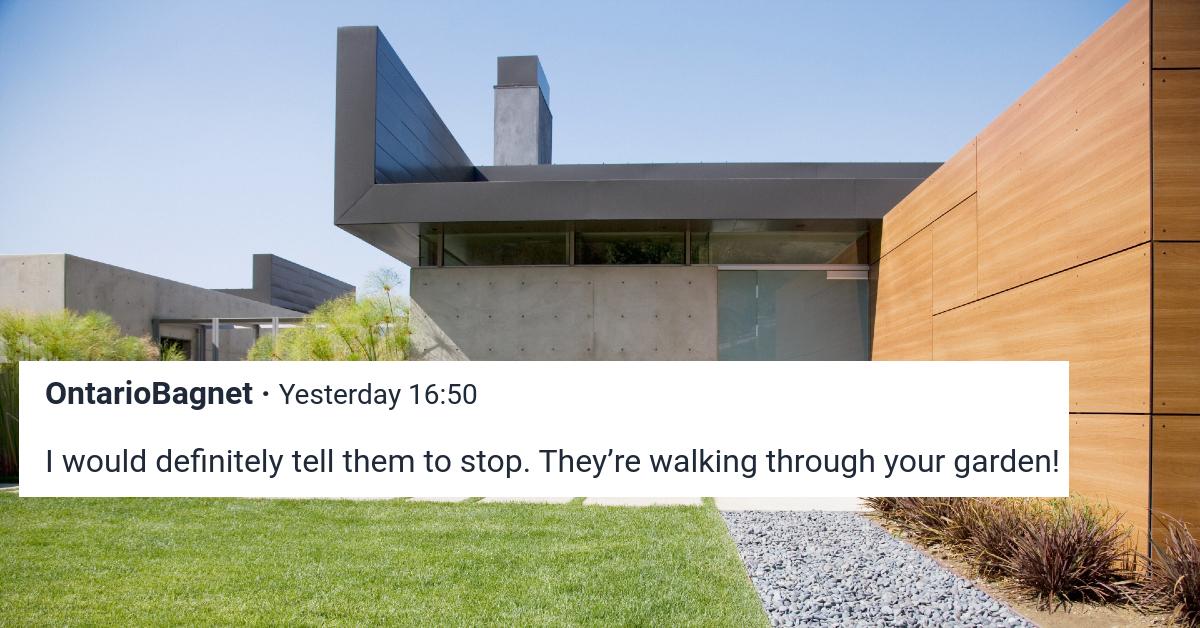 Internet Backs Frustrated Homeowner Whose Neighbor Uses Garden as a Shortcut to House
The best kind of neighbors are usually the ones who mind their own business. Sure, it's nice to have a friendly community where everyone knows and looks out for one another. But sometimes folks are a little too overly friendly, to the point where it feels like they're invading people's privacy and personal space instead of just being chummy.
Article continues below advertisement
But sometimes that's the sacrifice you make when dealing with people in your community/block. You'll be cordial with folks and some people have different definitions of boundaries.
One Mumsnet user, @thelongroad appears to have a situation on her hands where she's dealing with the worst of both situations: new neighbors she isn't all that familiar with who still invade her privacy regardless.
She asked other users on the platform if she was being "unreasonable" for thinking about telling these new neighbors to stop using her steps and cutting through her property to get into their house.
Article continues below advertisement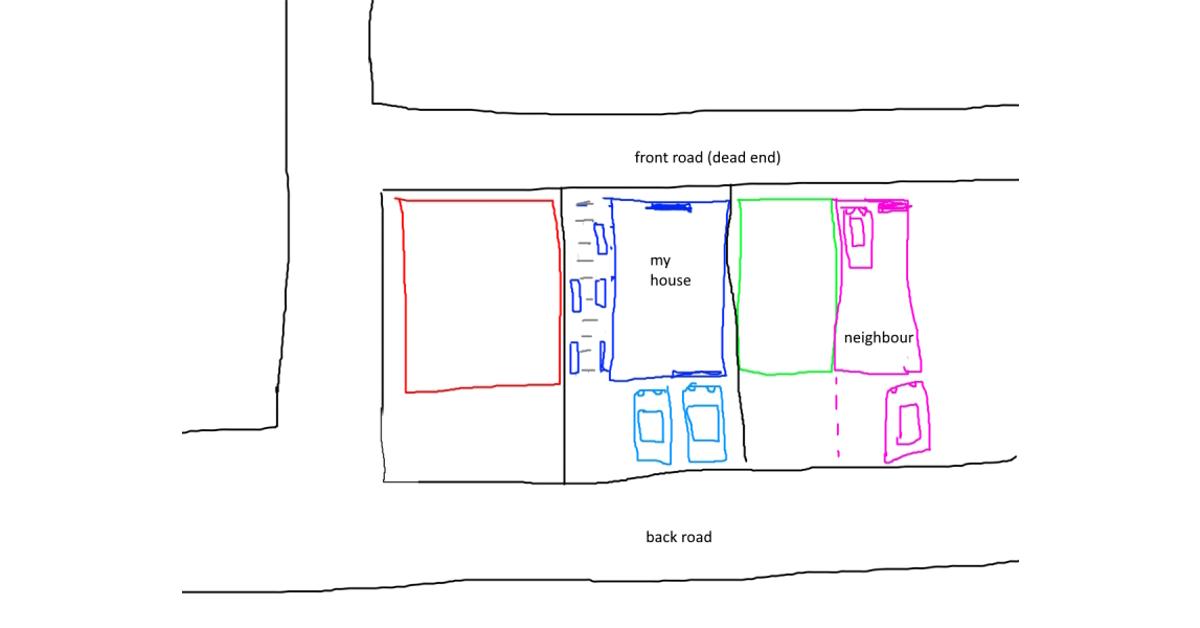 She even provided a diagram of the situation in her post to the popular Mom-forum. She said that the neighbors moved into the pink unit in the above-posted picture. The "green" home hasn't been moved into yet, but this new family nabbed the adjacent home beside it and according to @thelongroad, they wouldn't stop using the steps she had installed on her property.
Article continues below advertisement

She writes, "We own the bit between us and corner house (their land is fenced off all round). It's sloping downwards towards the back, and we've paved it and put in steps (grey lines) so we can walk from front to back of house. I've also got plants growing there and we have our firewood stack on the side."
Article continues below advertisement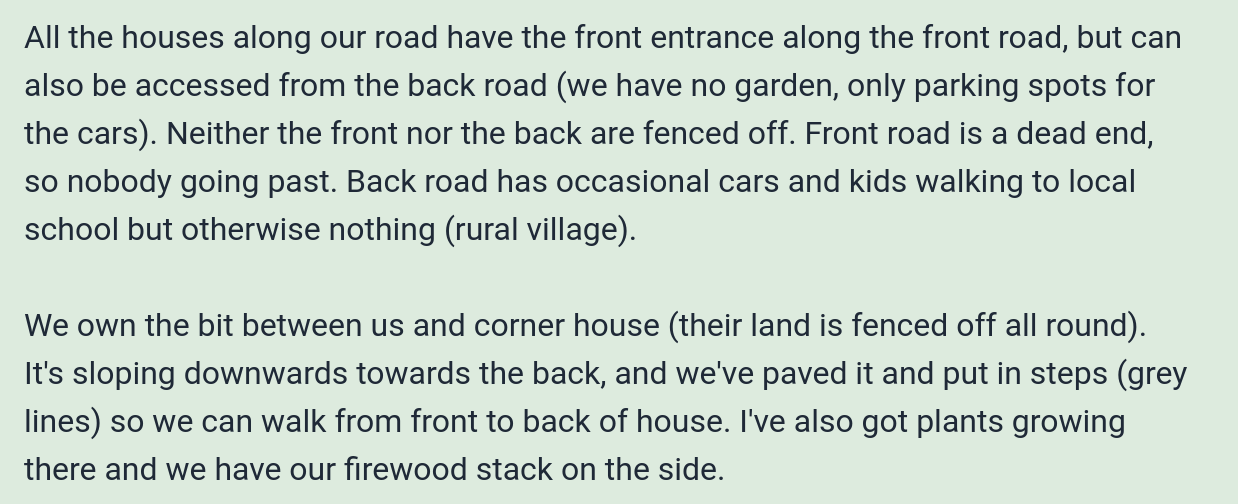 She continued, "Very occasionally kids who are playing on either road use our steps as a shortcut to the other road. This is ok. We've also had workmen ask to use it when they've been working on one road and needed to get to the other. Also fine."
But the problems started arising when she says that the neighbors "have been using it ALL THE TIME" for getting from the front house to the back of it.
Article continues below advertisement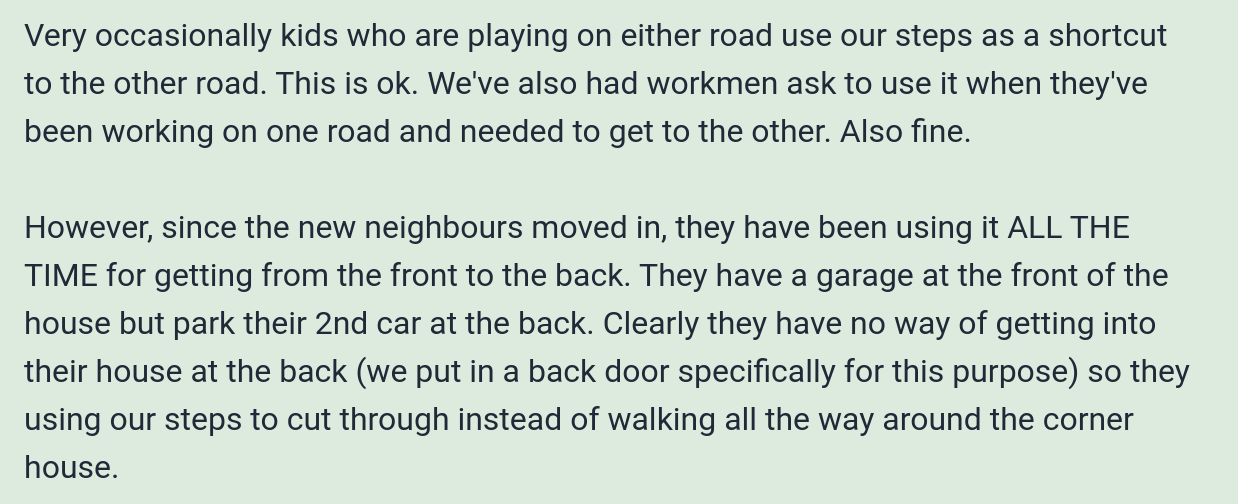 She says that they park their car in the back of the home and since there's no way to get into their home via a back door they're constantly using her stairwell instead of going around the other end of their house to enter from the front.
Article continues below advertisement

She adds that every time they do this she can see them walking past the window of her living room and if they want they can look inside her home and see her and whoever is in her home quite plainly. She wanted to know if she was being irrational for being so frustrated by their blatant disregard for property lines.
Article continues below advertisement

The Mumsnet user concluded her post by asking if it would be wrong of her to broach the subject with her neighbors as they seem to not be getting her subtle hints, like putting a potted plant in the way of the stairwell to signify that this is private property they're walking through.
Article continues below advertisement

Pretty much all of the users who read her post sided with her, stating that she has every right to bring up the issue as it's her property that she owns and pays taxes for. Others mentioned that they weren't too happy about the fact these neighbors were waltzing through her garden whenever they felt like it, too.
Article continues below advertisement

Some suggested that she should erect a fence/gate to stop folks from using her stairwell, but there were many who thought that a simple conversation should suffice as well.
What do you think? Is she in the wrong for expecting her neighbors to not walk on her property whenever they feel like it?