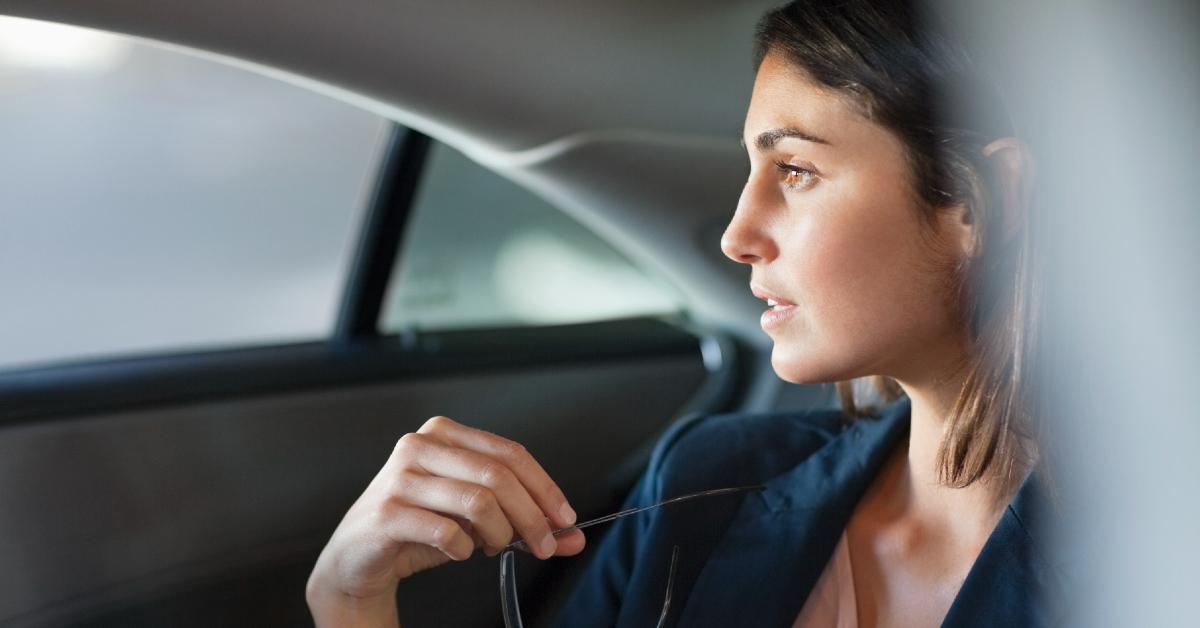 Girlfriend "Steals" Her Car Back From Cheating Boyfriend While He's Out to Lunch With Another Woman
There are fewer things more devastating than finding out someone you loved, or at least really, really liked in a romantic capacity cheated on you when you thought that the two of you were in a monogamous relationship.
And it's even worse when you discover that they betrayed you right under your nose. Like finding out they brought that person into a house you shared with them.
Article continues below advertisement
Or, in the case of this one woman in a viral TikTok, taking your car to go out on a date with the person they're cheating on you with. That's what happened in a clip uploaded by Alayshiaa (@alayshiaaaa) which shows a woman walking through the parking lot of what appears to be the exterior of a restaurant.
The woman gets in the car and begins to close the door before the video fades out. Without context, this would seem like a completely innocuous clip that wouldn't warrant any type of attention on a social media platform.
However, the text overlay in the clip tells a saucy story that has so many folks on the popular social media platform commenting and sharing.
Article continues below advertisement
The overlay reads: "pov: you help your friend steal her own car from her boyfriend who is having lunch with another female"
A caption for the TikTok Alayshiaa, who is presumably the friend, writes: "hope him a his date get home safe"
Article continues below advertisement

Judging from follow-up clips uploaded to Alayshiaa's account, it appears that she had uploaded other parts delineating exactly what happened between her friend and her ex. However, she it looks like she removed them due to the "negativity" she received from other TikTok users.
Article continues below advertisement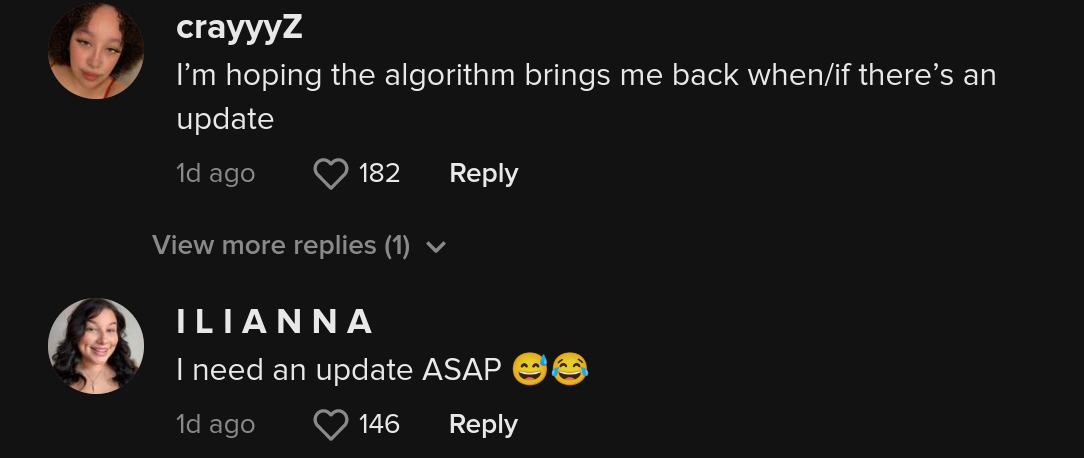 Folks had a lot to say about the slighted woman's actions in the comments section of Alayshiaa's initial video, however, and a lot of them supported the fact that she took matters into her own hands and got her car back.
Article continues below advertisement

One woman wrote, "If he didn't buy the car for you he shouldn't be allowed to drive it without you unless he's your husband"
Others chimed in stating that it was a "red flag" if a man doesn't have a car and advised against folks dating those who don't have their own vehicle.
Article continues below advertisement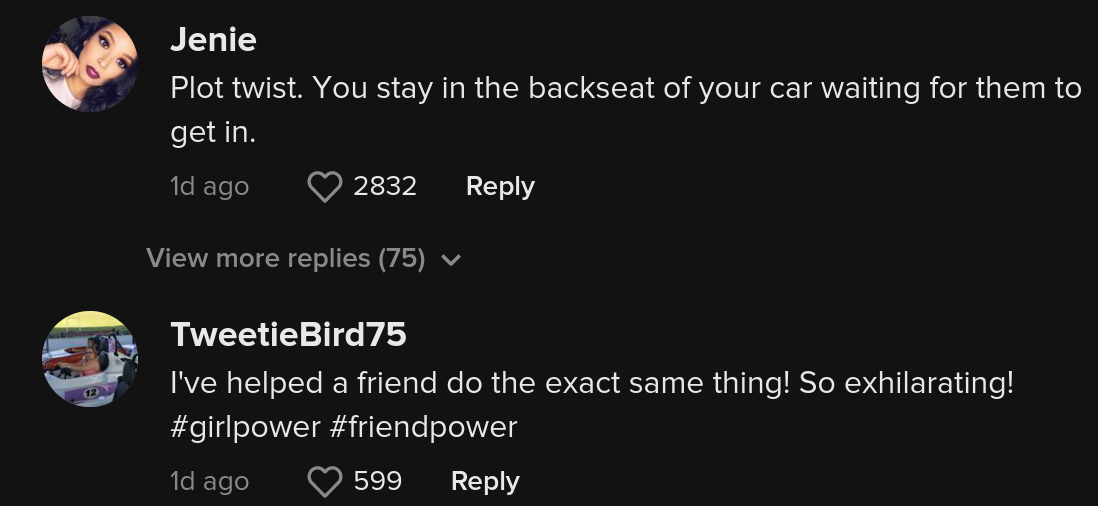 Many echoed the same sentiment: "Why does he not have his own car? Let's normalize having our own and being stable before dating!"
But for many, they were just impressed at the way the woman decided to handle her business.
Article continues below advertisement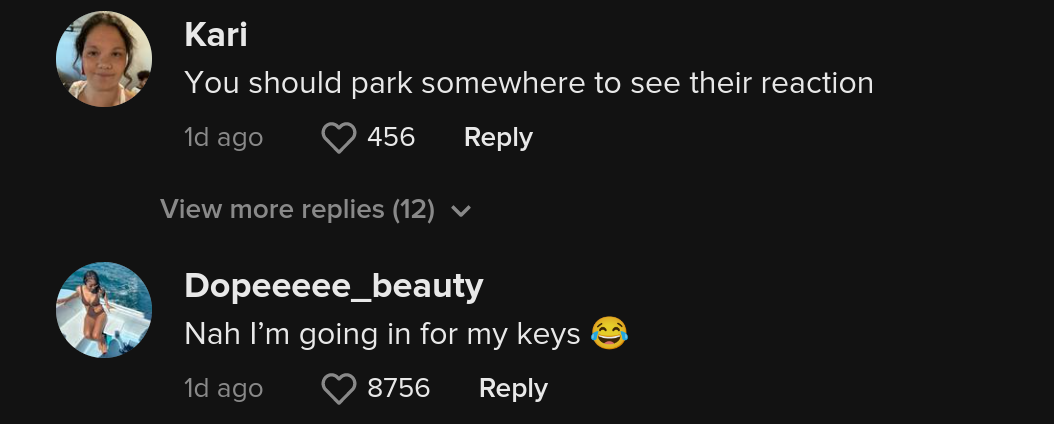 "y'all talking about she should do this and that. I think she did good no disturbance and he'll know what's up when he can't find the car," user @jazzym89 said.
Article continues below advertisement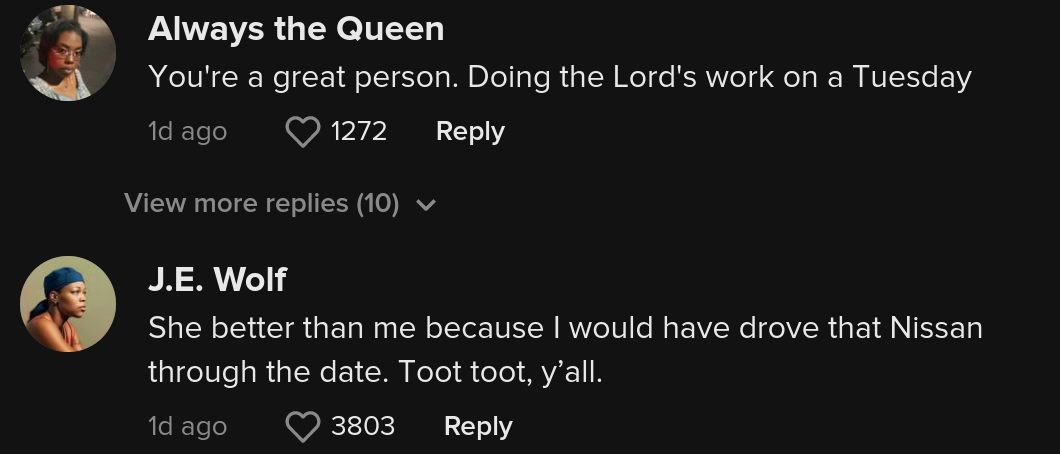 Another wrote, "Aye she did what she had to do. No issues, no drama, no fighting. Just took what's hers and dipped."
And while many applauded her for her actions, there were many more who thought that she should've walked into the restaurant in order to get her other pair of keys back from the man.
Article continues below advertisement

How would you handle the situation? Would you want to confront the person who cheated on you? Or do you think that's a waste of time, especially if you don't have any interest in being with them anyway? As hurt as this woman may or may not have been, just getting her car back must've been a relief.