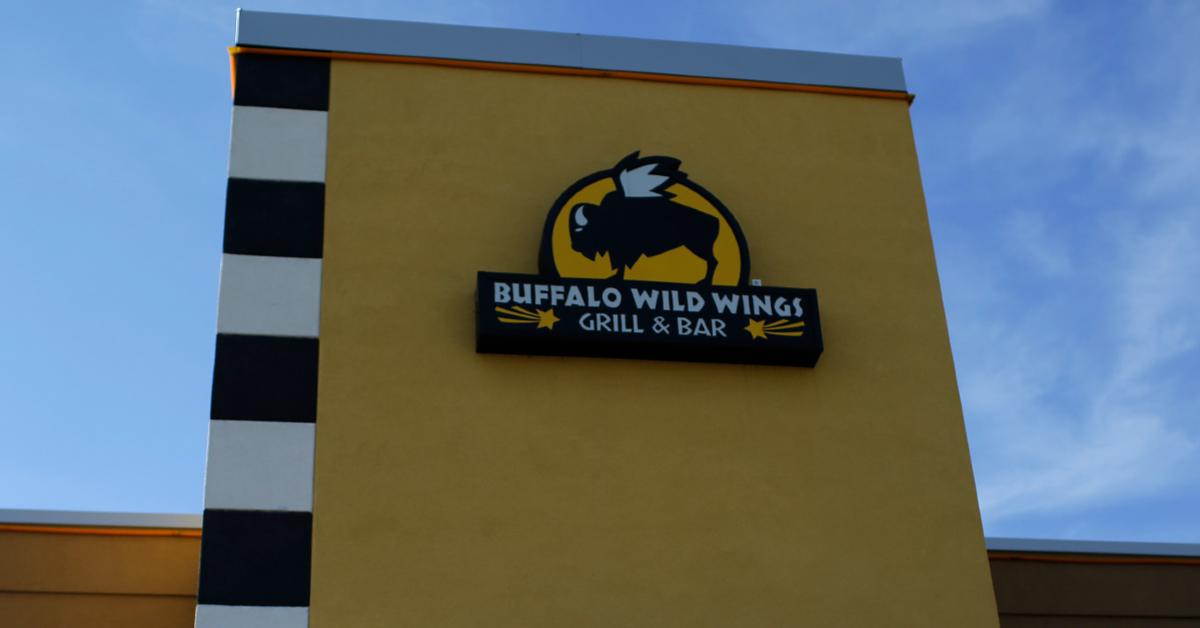 A Former Server Explains Why She Only Left a $2 Tip on a $75 Order at Buffalo Wild Wings
Every time a server makes a post on social media about how little they receive in gratuity, or how crumby it was of a table that stiffed them of a tip, there's almost always a debate in the comments section of said post that features two main arguments.
Article continues below advertisement
There's always a group of people who say that tipping is not compulsory and if it was then it would be automatically included in the bill. And then there are those who say that it's gross that folks don't immediately consider a 20% tip for a server when ordering their meals as the majority of their wages essentially depend on the kindness of strangers.
Inevitably, there are almost always a number of people part of the "pro-tip" crowd who claim that they are servers themselves and say that people have no idea what it's like to work as a waiter or waitress, and if they did, they would never not tip.
This is probably why this TikToker's post is currently going viral on the popular social media platform.
Article continues below advertisement
TikTok user Jenna Rion (@jennarion) explained why she only tipped $2 on a $75 bill during a recent dining experience at a Buffalo Wild Wings location.
She says in the trending clip: "I have the biggest bone to pick with Buffalo Wild Wings, I have never in my life tipped less than twenty percent but I did tonight and I tipped like $2 on a $75 tab. Let me tell you why."
Article continues below advertisement

She continued, explaining why she left such a relatively small gratuity, "I'm not an a**hole to preface, I'm really not. I worked in food and beverage for like seven years. I've worked at low-end restaurants I've worked at really high-end restaurants, I've worked my a** off and I also know that things are out of your control like how busy it is, like how busy the kitchen is like I understand that things are out of your controls sometimes."
Article continues below advertisement

She says that the situation she encountered was, "beyond that" calling it "the worst service" that she's ever had. As she records the video, she's eating food, and as it turns out, it's from the Buffalo Wild Wings experience she's talking about in the clip. "The reason why I'm eating my chicken at home is cause we literally sat there for probably over two hours."
Article continues below advertisement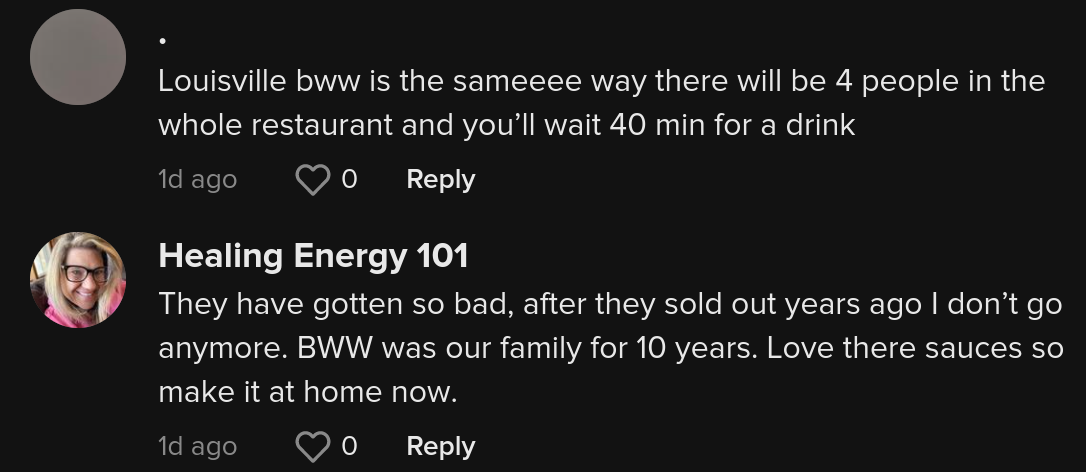 She said that when they first arrived to the restaurant everything "started off fine" but they waited about five minutes before a manager approached her table and asked if anyone took their drink orders. The waitress for the table then shows up some ten minutes later with their drinks, but she was missing the lime from the beers and didn't bring any waters like they asked.
Article continues below advertisement

A half hour or so passes and the waitress doesn't come back to the TikToker's table so they had to go to the bar to get their waters and they flagged down another server to get napkins and silverware. The TikToker said that while her fiance had his food delivered to the table, hers wasn't brought out.
Article continues below advertisement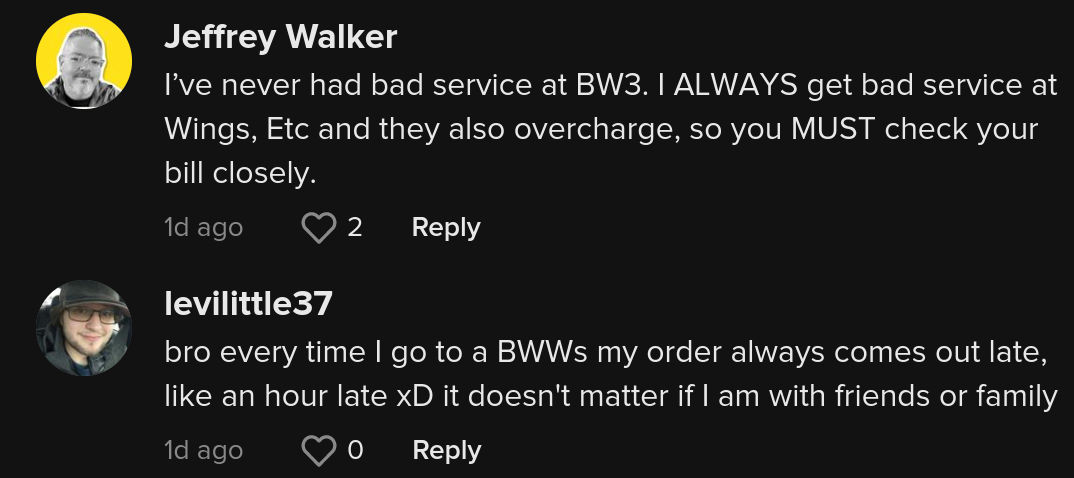 She then said they sat there for about an hour and fifteen minutes longer until the server finally showed up to the table and asked if they wanted more beers. Jenna said that she still hadn't received her food, and the waitress responded apologetically that she would go and check on that for her.
Article continues below advertisement

Her meal then takes another 15-20 minutes to finally arrive, but the fries, which were part of her order, weren't included with it. She then said the server comes back a little while later and "throws" the fries on the table. At this point, they had to go to the host to get to-go boxes, but they were still waiting on their check.
Article continues below advertisement

Other TikTokers said that they were in similar situations, but unlike Jenna, they didn't wait as long and instead stayed seated for about thirty minutes. When the server didn't show up with their bill in that amount of time they just left without paying.
Article continues below advertisement

Others said that they've visited Buffalo Wild Wings in the past and upon being seated waited for 25 minutes without any service. Then there were those who, like Jenna, said that they were extremely polite and patient, but still had a poor experience despite their attempts at being kind and understanding.
Article continues below advertisement

What do you think? What's a reasonable time limit for a server to come in and check on a table? Would you have waited as long as Jenna did?