Rude Customer Flips out After Seeing Booked Manicurist Shopping for Groceries
A customer went HAM on a manicurist who said she was too busy to work on her nails but then had the audacity to go grocery shopping.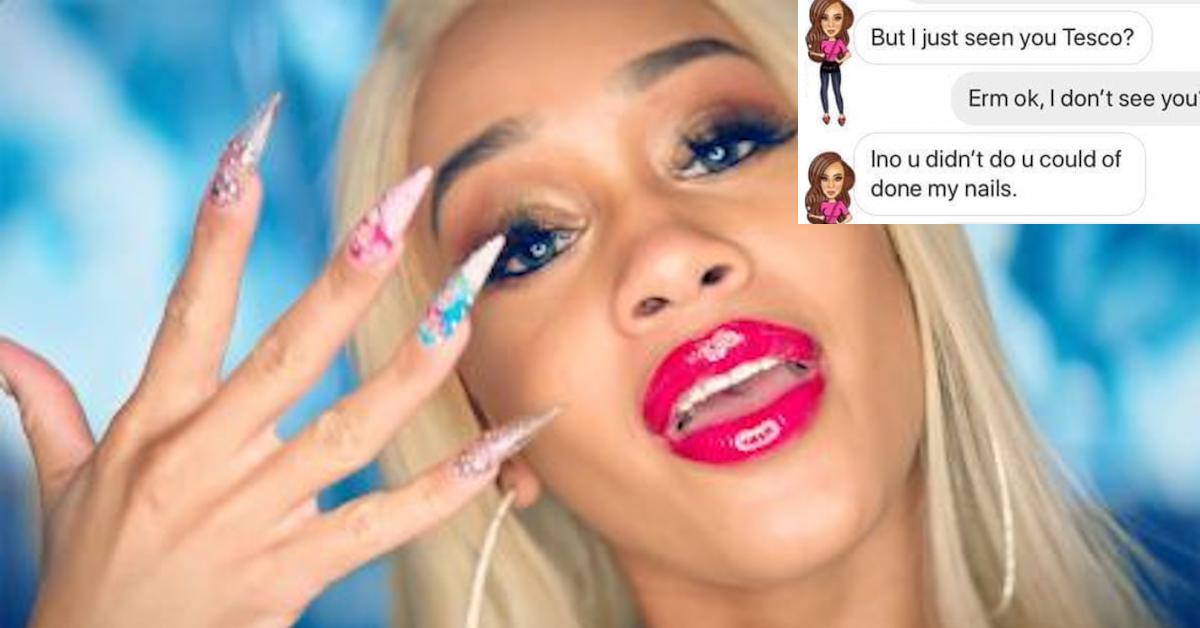 Article continues below advertisement
#RespectingTheGrind is a popular sentiment among folks these days, almost to the point that going out to shop for necessities, like toiletries and food, can seem like a miniature vacation. This is especially true if you have kids — all the parents reading this know exactly what I'm talking about.
However, it is possible for someone to grind too hard, and striking a work-life balance is important. But not if you ask this one customer who direly wanted to book a nail appointment.
She felt her desire for fly phalanges was so important, her preferred manicurist should be at her beck and call. While the customer service industry operates on the fairly simplified principle that "the customer is always right," this entitled woman seems to have taken that motto a bit too far. Just take a look at this crazy exchange between the two of them.
Article continues below advertisement
Reddit user anniemayy shared screenshots of their conversation. The customer can't seem to wrap her head around the fact that the manicurist already works a full-time job and was booked solid for the week. When the manicurist offered to fit her in at a later time, the customer pointed out that she noticed the poor overworked woman dared hit up their local Tesco for groceries instead of booking her.
Article continues below advertisement
You can see the manicurist's patience running a bit thing when they point out that it isn't crazy to want to spend time with their children and maybe buy some groceries when they aren't at their main job or side hustle. But the customer just doesn't get the memo. So this tired nail artist tells her to suck a big fat hairy toe for her inconsideration.
Sadly, Choosing Beggars are a common occurrence, even with people outing them on social media all the time.
Article continues below advertisement
You can find them on Craigslist, even when you're giving something away for free, like this person who was offering up a toilet to whoever wanted to come and pick it up. The choosing beggar in question asked if the poster could drive 35 minutes to bring it to them...and then tried to guilt trip them when they denied. Who the heck raised this person to ask so much from someone, especially a stranger?
Then there are the peeps out there who expect "creatives" to just up and do work for free for them. Like the Olympic gymnast and Commonwealth Games gold medalist who made this request.
Article continues below advertisement
When it comes to trying to con artists into doing work for free, this one example on Reddit is extremely rage-inducing. This person tried asking someone to get animations for their Twitch channel, but didn't want to cough up $40 for the work. So when they were asked to make a counter offer, they asked if they could pay whatever "Mexican ladies" charge for flavored ice. Yikes.
This next case is a bit depressing, as a guy who owns some properties tasked his father, who, admittedly, isn't the smartest guy in the world, to collect the rents from tenants. A group of kids gave his dad a bucket of Pokemon cards for the rent and the man actually accepted it...what.
Article continues below advertisement
While having a dad who is enough of a pushover to accept Pokemon cards as an acceptable rent payment is sad, I think this particular case is sadder. This Redditor's brother, who was having difficulty finding work and never worked a job that paid more than $10 an hour, was upset that the only position he could get paid a "measly" $17 an hour. Oh, and did I mention that the person who posted this basically had their boyfriend hook the job up for him?
Talk about ungrateful. Holy moly.
Article continues below advertisement
Oh and it doesn't help that he tops it all off with a little light misogyny for good measure. Best of luck to this dude in finding gainful employment.
This next one is a long one, and if you don't want to go through the whole conversation, I'll summarize it for you: a dog walker agreed to take a job, but a customer tried to get them to walk two dogs for the price of one, even though the person's service clearly states that customers are charged for multiple puppers. You can check out the entire convo here, the highlights are below!
Article continues below advertisement
How would you feel about a person who begs to be treated by a random stranger to go to the movies and foot the bill for snacks? THEN said person gets angry when someone hits up the supermarket beforehand to fill their pockets with snacks instead of spending an arm and a leg at the movies for treats and puts them on blast on Snapchat for it? How would you describe that individual? Awful? Reprehensible?
Article continues below advertisement
And last but not least, I leave you all with yet another wonderful example of people asking for free art in exchange for, wait for it...exposure! Of course when the person is denied they start acting like a dude who was rejected from a girl they were just hitting on. Ain't humanity wonderful?
Article continues below advertisement
Please, learn from these dinguses and don't ever be a choosing beggar.