The Ending of 'Cut Throat City' Is up to Viewers to Interpret
By the end of 'Cut Throat City,' viewers were wondering, "Whoa, what just happened?" We have a complete explanation of the shocking ending!

There are some movies that come out on Netflix that leave us wanting more. Cut Throat City is no exception. Rapper RZA's third film focuses on New Orleans in 2005, where citizens of the city's 9th Ward are reeling from the devastation caused by Hurricane Katrina. With FEMA nowhere to be found, Blink, played by Shameik Moore, and his three friends turn to crime in order to make ends meet.
Article continues below advertisement
Soon they're planning a high-stakes heist to steal money from people and companies like casinos that used their FEMA checks improperly. But when their scheme is found out, a corrupt city politician sends the police after them to shut down the whole operation. By the end of the film, so many viewers were wondering, "Whoa, what just happened?" So, what exactly happened at the ending of Cut Throat City? We have the explanation below!

Article continues below advertisement
Blink takes up a life of crime with his friends just to survive in 'Cut Throat City.'
When Blink and his crew try their first heist, things almost immediately go wrong as the cops are on them first thing. Blink's friend, Andre, is killed during the heist and the remaining three men try to explain to Cousin that what little money they actually did get from the heist went toward Andre's funeral, something the crime boss is not too happy about.
Blink, Miracle, and Junior give Cousin a small bag of casino chips, and he immediately thinks they've stolen from him. Spoiler alert: they have. Cousin tried to hold the trio hostage, but they manage to escape Cousin and go on the run from both the crime boss and the cops. They eventually end up taking refuge with Blink's father. Meanwhile, an intense police investigation tightens around them.
Article continues below advertisement
Cousin is killed by another gangster, The Saint, and this gives Blink and his friends a chance to go back to an honest living as Cousin is suspected for the earlier heist.

Article continues below advertisement
Blink's fate is left in the balance at the end of 'Cut Throat City.'
Blink and his surviving friends decide to try and pull off one last heist. The friends decide to try and rob the safe at a FEMA disaster recovery center, money they feel ultimately entitled to as victims of Hurricane Katrina. However, their efforts are thwarted, once again, by the police and each member of the crew is gunned down.
However, this is where fans get confused, as the next scene appears to show Blink, still alive. He's made a success out of his art by publishing a book. So, did Blink actually die and is this his version of heaven?
Article continues below advertisement
The ending of 'Cut Throat City' is left for the viewer to interpret.
While some viewers may think that Blink dies at the end of Cut Throat City, there are others who believe he lives. The interpretations range from Blink did not die in reality, and he left his wife to go be an artist. Another interpretation is that the character did not die, and even though his wife thinks he is dead, they'll reunite later in life.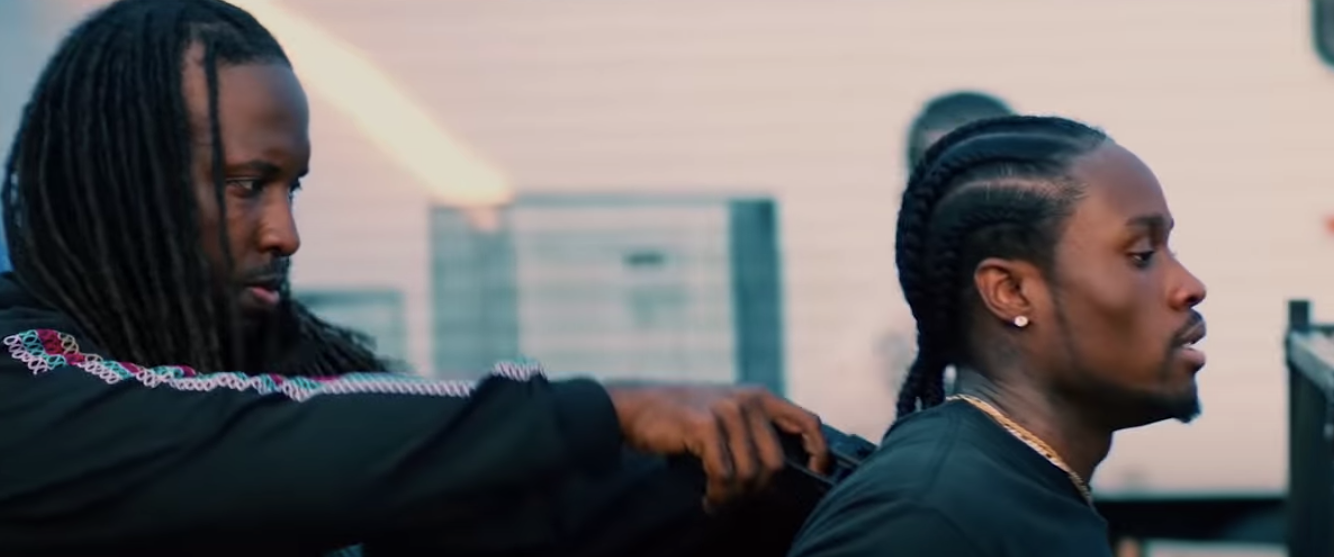 Article continues below advertisement
HITC had an interesting interpretation of what the film's ending meant. "Our belief that Blink is dead for good is cemented by the fact that his wife and child travel to his father's shack in order to seek refuge," the outlet wrote.
"If the book launch event was real and Blink had made a success of himself, would they not be able to find a nicer place to live? Saying that, during the final heist, it also looks as if Miracle is shot dead too," they continued.
Another interesting point to be made is that Cut Throat City actually had a mid-credits scene at the end of the film that Demetrius Shipp Jr.'s character survived the shootout and worked with Ethan Hawke's character, Jackson Symms. So, if Miracle managed to survive, what's to say Blink didn't?