Dad Blasts "Filthy Men's Rooms" and Lack of Changing Tables — "Am I Asking Too Much?"
This man made an important point about the need for changing tables in the men's room.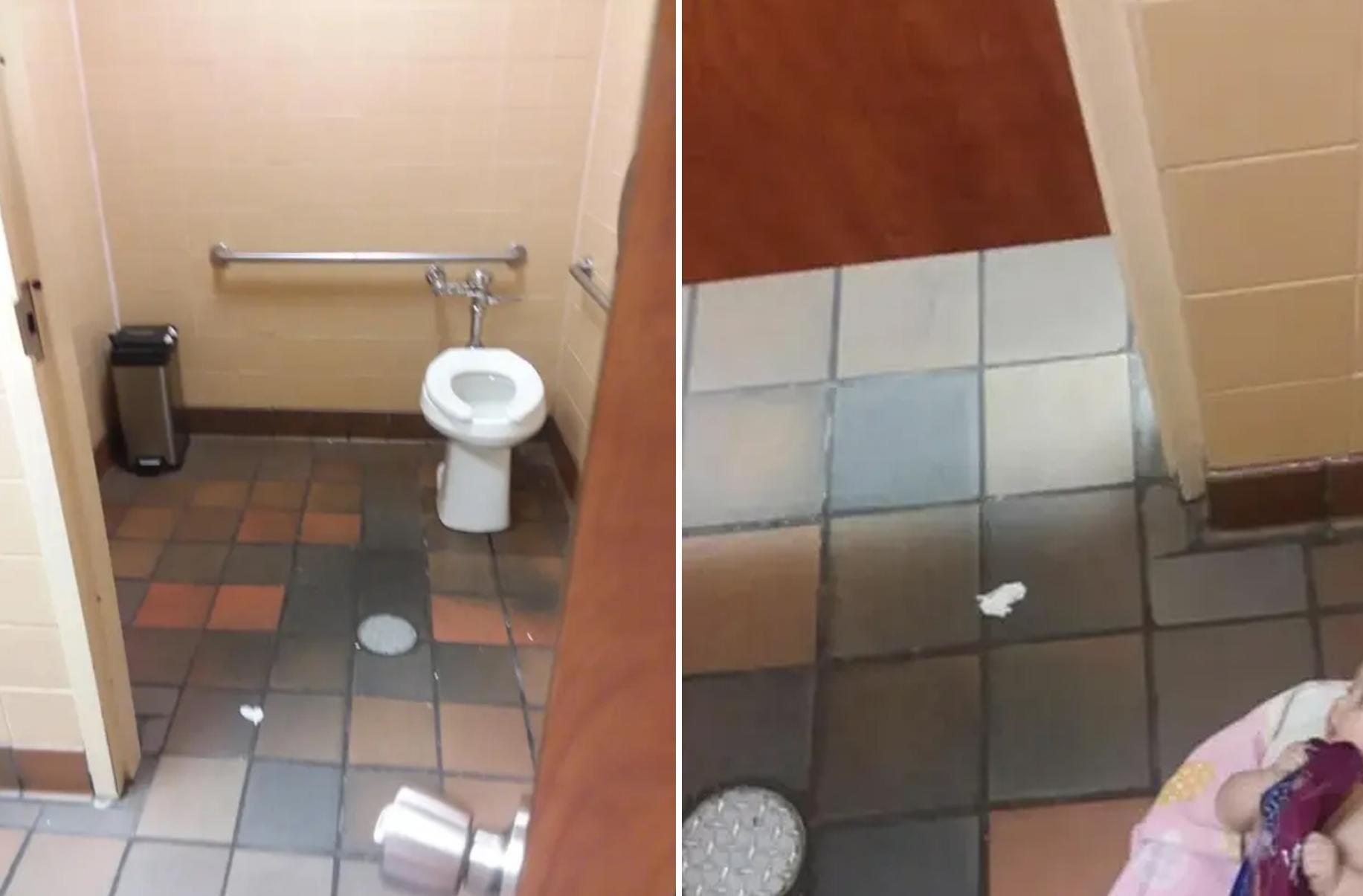 Parents have a lot to juggle. One of their responsibilities is attending to their infant and toddlers bodily needs. It seems like changing someone's diaper should be enough of a responsibility to get you out of doing anything else, but there's actually often quite a bit more of work involved! Still, let's make the diaper changing part as easy as possible, right? Not quite.
Article continues below advertisement
Charles Mau is a 33-year-old with one son and three daughters. The youngest of his kids if 8-month-old Kali. As you can imagine, Mau has been around the block when it comes to childcare. In recent Facebook post, Mau expounded on an incredibly common problem faced by dads in restrooms all over, even at places that are supposedly family friend.
Mau needed to change Kali's diaper, and he took it for granted that the restaurant he was in would make that possible.
Article continues below advertisement
I'm getting pretty sick of having to change my daughter on a disgusting floor because the only changing table in the place is located in the women's bathroom. It's crazy to imagine I know but there are guys who take care of their kids too you asshats.
Article continues below advertisement
If it's a public place with public restrooms in the generation of equality among genders and races then how about making sure us fathers can change our children's diapers on a goddamn changing table like the mother's can. Am I asking too much?
Mau later edited that the circumstances made it difficult to find an alternative, as there was no car or shelf of any kind in the restroom.
Article continues below advertisement
You can see that the bathroom is fine for peeing in, but not where you want to rest a baby:
Article continues below advertisement
Though Mau found a way eventually:
Article continues below advertisement
He later expanded on what exactly happened in a post for Love Matters, saying he'd gone out for a walk with his fiancée and their kids, and they split up when Kali needed her diaper changed and the other kids wanted to explore. His baby was distressed, because she was wearing a dirty diaper, so Mau made the decision to not go wandering around looking for a better option.
"I grabbed the towel, laid it out and changed her in the stall, all while my mind raced at how unnecessary and preventable this entire situation is," he wrote.
Article continues below advertisement
"I felt like they honestly don't think a father is responsible for diaper changing or whatnot, and I recalled times in the past where we had traveled and run into similar situations where the public restrooms did not have changing stations resulting in the hassle of trying to change a diaper in the car, on a floor or looking for another place to try, hoping they had one."
The couple made a complaint on their way out of the restaurant, but Mau was still mad when he got home. That's why we have Facebook—to rant. But that rant touched a nerve for a lot of people. Mau says the response has been overwhelming and largely positive.
Article continues below advertisement
"Almost everyone who has reached out to me has agreed that this problem is a stupid problem to have, but a problem all the same. It's solution is simple to install and rather cheap, so in this day and age there is no excuse to why there isn't a changing station in every public place with public restrooms.
After all, being a parent is the most challenging and rewarding job you'll ever have, and with the good will come the bad, but to have to form a last second plan for a diaper change in a public bathroom that decided not to install a changing station is unnecessarily unacceptable. It takes an entire village to raise a child."
Article continues below advertisement
He concluded, "I honestly hope this post will reach all the right people and good things come of it for all parents and children alike."
His Facebook post has been shared almost 150,000 times, giving his message a huge reach. Will facilities take action? If they're listening they will, because the comments back up Mau's frustrations.
Article continues below advertisement
There are a few comments criticizing his choice to take pics of Kali lying on the bathroom floor, but obviously a photo got the point home.
Maybe someday, businesses will realize what an important issue this is to parents. And yes, that includes dads!