This Dagger Theory Could Predict How 'Game of Thrones' Ends
Season 8 of 'Game of Thrones' premieres Sunday, April 14, and until we know who gets to sit on the Iron Throne and who finally kills the Night King, we're going to theorize until our hearts burst. The "Dagger" theory could explain the latter.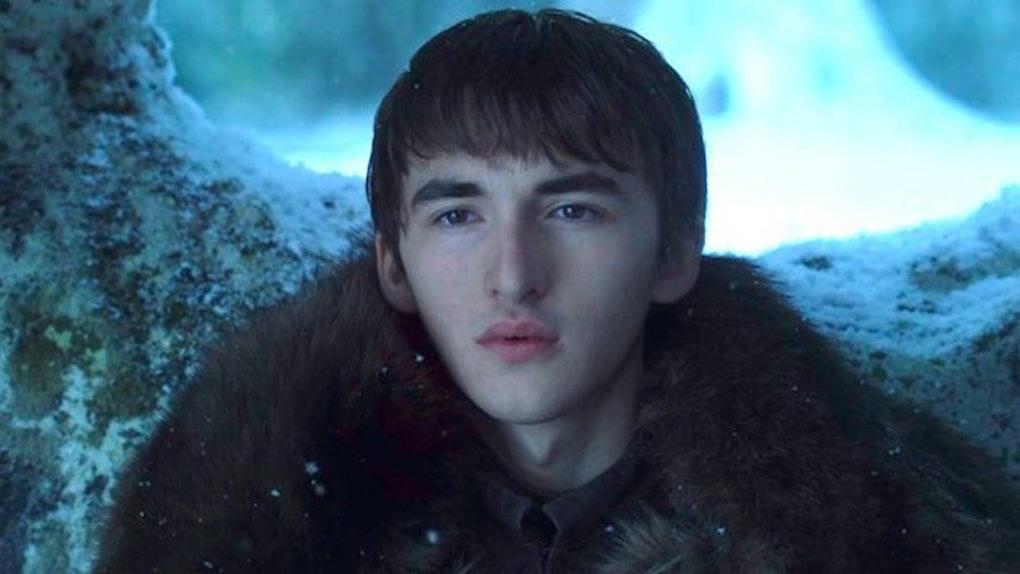 True (or at least obsessive) Game of Thrones fans have probably spent a lot of time on reddit digging through endless theories about who will sit on the Iron Throne, and more importantly, who will defeat the Night King. Even though we finally got the answer to that question (spoiler alert: Arya kills the Night King), that still isn't stopping us from digging deeper and deeper, dissecting every clue, angle, or symbol we may have missed in the previous seven seasons.
Article continues below advertisement
Arya Stark used Littlefinger's dagger — the same dagger that an assassin once used to try to kill Bran back in Season 1 — to kill the Night King. In case you need a recap, the a hired assassin breaks into the room Catelyn Stark is staying in with Bran (who's still in a coma after Jaime Lannister pushes him from the top of a tower).
Catelyn lunges herself at the man before he can come close to Bran, and the dagger nearly slices her hand off before Summer, Bran's direwolf, saves everyone by chomping on the assassin's neck. Catelyn realizes the dagger is valuable (it's made of Valyrian steel), so she goes to Littlefinger to see if he knows where it may have come from. Littlefinger fabricates what we now know is a lie, telling Catelyn that it was Tyrion's, who allegedly won it in a bet.
Article continues below advertisement
Catelyn thinks it's Tyrion who tried to murder Bran, so she ends up kidnapping him on her way back North. The dagger essentially sparked the War of Five Kings. After Catelyn leaves, Littlefinger, who's in possession of the dagger now, holds it up to Ned Stark's throat, hissing at him, "I did warn you not to trust me." Ned Stark is imprisoned and then executed the same season.
We learn that the dagger was Littlefinger's when he gives it to Bran in Season 7. In "The Spoils of War," Bran tells Littlefinger, "Chaos is a ladder," something that Littlefinger told Varys verbatim. Bran could only know Littlefinger said this if he went back in time and saw the conversation between Littlefinger and Lord Varys in Season 3's episode, "The Climb."
In that episode, Varys argues that without peace and order, there would be chaos, and chaos "is a pit." Littlefinger disagrees, saying "chaos is a ladder," which sums up all of his opportunistic and manipulative maneuvers throughout the seasons in order to gain power.
Article continues below advertisement
All this to say: Bran knows Littlefinger is guilty of destroying his family. In Season 7, "The Spoils of War," Bran ends up giving Arya the same dagger. Arya uses that dagger in Episode 7, "Army of the Dead," to kill Littlefinger, because what goes around comes around. But as we learned in Season 8, Episode 3, there is more to the dagger than it serving a major dose of justice.
Article continues below advertisement
So, why did Bran give Arya the dagger? 
Redditor u/ragaed thinks thought there was a big connection between Bran, the dagger, the Night King, and possibly Arya. The theory takes into account that Bran may be the Night King and he knows it (read more about that theory here). He also probably knows Valyrian steel can kill white walkers. By giving Arya the dagger, maybe he's positioning himself to be killed by her.
The reddit user wrote, "it made me re-think the wild theory that Bran is (somehow) responsible for the creation of the WW; if he is not the Night King himself (in some bizarre time travel warging error); and only a dagger to Bran's heart can bring the cycle to an end; and in some ways it was always meant to kill him; and Arya aware of that and being a trained assassin might be the one to do it."
Article continues below advertisement
Another redditor, u/rustythesmith responded, "Did you see the way Bran handed Arya the dagger? It was weird. He jumped back a little bit. Like he was expecting something to happen as soon as Arya touched it. Or like the exchange gave him a vision. And his eyes were on the dagger instead of Arya."
Article continues below advertisement
As we saw in Episode 3, Bran gave Arya the dagger knowing she would use it to kill the Night King himself. As show runner David Benioff and D.B. Weiss explained, "I think it's three years now we've known that it was going to be Arya who delivers that fatal blow... She seemed like the best candidate, provided we weren't thinking about her in that moment.
They continued, "One of the great things about having this many people you care about in a sequence together is that it can kind of pull people's attention and focus to people that they care about a lot like Jon, like Daeny, Theon, and Bran, not to mention Tyrion and Sansa in the crypt, so you're going all over the place with people who you are desperately worried for and hopefully you forget the fact Arya Stark ran out of that castle with the battle drums playing going toward some purpose and we don't know what until it happens."
As to why Jon Snow was not the one to kill the Night King, the showrunners added, "We hoped to king of avoid the expected and Jon Snow has always been the hero, the one's who has been the savior, but it just didn't seem right to us, for this moment. We knew it had to be Valyrian steel, we knew it had to be the exact spot where the child of the forest put the dragonglass blade to create the Night King, and he is uncreated by the Valyrian steel."