NBA Youngboy Is Reportedly in Custody After His Arrest During a Video Shoot
Baton Rouge rapper NBA Youngboy was reportedly arrested after a gun was found in his possession while he was filming a music video.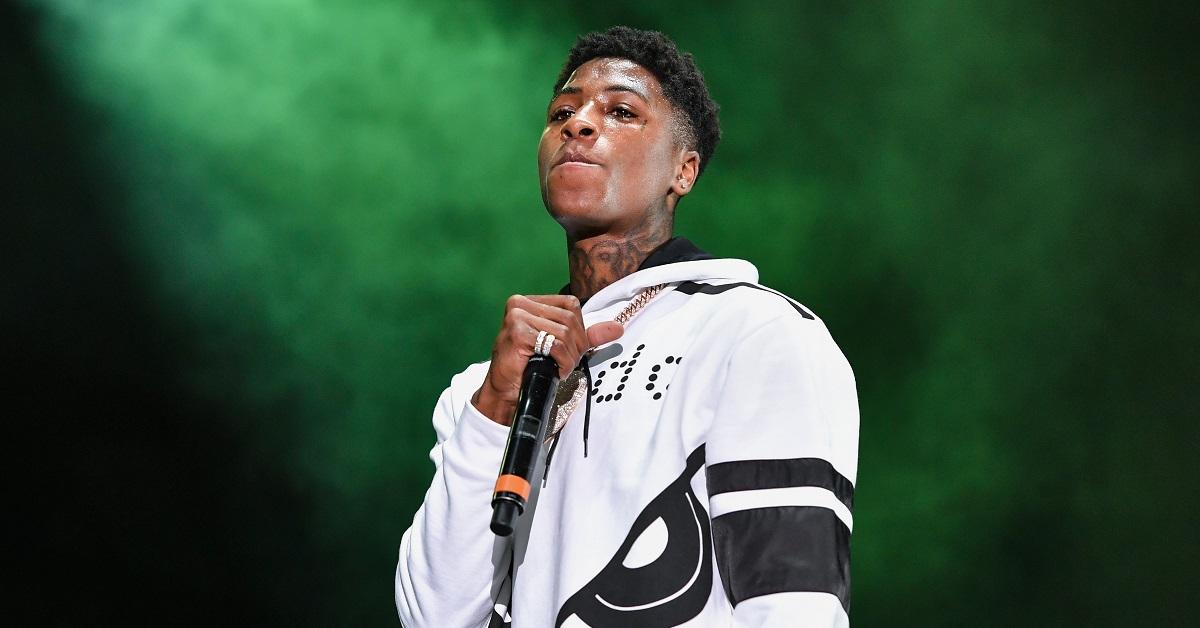 Baton Rouge rapper NBA Youngboy may be among those who were detained by Baton Rouge police on the night of Sept. 28. The rumors began circulating on social media after video was posted of the arrest. In the video, it's hard to say for sure whether NBA Youngboy is one of those being detained, although his sister later claimed that the rapper was in the group being arrested.
Article continues below advertisement
Why was NBA Youngboy arrested?
Although his arrest has not yet been confirmed by the Baton Rouge police department, the office did say that it had made some arrests. The rumor suggests that NBA Youngboy was arrested during a music video shoot for having a gun on the set of the production. At this point, it's unclear whether the gun was used inappropriately, or whether there were issues related to the gun's permit. Many of the details around the story are still unclear.
Article continues below advertisement
Who is NBA Youngboy?
NBA Youngboy is a 20-year-old rapper who has built up a steady cult following from his home in Baton Rouge. He began releasing mixtapes in 2015, and released seven more through 2017. After that, NBA Youngboy, whose real name is Kentrell DeSean Gaulden, was signed to Atlantic Records, and released another mixtape in 2018. He's continued to steadily climb the charts in the years since he was signed.
Although his arrest has yet to be confirmed, this wouldn't be the first time that the rapper has faced legal troubles. In 2016, he was arrested by U.S. Marshals before a concert in Austin, Tex. At the time, he was accused of jumping out of a car and opening fire on a group of people in Baton Rouge. NBA Youngboy was eventually charged with two counts of attempted murder.
Article continues below advertisement
After he was arrested, he was incarcerated from December 2016 to August 2017 for attempted first degree murder. In August of that year, he pleaded guilty to a reduced charge of aggravated assault with a firearm, and took a suspended 10-year prison term and three years of probation. Since those initial charges, he's also come up against the law on several more minor charges.
Article continues below advertisement
What else has NBA Youngboy been arrested for?
In 2018, there was a warrant out for NBA Youngboy's arrest in Georgia for allegedly committing assault, weapons violations, and kidnapping. After he was arrested in Tallahassee, footage was released that showed him assaulting someone. He was eventually released on $75,000 bail, but he was incarcerated again in 2019 after he and his girlfriend were involved in a shootout in Miami.
Although he may have been arrested in Baton Rouge, NBA Youngboy currently resides in Los Angeles. Although he's only 20, the rapper has already had plenty of legal trouble, but that trouble has only been part of his story of success. His fame has only risen over the years since he dropped his first mixtape, and regardless of how frequently he's in trouble with the law, it seems like his music is speaking for itself.