DJ Brags About Being Paid $4,000 to Play Spotify Playlist at Wedding, TikTok Calls Him Out
A TikToker caused a stir online after claiming that they were paid $4,000 for a wedding, just to put on a Spotify playlist.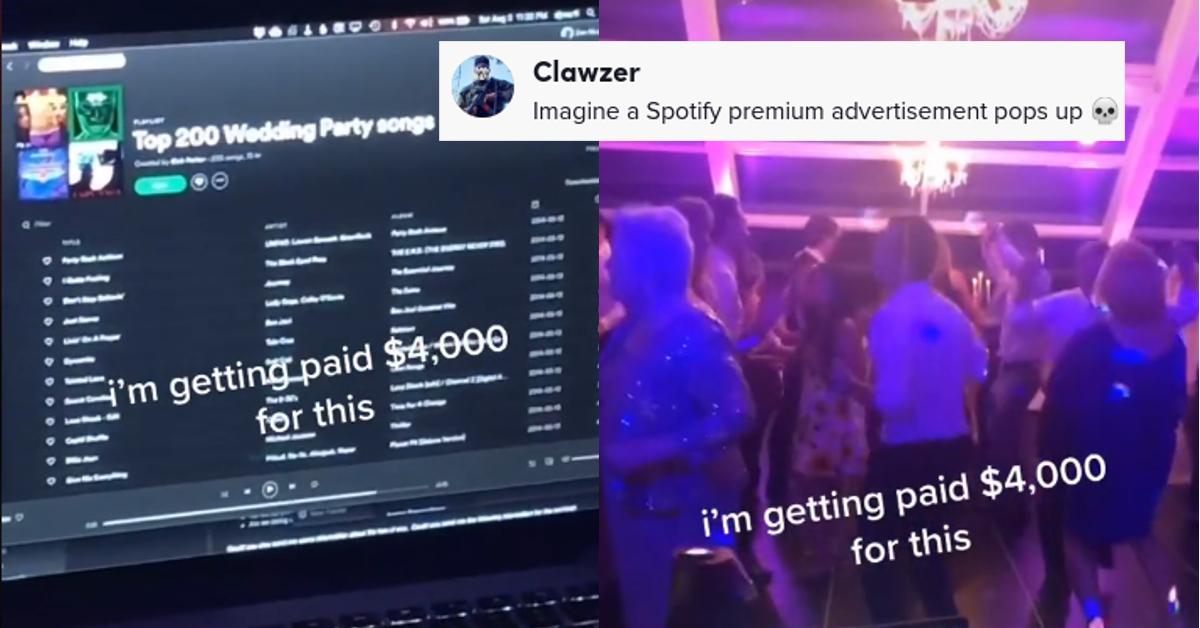 There are a few golden rules of the internet. The first: never wire transfer anybody money who claims they've got a fortune waiting for you or a product at a too-good-to-be-true price. Second, don't let your kids read fan fiction posts on their favorite cartoons. But the third and arguably most important rule of the internet is to watch what you post online.
Article continues below advertisement
Have a hot take on a hot-button socio-political topic? Maybe don't argue with your family members on Facebook about it. Found a salacious headline that supports your own confirmation bias but doesn't have the time to read it? Well, then it's probably best not to retweet it.
And if you found a "hack" that somehow makes your job easier and gets people thinking you're a class-A schemer, then you probably shouldn't brag about it.
That last bit is something that TikToker @mr__fireworks probably never heard before, or just chose not to listen to. In a viral clip with a caption that reads: "white weddings be like" the social media user shows off a DJ setup that sports 2 laptops. On one of them, a Spotify app window is open with a playlist that reads "Top 200 Wedding Party songs."
Article continues below advertisement
A text overlay reads: "I'm getting paid $4,000 this," which suggests that the TikToker basically got paid to hook a speaker set-up to a computer just to play a pre-set mix that's available to anyone with a Spotify subscription. In the background, a bunch of people can be seen chopping it up on the dance floor.
Article continues below advertisement

Some commenters thought that his post was funny.
"I hope u have premium so people don't suspect anything"
"get that bag"
"We distribute that boomer wealth back to the younger generation"
Article continues below advertisement

Others were just happy that a DJ finally copped up to just ripping off someone else's playlist.
"Finally a DJ admits that they just running a playlist."
Some seemed horrified by the admission, with one commenter writing, "That's why I would never hire a DJ. Just make your own playlist people."
Article continues below advertisement

There were some TikTokers who just weren't buying the DJ's post however, like one person who mentioned that the playlist was "on pause" in the video.
And while some folks did believe that a DJ is totally capable of just picking songs off of a playlist, others thought that one getting paid $1,000 an hour wasn't.
Article continues below advertisement

Mint DJ Events writes that the average cost of a DJ runs about $1,200, however, that figure could be much higher depending on the location, size of the party, and the type of equipment the company is providing.
Article continues below advertisement

Some DJ companies provide more than just music through an AUX cord. As one TikToker mentioned: "a good DJ doesn't randomly play songs from a playlist. u pick songs based on energy levels, amount of people on the floor, age, and other demographics."
But they could provide other services during the wedding as well.
Article continues below advertisement
X7 Entertainment, a Freehold, NJ-based DJ event company for example provides a full light show, along with live instrument playing to hype up the crowd in conjunction with on-the-fly song adjustments/mixing to match the vibe.
What have your experience with DJs been? Do you feel like you just paid a bunch of money for someone to "press play" on Spotify? Or was it a more involved process that got people hyped?