The Dogecoin Challenge Isn't a "Sure Thing," No Matter What TikTok Says
The Dogecoin Challenge on TikTok encourages people to buy Dogecoin, a joke cryptocurrency. Here's why you may want to hold off on the challenge.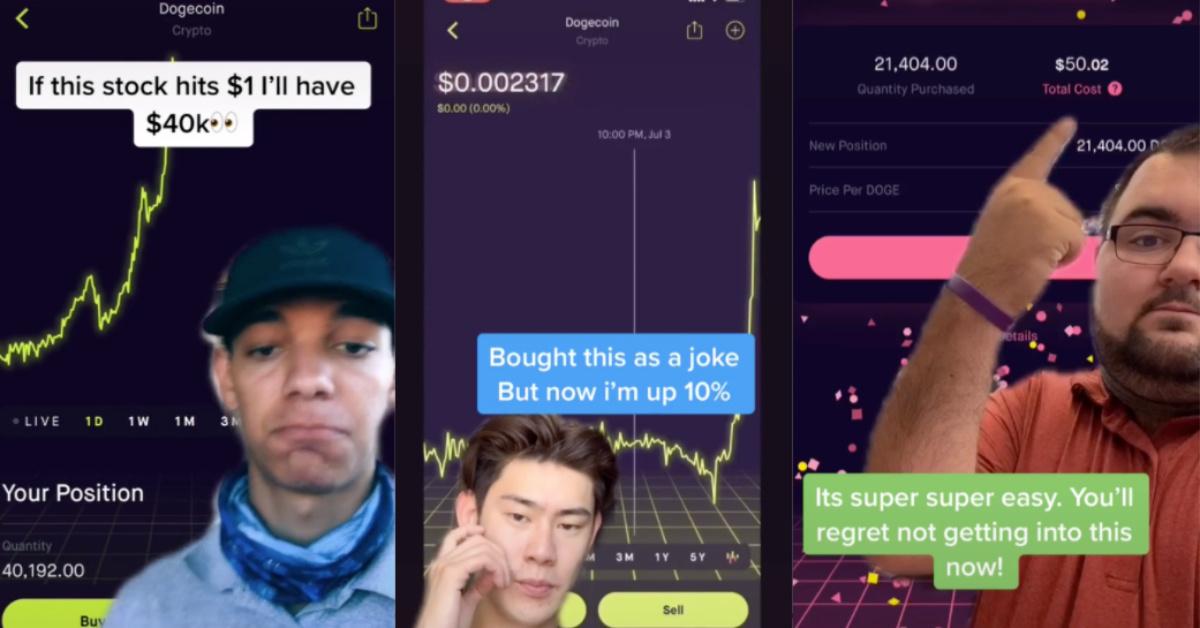 Most TikTok challenges are designed to get people to make fools of themselves or their friends in the name of good fun. You might even go viral and end up with a bunch of followers. That's all well and good for some people, but the newest TikTok challenge has another goal in mind: getting super rich.
Article continues below advertisement
It's called the Dogecoin Challenge, and it essentially involves encouraging people to invest in a cryptocurrency called Dogecoin. As silly as that may sound, it actually might not be the worst idea ever, but it's also probably not the best one. At the very least, you don't have to learn any TikTok dance moves to participate. That's something, right? Here's what you should know about the new challenge.

Article continues below advertisement
What is the Dogecoin Challenge on TikTok?
Basically, there are a bunch of people on TikTok encouraging others to buy Dogecoin. What's Dogecoin, you ask? It's a cryptocurrency — kind of like Bitcoin, only Dogecoin was initially started as a joke. The name itself is a reference to Doge, the Shiba Inu dog you've probably seen in meme form all over the internet (depending on how old you are).
Historically, Dogecoin has not been a very high-value cryptocurrency, although its value has experienced some notable jumps over the years. But according to TikTok cryptocurrency fans, its low value is exactly what makes it ideal for investing right now.
Article continues below advertisement
The idea is that while Dogecoin is cheap, a bunch of people should buy it, driving up the overall market value. Once Dogecoin value hits $1 (if it hits $1), people plan to sell, making themselves some easy cash with very little effort. That's kind of how cryptocurrency works, although it's not really as straightforward as some TikTok users are making it sound. (Also, a lot of people are referring to Dogecoin as a stock, which is different from a cryptocurrency. So, that's a bit of a red flag.)
Article continues below advertisement
Should you buy Dogecoin right now?
Look, we're not going to tell you how to spend your money, but you should be aware that purchasing Dogecoin as part of the Dogecoin Challenge is in no way a "sure thing" like some people are saying on the video-sharing app. If you know any Bitcoin Bros, you know that they're always talking about "sure things," and are often mistaken. (If you don't know any Bitcoin Bros, honestly, consider yourself lucky.)
Article continues below advertisement
Buying cryptocurrency is always going to be a high-risk decision with no guarantee of a high reward. That being said, we have seen some of what the TikTok teens are capable of, so it's not completely impossible for Dogecoin to experience another jump in value and, potentially, make people rich. It could happen. It probably won't. But it could.
It's definitely not the time to be dumping your entire life savings into a joke currency (in fact, we would argue that it's never the time for that), but if you have an extra 25 bucks laying around, buying Dogecoin isn't the worst thing you could do with it. And there's a chance (albeit a slight one) that doing so could net you a profit. Good luck!