TikTok Says Dogecoin Cryptocurrency Is Worth Investing In — So Much Wow, Very Wealth
TikTok is trying to convince people to invest in Dogecoin — a real cryptocurrency based on...yes, Doge. The Shiba Inu dog meme. Is it worth it? Is it even a real thing? Find out more here.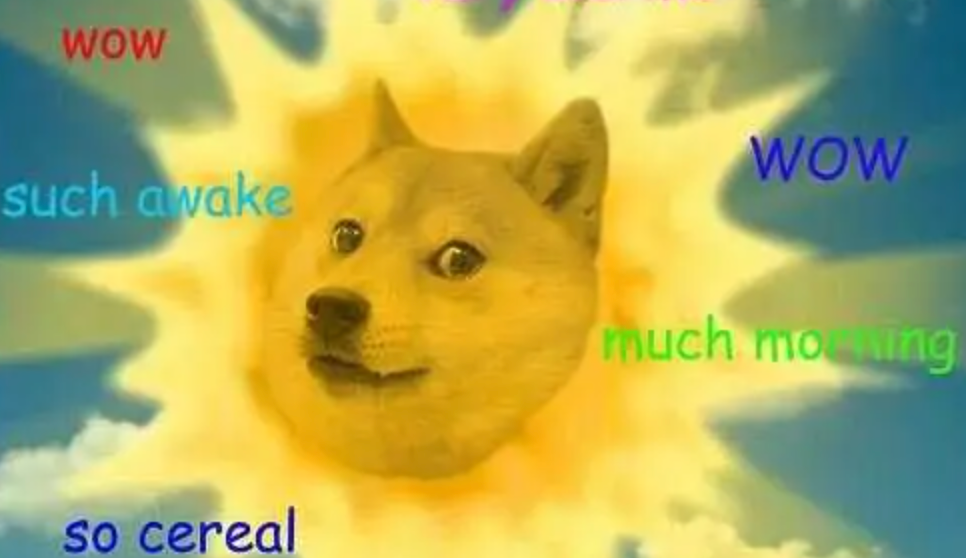 Ready to be transported back in time? Specifically, back to 2010 when Doge memes were all the rage? Well, we hope so, because Doge is back! Dogecoin, to be exact. TikTokers have resurrected the joke meme currency, and we're kind of here for it? Especially since Dogecoin might just be a legit investment. If you don't understand what the heck is going on, here's what to know.
Article continues below advertisement
What is Dogecoin?
Dogecoin, which is a play on Bitcoin, is a joke cryptocurrency based around Doge, the famous and very beloved Shiba Inu. Dogecoin, created by programmer Billy Markus (and translated into a tangible product by an Adobe employee named Jackson Palmer), goes back to 2013, three years after Doge became a meme. Dogecoin accumulated a community of its own and actually reached a capitalization $60 million by January 2014, which means, technically, yes — Dogecoin was worth something. And it could be worth something now — but we'll get into that in a sec.
Article continues below advertisement
You could use Dogecoin as currency on Reddit and Twitter mainly as "tips to reward creativity and sharing of quality content," according to Kryptomoney.com. Dogecoin is still a thing. In 2019, Elon Musk stated that Dogecoin was his "favorite" cryptocurrency because they have "the best Coin."
Article continues below advertisement
These days (as in, 2020), the Dogecoin has been actively traded with its "daily trading volumes above $150 million per day" back in February. According to analysts, there's a lot of legitimacy to Dogecoin.
Should you really invest in Dogecoin?
According to TikTok, yes. According to analysts? Maybe yes. According to InvestmentU, "Its value has jumped on many occasions since [2015] and it now has a market cap value of over $340 million. Therefore, it's now one of the most cryptocurrencies available." Users all over TikTok are encouraging people to invest in Dogecoin (would this make them Dogecoin lobbyists?)
Article continues below advertisement
Article continues below advertisement
Some people are really convinced it'll make them rich.
Article continues below advertisement
Article continues below advertisement
How do I invest in Dogecoin?
If you're interested in potentially earning some cash, here's how to invest in Dogecoin. It's different from investing in regular stock, if you've done that before (like, via E-Trade). You can get Dogecoin with USD or a credit card. If you're looking to buy Dogecoin with U.S. dollars, visit these sites: Exrates, Yobit, and Livecoin. Once you've registered, look for the "DOGE/USD" option by typing "Doge" in the search bar. According to Bitdegree, you need a crypto wallet to keep your currency safe (it's easy to hack). Once you've purchased your DOGE, transfer the amount to your wallet immediately.
Article continues below advertisement
If you're using a credit card (although Bitdegree discourages people from doing so, since it's a small and unregulated exchange), go to Coinbase and follow the instructions.
Article continues below advertisement
You can also buy Dogecoin by first getting a wallet (like TREZOR Wallet, Coinomi Wallet, or Dogecoin Wallet). Next, find a Dogecoin exchange (like Binance, Poloniex, and Bittrex). Like with purchasing with USD, once you've purchased your Dogecoin, transfer immediately to your wallet to keep the currency safe.
We're no experts, but maybe there's something here. Or maybe this is a short-lived, TikTok-fueled fad. The only way to find out is to invest...or just watch. Much anticipation! So internet!