Christmas is right around the corner, and you know what that means: aside from baking cookies and buying presents, you'll have to set aside a bit of time to brainstorm where the notorious Elf on the Shelf will watch over your family on a daily basis.
Easy Elf on the Shelf ideas, from family-friendly to R-rated.
This year, Elf on the Shelf is coming to town in the funniest way possible... aka people are coming up with the most hilarious ways to position the beloved Christmas icon — while some are nice, others are hilariously naughty.
So If you haven't already taken the time to plan each location for the mischievous elf to perform his annual holiday duties, here are a few easy Elf on the Shelf ideas you can use, leading up to Christmas 2019.
Partying With Barbie
OK, this one is definitely only appropriate for families of a certain age range, but for those seeking out crude Elf on the Shelf ideas, this one is kind of unbeatable. Body shots and funnels with Barbie? I'm game!
Evil Art Projects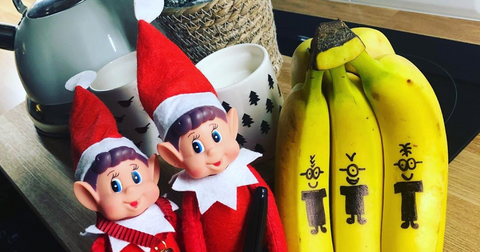 The elf is bound to get bored when the family's asleep, so why not have him engage in some mischievous art projects? Drawing on fruit is a harmless (and hilarious) crime, so why not have him get in on a little bit of fun?
Snowball Fights
Whether you use real snow or 'mallows, there's no doubt in my mind that an elf would start a snowball fight. Set up a scene in which he's kicking butt, taking his reign over the household, or show him at a major loss. Either way, it's bound to make for some serious entertainment.
An Attempt at Flossing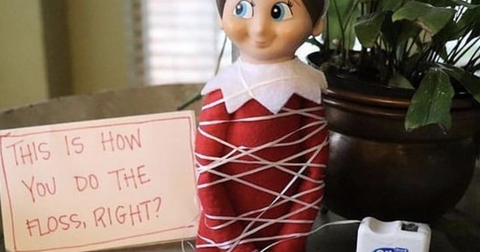 Listen, flossing is hard, and the elf had to learn this the hard way. Are we referring to dental hygiene or the dance move? Nobody ever really knows.
Sippin' Syrup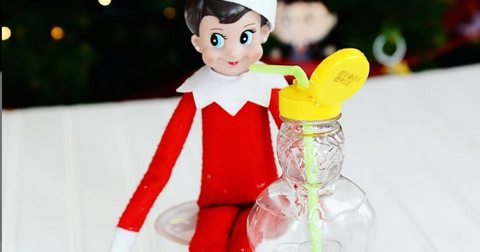 As we know from Elf, syrup is one of the major food groups in the North Pole. Have your elf sip some syrup, or if you're entertaining your roommates, showcase him sipping something a little more tantalizing, like bourbon. Either way, your elf is bound to get thirsty at some point.
Ride the Dog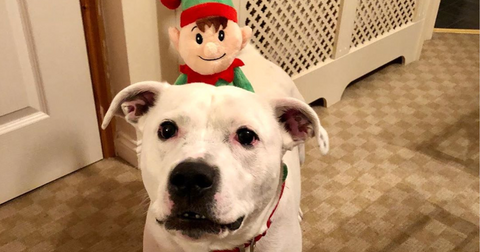 Your dog will have absolutely no idea what's going on, but he'll look great with an elf strapped to his back. There's no better way to watch the family than having Fido do all the handy work.
Recreate 'The Shining'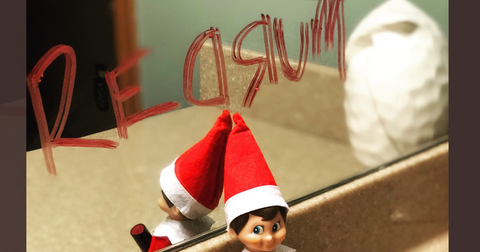 With a little lippy, recreate The Shining by writing the iconic REDRUM in front of a mirror. Again, though, maybe forgo this one if your audience is on the younger side.
Hide in TP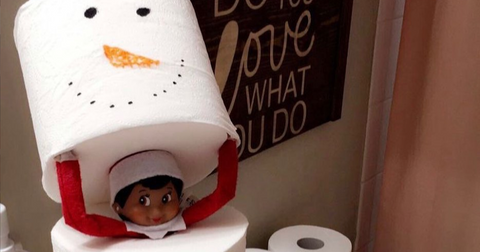 He knows when you are peeing, he knows when you're awake! Elf on the Shelf has no regard for privacy, and may ultimately hide in a few rolls of toilet paper if he desires. So make sure to wash your hands, or else he's telling old Saint Nick.
'Elf on the Shelf Gone Wild'
Returning with Vengeance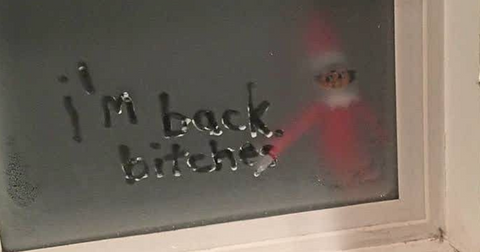 The Elf has returned, and wants us all to know he's here to stay.
There are so many ways to position your Elf on the Shelf this year, whether it's in a family-friendly manner or if it's totally R-rated. Either way, getting creative is key for Elf on the Shelf shenanigans, so I expect to see some wild Elf scenes this holiday season.