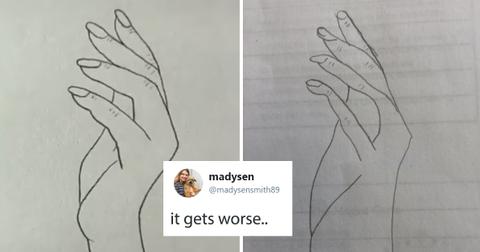 People Tried a Viral Hand-Drawing 'Hack' and the Results Are Hilariously Bad
By Mark Pygas
While I admit that I have no artistic abilities whatsoever, when I was forced to draw in school hands were a real struggle. Getting all those fingers the same shape and looking anatomically correct is right up there with drawing horses.
Drawing hands is apparently a fairly common problem, with the Twitter account @SatisfyingDaily recently taking to the social media platform to share a video of what appears to be a pretty easy 'hack' to draw hands that actually look like hands.
Of course, the video makes it look like a breeze. So Twitter users quickly attempted the technique to see if it was really as simple as believed. Spoilers: it wasn't.
One user was quick to point out that the stick man in this Twitter user's second attempt "looks terrified."
"Nailed it," one user tweeted alongside whatever this hideous thing is...
At least people are trying?
These look more like candles than fingers.
What is this monstrosity, Ruby?
Burn it. Burn it with fire.
"They made it look so easy," one user added. "[What] is this," they continued in regard to their own attempt. This one looks more like a zombie or a wight than anything living.
Twitter user Nelson made the comment that he feels "lied to." So do we, Nelson. So do we.
This commenter also felt lied to, which seems to be a pretty common conclusion among people who have attempted this 'hack.'
While all of these attempts may have been terrible failures, at least we all got a laugh out of it.
We fully recommend that you give this challenge a try, you can't possibly fail harder than any of the examples you saw above.
We won't tease you, we promise.