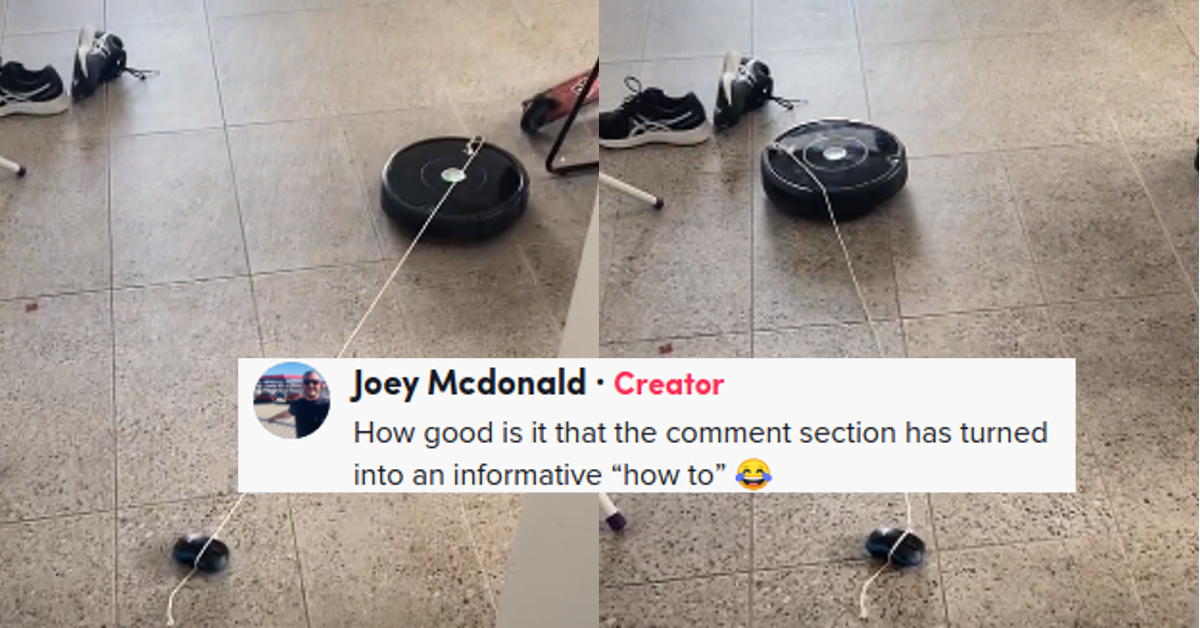 TikToker Attaches Mouse to Roomba to Trick Boss into Thinking They're "Actively Online"
The best kind of managers and bosses are the ones who don't micromanage you and don't really care how/when you work, just as long as you get done what you need to get done. And while there are a lot of industries that don't necessarily allow such a laissez-faire attitude towards working, the COVID-19 pandemic pretty much forced the hands of many businesses, enterprises, agencies, etc. in letting people work from home.
Article continues below advertisement
Since employees could then do their job at their own pace (for the most part, again, as long as they're hitting their deliverables) lots of these companies realized that going back to the office wasn't exactly necessary and allowed the majority of their workforce to work remotely.
Not only does this help to minimize overhead and help to keep employees happy, which, in turn, effectively reduces the costs associated with employee turnover, it helps to establish a workflow that can be accomplished anywhere with a stable and fast internet connection.
But that doesn't mean that there are some jobs that still want to try and micromanage the work that their workers are doing even if they aren't in an office setting where they can be monitored by upper management.
Like this one TikToker who says that their boss requires them to be "active" online while working from home. But as Jeff Goldblum says in Jurassic Park, "life uhh, finds a way."
Article continues below advertisement
Joey McDonald, who posts under the handle @thelasyjoey, decided to attach their mouse to a Roomba that wheels around their home. This indicates that there is "movement" on their wireless mouse which allows them to step away from their computer without having to worry about whether or not they're appearing to be working even after they've gotten all of their tasks completed.
Article continues below advertisement

The TikTok prompted a litany of responses. There were some users on the platform who joked that Joey's boss might implement a GPS tracking featured and wanted to know why their mouse traveled such a long distance in a single day.
Article continues below advertisement

Then there were those who pondered the efficacy of corporate "busywork" and remarked how it didn't make any sense that some businesses literally pay people to sit in an office and appear like they're doing work, even though many folks managed to fulfill their duties in a fraction of the time that the typical 8-hour workday necessitates.
Article continues below advertisement

The thing is though, one doesn't need a Roomba or any other hardware-based solution to get this done, they can simply install a program called a "mouse jiggler" that tricks your computer into moving the cursor on your screen for you, simulating activity.
Article continues below advertisement

And while there were plenty of people who were appreciative the work-from-home hacks, others stated that employers seeing these kinds of posts cropping up on social media would only encourage businesses to get people back into the office.
Article continues below advertisement

Article continues below advertisement

So what did you think of the TikToker's "work from home hack?" Are they doing their boss dirty, or does it not matter that they're playing Mario Kart or taking a nap when they got their tasks completed for the day?