"That's Not a Break" — Employee Says Boss Makes Them Take 30 Minutes at End of 12 Hour Shift
An employee called out their boss for forcing them to take their 30 minute break at the end of their shift, but they still have to do work anyway.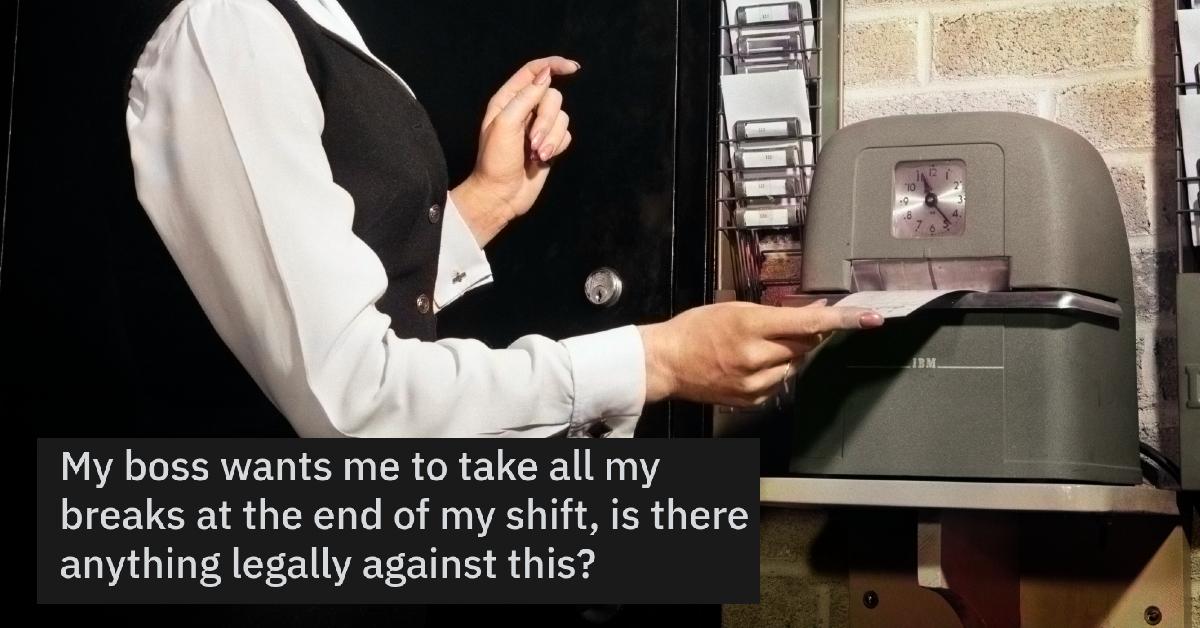 A Redditor posted to the site's r/antiwork sub claiming that their boss is forcing them to take their breaks at the end of their shift, raising a whole lot of questions about labor laws among other users on the popular social media platform.
@pineappleproblem69 aired their grievances asking for advice on how to best handle the situation and the recurring chorus response seemed to be that they needed to get their state's labor department involved.
Article continues below advertisement
OP writes in their piece that during a 12 hour shift their supervisor prevents them from taking their 30 minute break during the 6 or 8 hour mark and instead is forced to clock out for those 30 minutes only when their shift is over and they've completed all of their set work for the day.
It's not like OP didn't try to argue against this work schedule either, and they said that when they brought up their concerns to their boss they were slapped with a "disciplinary point" for daring to argue back to their boss that this was unfair.
Article continues below advertisement

They indicated that they're working in Oregon, USA, and if what they're saying is true, then it looks like their place of work is violating a litany of break laws in the state, according to Employer Pass.
Article continues below advertisement
The website indicates that there are four types of break laws employees can take: breaks for meals, breaks for rest, breaks for lactation, and breaks for excessive heat.
Rest breaks indicate that an employee is allowed to take a breather for 10 minutes after the first 2 hours that they've worked. Meaning that OP is allowed 10 minutes of break time after those first two hours are worked.
Article continues below advertisement

After hitting the 6 hour mark, they are given another 10 minute break, followed by an unpaid meal break, which gives them 30 minutes of break time to scarf down some food that the company doesn't have to foot the bill for.
Article continues below advertisement
Since it's a 12 hour shift they're working, however, they are given a grand total of three 10 minute paid breaks, plus a 30 minute unpaid break, so they're supposed to be getting paid for 11 and 1/2 hours total, with thirty minutes of break time throughout their shift covered by the company.
In an update on their post, the Redditor indicated that they received a message from their union representative stating they should be allowed to take breaks as stipulated per their work contract throughout their shift, if that's what was specific in their contract.
Article continues below advertisement

The Employer Pass break structure was one that was supported by comments penned from another user on the platform, who urged the Redditor to reach out to their local department of labor about the issues they've been facing while on the job.
Article continues below advertisement
""File a complaint with the department of labor. In Oregon for a 12-hour shift you should have gotten three separate 10 min paid breaks AND a 30 minute unpaid meal break. The breaks are to be structured throughout the shift. This is state law," they wrote.
What's more is that OP said even though they were clocking out for their break at the end of their shift, that they ultimately didn't finish their work for the day and that even after punching for their break, they headed back inside of the building to do "paperwork."
Article continues below advertisement

Ultimately, they were worried about getting in trouble at work and didn't want to find themselves in a "he said she said" scenario where it was their word against the word of their supervisor.
Article continues below advertisement

In these types of situations, it's probably best to get any type of work instructions pertaining to their schedule written down in official email correspondence. What do you think? How should the Redditor handle this situation moving forward? It appears to be a clear violation of state labor laws, right?