This TikToker's "Little" Nap Turned Into a Full-Blown Sleep That Caused Her to Miss Work
Have you ever laid down to take a little nap then woke up a full night later? This employee napped through her shift and had to TikTok about it.
When it comes to sleep, we rather like what English poet William Blake once said. He said, "Think in the morning. Act in the noon. Eat in the evening. Sleep in the night." That sounds like a pretty obvious way to live one's life. But what if that schedule is accidentally shifted a bit?
Article continues below advertisement
This happened to one TikToker who decide to rest her weary head for a late afternoon nap, only to awaken the following day. That's right, she napped through the evening and her shift at work. Here's the scoop — she documented it on TikTok.
This employee naps through her shift and didn't get shift done.
TikTok user @queen_quteepey recently pulled an all-nighter and we don't mean studying, though that was kind of involved. In a now viral TikTok she explained that while trying to take a cat nap, she slept through a shift at work. "I was supposed to go to work yesterday, at 5:00 p.m.," she said looking extremely well-rested. "I woke up the next day!"
Article continues below advertisement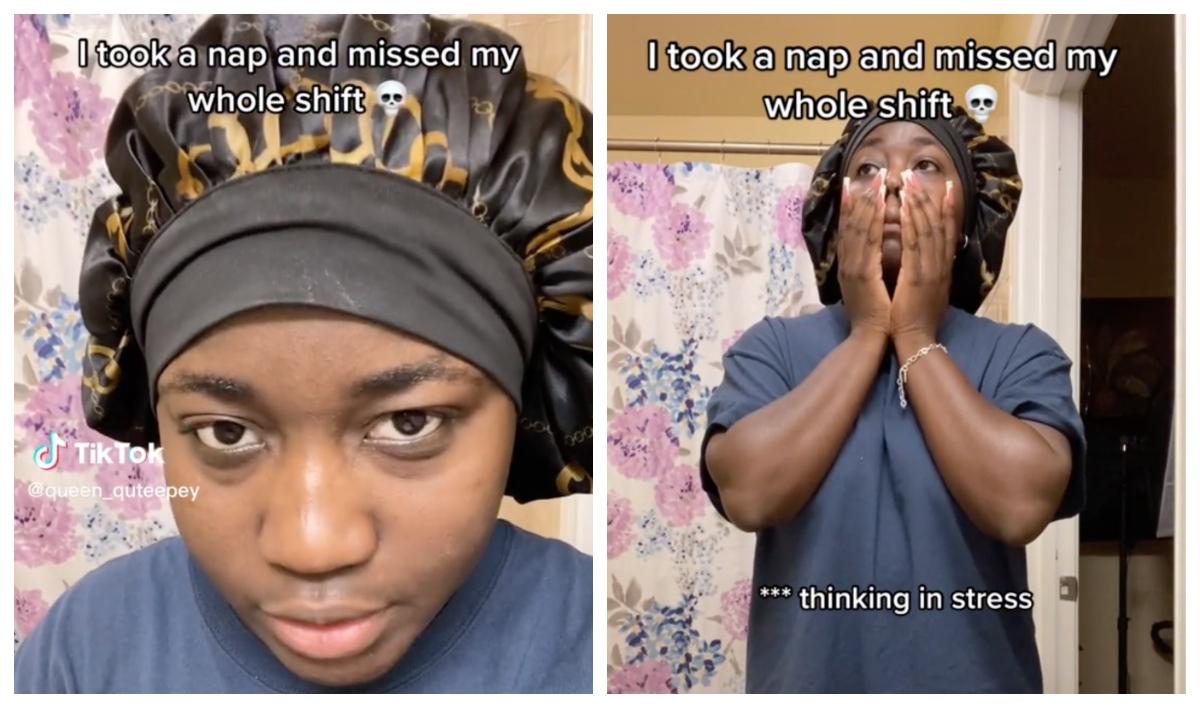 She went on to explain that her shift at work began at 5:00 p.m., but Queen was desperate for some sleep after class. "I have an exam to study for so I was like 'Let me take a nap at 4:00 p.m.'" While hilariously and dramatically pulling down her window shades Queen exclaims, "I woke up right now, right the f--k now. It's dark outside y'all. It's the next morning!" Her immediate concern was the fact that she didn't call or text her work. Thankfully, she provided two follow-up TikToks.
Article continues below advertisement
In the first TikTok response, Queen shared a screenshot of a text her boss sent to her. "Hi Queen," it read, "I noticed that you didn't show up to work as scheduled yesterday... is everything OK?" Because Queen works the night shift she never sees her boss and wasn't sure how to respond. Ultimately in the second TikTok, she revealed that the truth was the best option. Thankfully, her boss was very understanding.
Article continues below advertisement
A few people in the comments told Queen to look up "sleep debt."
Some folks left comments on Queen's initial video about missing work, suggesting she look up "sleep debt." According to the Sleep Foundation, sleep debt is "the difference between the amount of sleep someone needs and the amount they actually get." For example, Queen slept for 12 straight hours. Let's say she only slept four hours the night before, that would mean she accumulated eight hours of sleep debt.
Sadly, sleep deprivation can be very damaging to one's health. "Being in a prolonged state of sleep debt or sleep deprivation on a regular basis increases the risk of diabetes, hypertension, heart disease, and stroke. Sleep deprivation is also linked to reduced immune function, metabolic dysregulation and weight gain, and a greater risk of falls and accidents. Prolonged sleep deprivation also affects memory and cognitive functions," reported the foundation.
Article continues below advertisement
The only way to battle sleep debt is to rest when your body needs it. That's kind of a luxury for many people who just don't have enough hours in the day to get things done. For Queen, she needed to borrow a few more hours in the night just to catch up. She even admitted that it felt good.