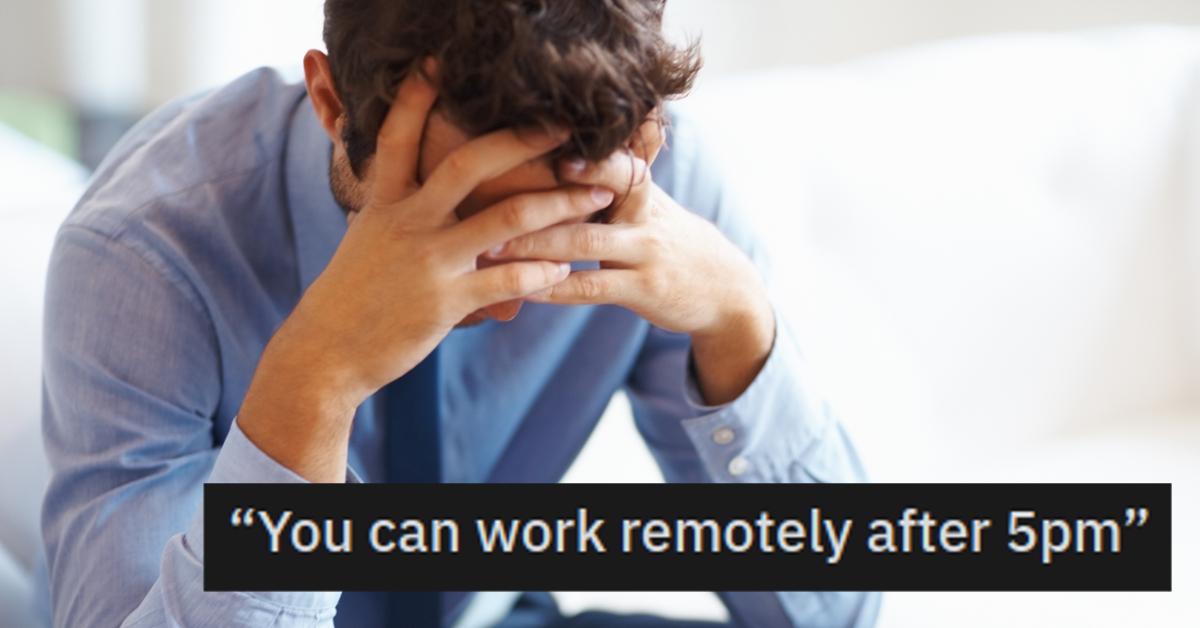 Employer's "Insane" Definition of Work-From-Home Causes Worker to Quit Instantly
Article continues below advertisement
Benefits don't just extend to employers, but there are obvious perks for employees as well. There are reduced transportation and commute costs. Plus, workers get more time in their lives as a result, especially those of us who need to wake up an hour and a half before our work shifts just to make it to the office on time.
The luxury of walking to one's own kitchen to prepare lunch or a cup of coffee whenever they want to, using one's own bathroom, being able to lounge around in comfortable clothes, and focus entirely on their work is a huge boon.
However, there are probably some managers and bosses who think that workers who are fixated on staying home and working may be cutting corners and not maximizing productivity, even though the opposite has consistently proven to be true.
Article continues below advertisement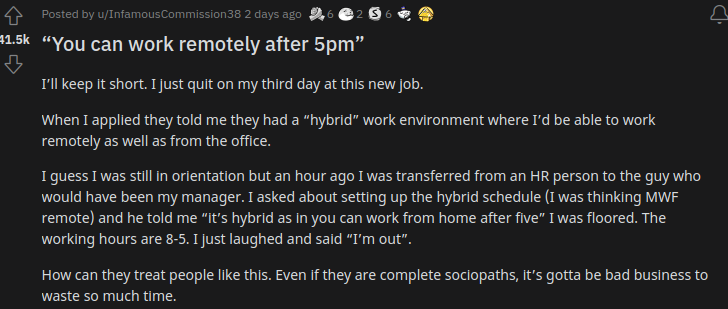 So it would make sense why many people would prefer to have a work-from-home position, which is exactly what Redditor InfamousCommission38 thought that they were getting, at least partially, when they accepted a job that promised a hybrid work environment.
Article continues below advertisement

They thought that they were getting a schedule that called for a few days in the office which allowed them to work a couple of days from home. Sure, it isn't entirely remote, however, it's still better to have a few days of being able to sleep in a little later and not having to worry about getting on the train/bus/ or hopping in one's car to beat the morning rush.
Article continues below advertisement

So after three days into the new job they accepted, they spoke to a manager about setting up their Hybrid work schedule, which had an entirely different meaning than they thought it did.
And in all fairness, probably has an entirely different meaning than most people applying for the job would think it had.
Article continues below advertisement

The Redditor wrote: "When I applied they told me they had a 'hybrid' work environment where I'd be able to work remotely as well as from the office. I guess I was still in orientation but an hour ago I was transferred from an HR person to the guy who would have been my manager. I asked about setting up the hybrid schedule (I was thinking MWF remote) and he told me 'it's hybrid as in you can work from home after five,'" they wrote. "I was floored. The working hours are 8-5. I just laughed and said ''I'm out."
Article continues below advertisement

You read that right: the company's definition of "hybrid" work environments was that they were expected to come into work in the office every day from 8 am to 5 pm and they were free to work additionally from home if they wanted to.
Article continues below advertisement

While remote working solutions were pretty much made mandatory during the COVID-19 pandemic in industries where that was viable, after mandates have been lifted across the world, no business is required to offer work-from-home options for its employees.
However, since its been proven that it's extremely economically viable, with more and more companies offering full or partial remote positions, it makes sense why so many folks are trying to nab themselves these types of jobs.
Article continues below advertisement

Several other Redditors mentioned instances where they too were lied to by prospective employers regarding work-from-home schedules. Is a remote option mandatory for you when you're seeking a new job? Or do you just think that it's best to leave a job that lies to you from the get-go as it's a terrible way to start a working relationship?