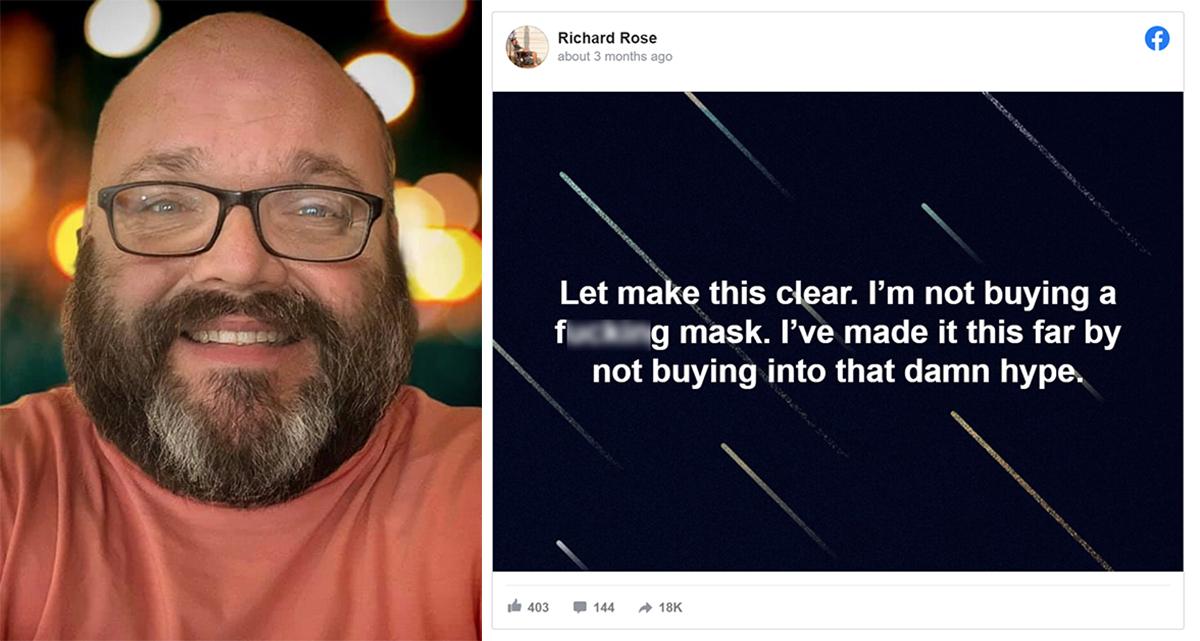 37-Year-Old Man's Facebook Posts Slamming "Hype" Over COVID-19 Go Viral After His Death
A man's Facebook posts have gone viral after he passed away from coronavirus. Richard "Rick" Rose, a 37-year-old from Port Clinton, Ohio, died at home as a result of complications due to COVID-19.
Article continues below advertisement
Rose made a number of posts slamming the panic around coronavirus as "hype" in the weeks before his death. The nature of the posts suddenly changed when Rose began to feel unwell and tested positive for coronavirus.
Rose's family told 19 News that he passed away at home on the Fourth of July, just three days after testing positive for coronavirus.
Now, Rose's Facebook posts are being shared online as a warning that young people are not invincible. One tweet, which compiled Rose's posts, attracted over 160,000 likes.
Article continues below advertisement
"Let make this clear," Rose posted on April 28. "I'm not buying a f**king mask. I've made it this far by not buying into that damn hype."
Article continues below advertisement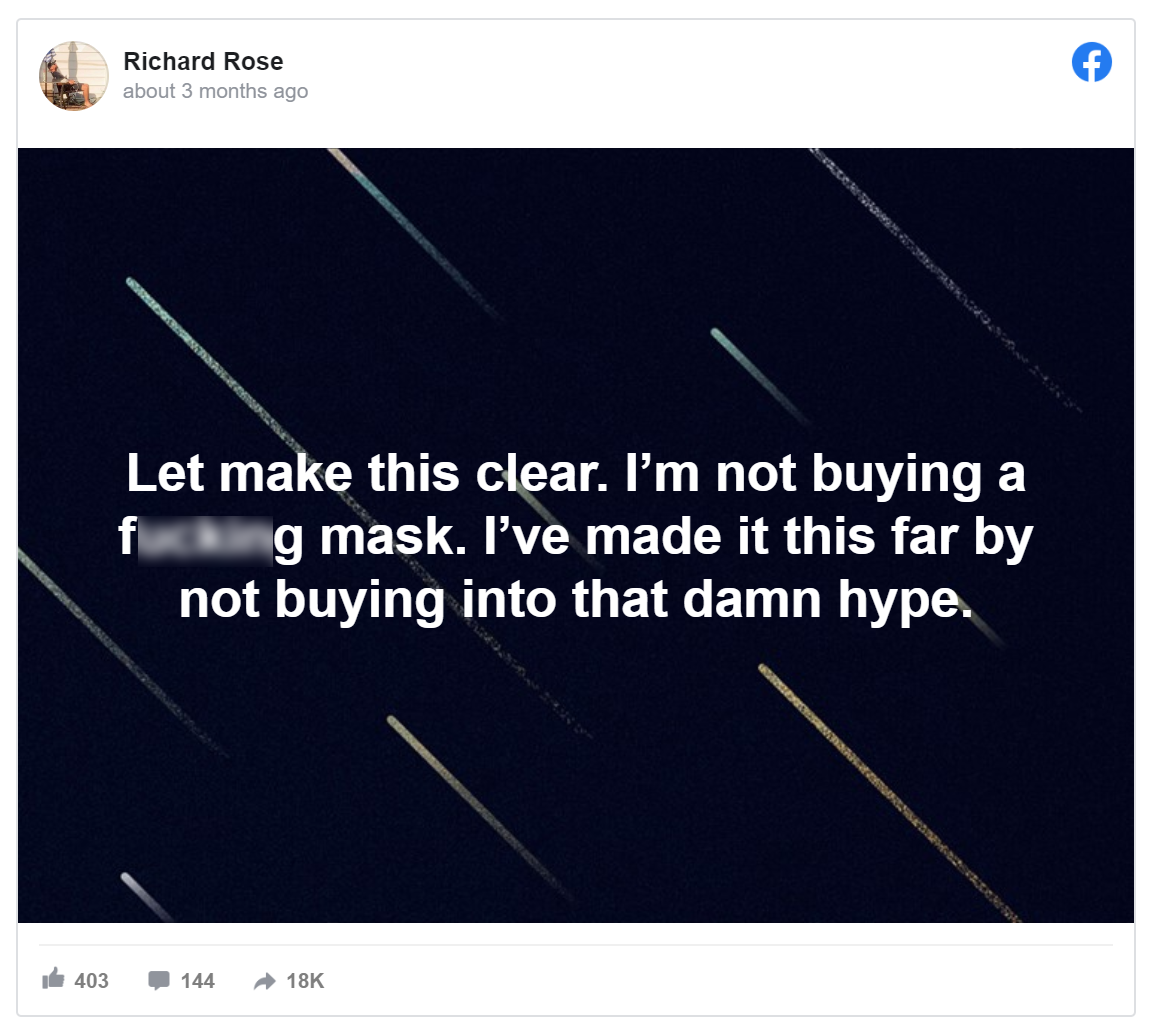 On May 12, he wrote: "I've gotten sick of turning my tv on to political smear ads and s**t about COVID. So yesterday I turned my cable box in. I've also started snoozing people on here. It's time to block out negativity."
Article continues below advertisement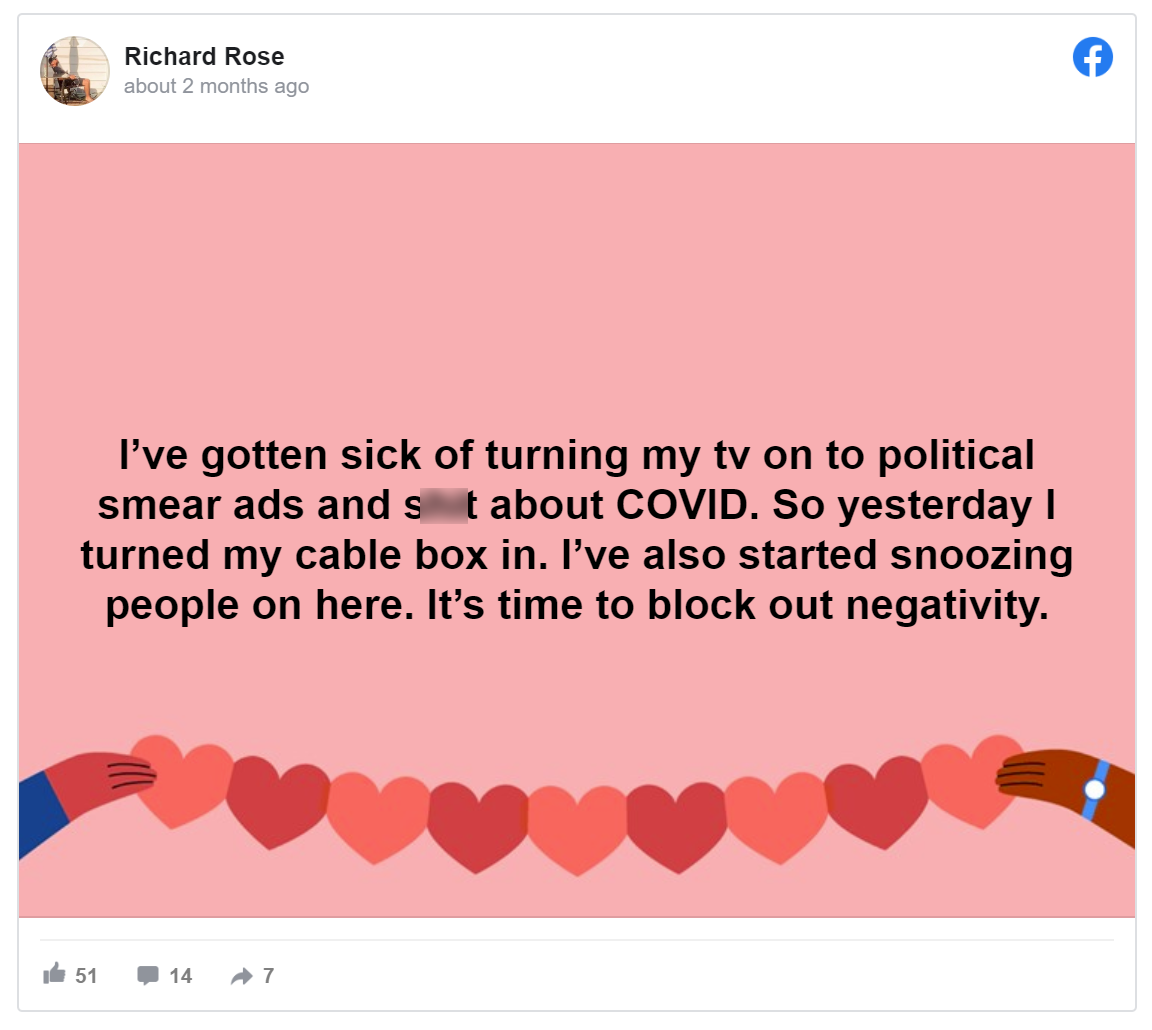 Rose also shared an Islamophobic meme suggesting that wearing a mask would make it "easy" to force women to wear a niqab.
The nature of the posts quickly changed on July 1, when he received a test for coronavirus.
Article continues below advertisement
"I've been very sick the past few days," he wrote. "This morning I finally got swabbed. I should know soon what the results are. I just want to feel good again!"
An hour later, Rose revealed that he had been diagnosed with COVID-19.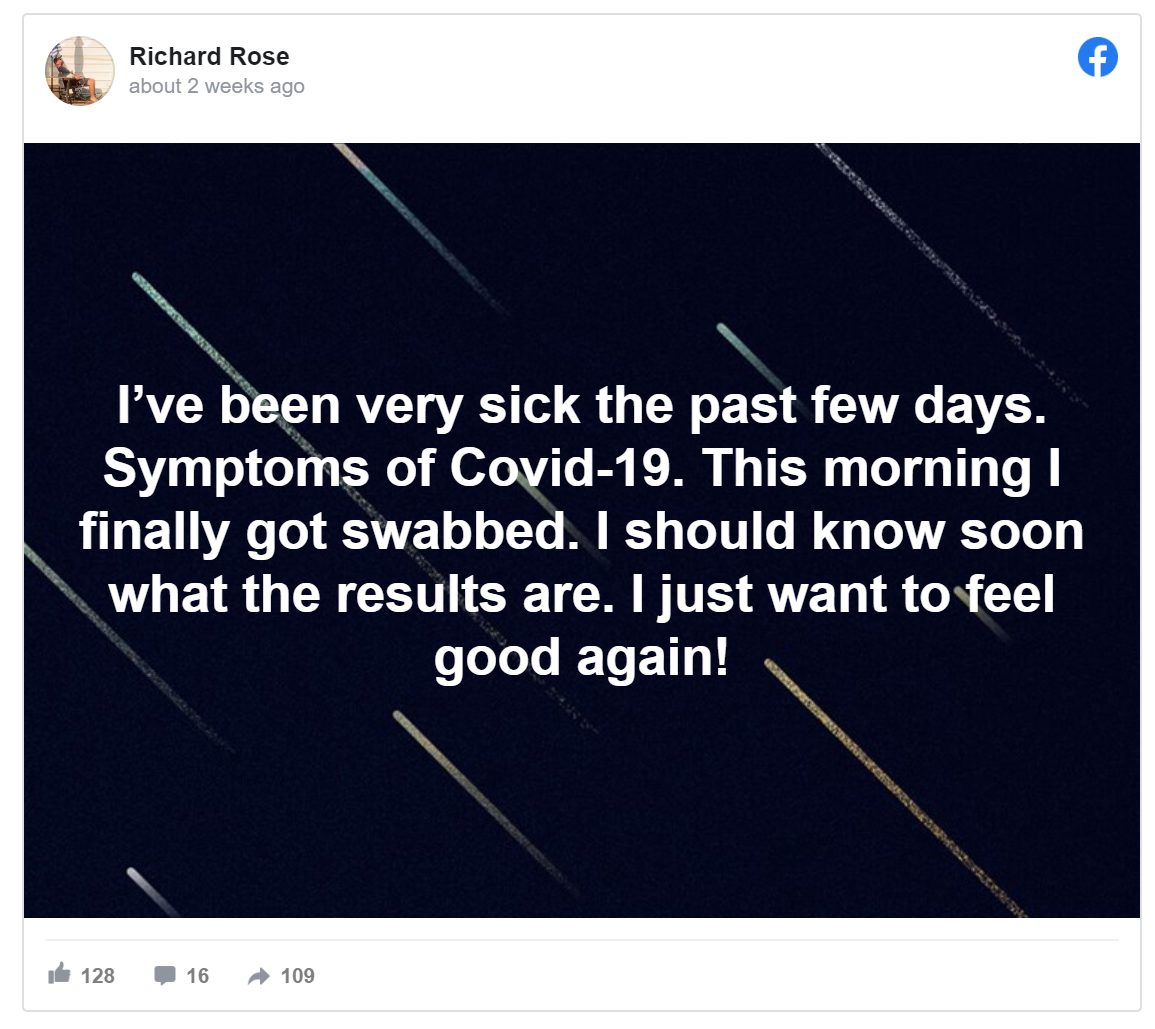 Article continues below advertisement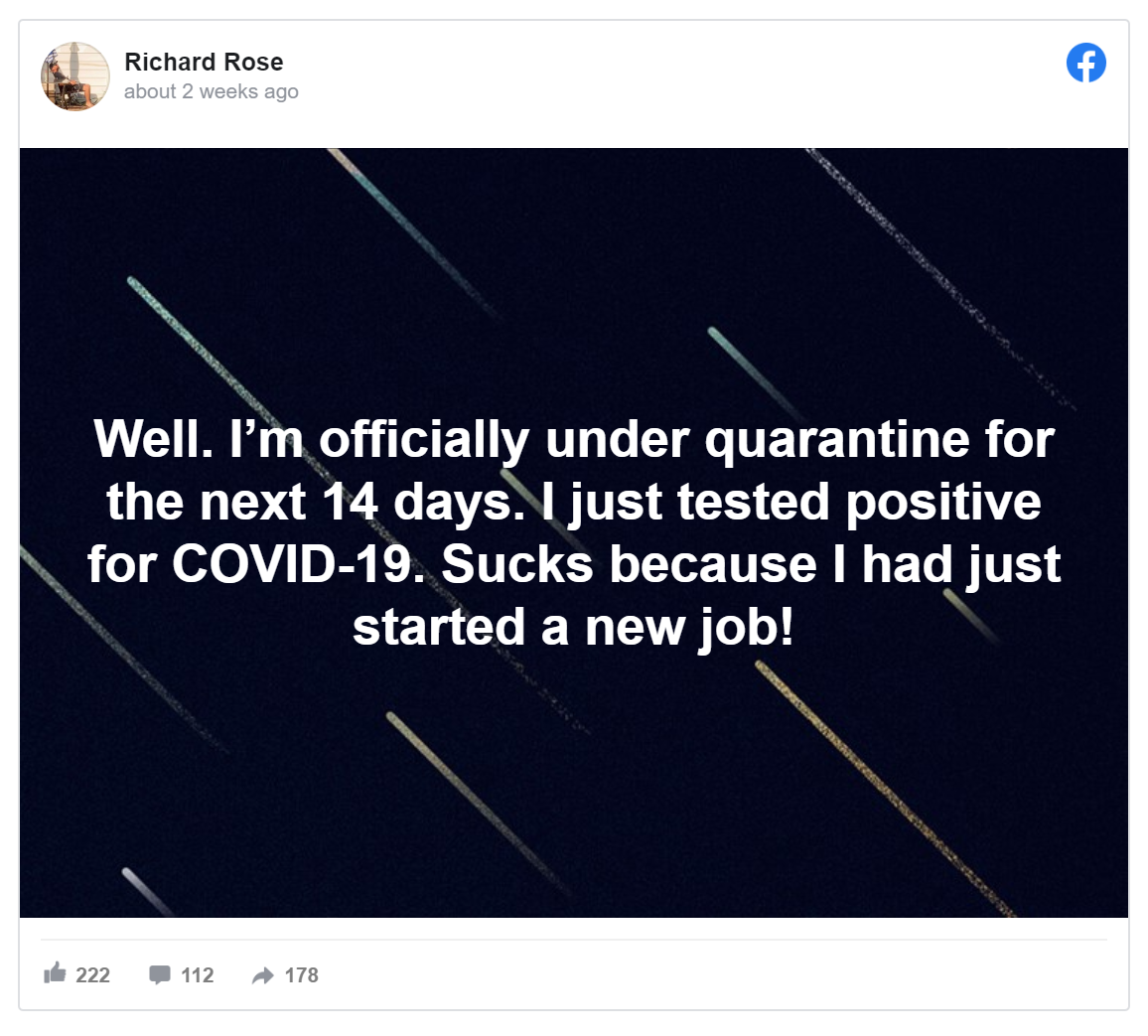 The next day, Rose wrote: "This covid s**t sucks! I'm so out of breath just sitting here.
Just two days later, Rose would pass away at home.
Article continues below advertisement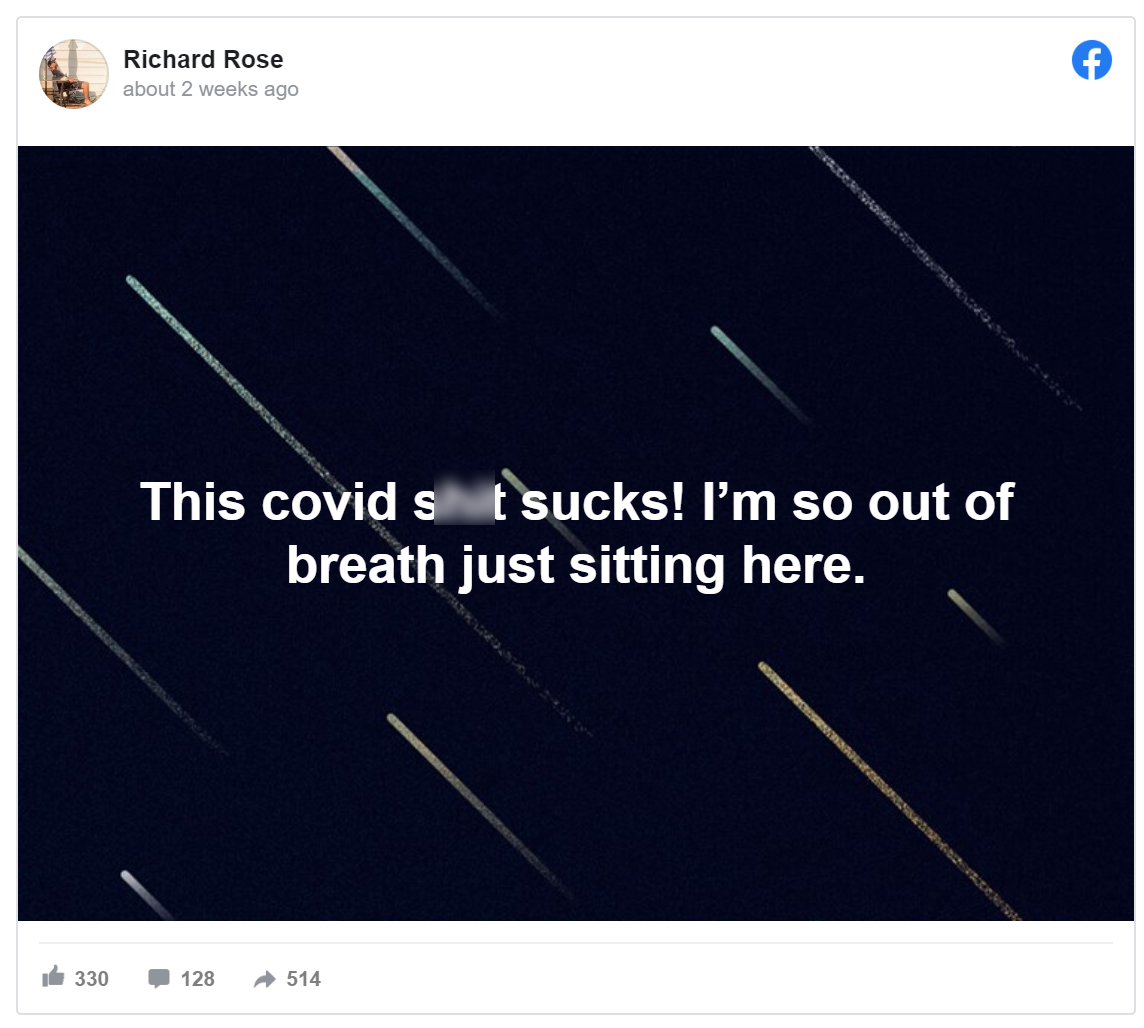 "We were blown away, you know? You hear about this virus and you don't expect it to affect people, younger people like ourselves," Nick Conley, a friend of Rose, told 19News.
Conley also commented on the viral response to Rose's posts.
Article continues below advertisement
"Rick is getting slaughtered online right now for his decision that he made not to wear a mask and that's not right," Conley said. "We should still be compassionate whether we agree with someone's beliefs or not. Someone has passed away and we should have some compassion towards that."
"It's horrible that we lost Rick but the even more tragic part of that is who else became infected because of the actions that he chose," Conley said.
"I know a lot of people that haven't met someone that they know of that has been diagnosed with the virus and I wanted people to see it was real and my hope is that people will see that this does happen and people will be more cautious."
The best way to prevent contracting or spreading the coronavirus is with thorough hand washing and social distancing. If you feel you may be experiencing symptoms of the coronavirus, which include persistent cough (usually dry), fever, shortness of breath, and fatigue, please call your doctor before going to get tested. For comprehensive resources and updates, visit the CDC website. If you are experiencing anxiety about the virus, seek out mental health support from your provider or visit NAMI.org.