Woman Tracks Down Her Favorite Teacher and Has the Most Heartwarming Twitter Exchange
Raifa Rafiq struggled to remember her favorite teacher's full name. But once she found her, the two shared a wonderful exchange.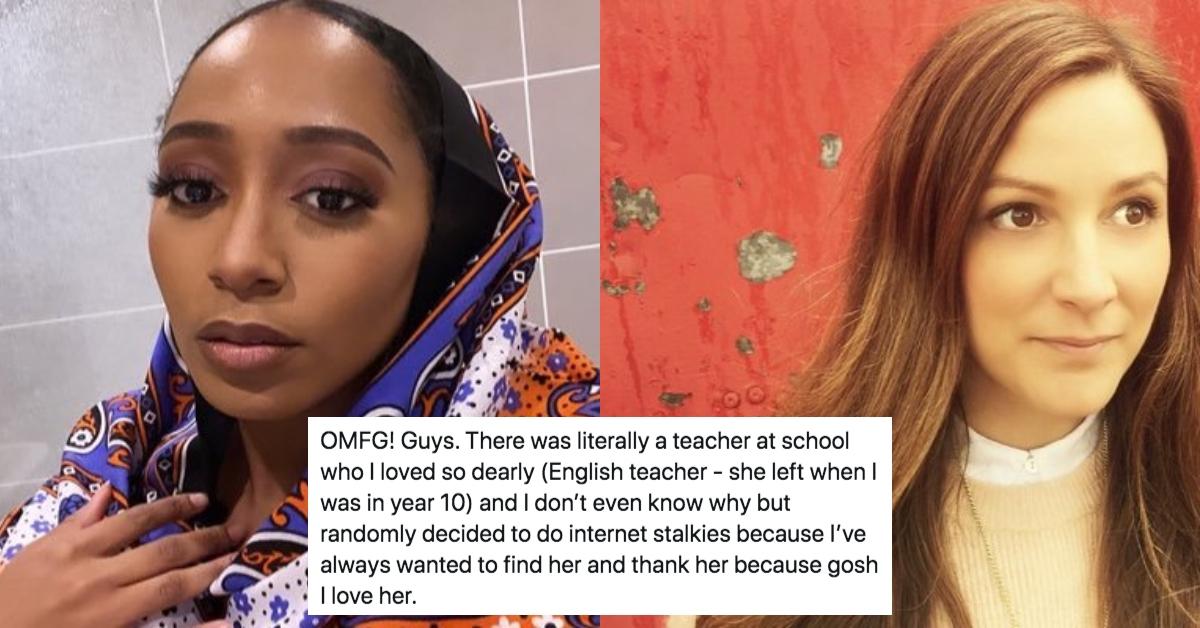 You know that one teacher you had that you'll never forget? The person who really saw you, supported you, and made you fall in love with learning? The teacher whose lessons are burned into your brain years after the fact? That's who Jenny Thompson was for Raifa Rafiq. And when Raifa finally remembered her name, she finally tracked her down and had the most heartwarming exchange on Twitter.
Article continues below advertisement
We've all randomly stalked our former teachers and classmates on the internet. It's what the internet is there for. And believe me when I say teachers always appreciate former students reaching out and thanking them for the impact they've had on their life.
So, Raifa went ahead and found her on Twitter after a lightbulb moment where she reached into the depths of her memory well to remember her first name. Jenny Thompson isn't the most uncommon name, so Raifa had to confirm some other details to make sure it was really her because, well, it's been a long time, and no one looks the way they used to.
Article continues below advertisement
Raifa got emotional seeing where her teacher had ended up because she loved her so much. But she still felt weird about messaging her to thank her because she didn't want to "sound stupid." I promise you, any nice note to a teacher will not sound stupid and will be immensely appreciated.
She also didn't want to risk Miss Thompson not remembering her. It would be hard to realize that a teacher that had such an impact on you doesn't even remember you, but I think teachers, especially wonderful teachers who form strong connections with students like Miss Thompson, tend to remember the kids who were engaged in their classes.
Article continues below advertisement
Turns out Raifa didn't even have to privately message Miss Thompson. Miss Thompson came across the thread on her own (possibly because it went totally viral) and messaged Raifa herself.
Well now I'm crying and I don't even know either of these people. It's such a special thing to express your appreciation for another person and to have that appreciation reciprocated. Of course Miss Thompson remembers Raifa, who is now a lawyer, a writer, and an award-winning podcaster. Raifa could hardly even contain herself after receiving this message from Miss Thompson.
Article continues below advertisement
How do you even put into words what your favorite teacher means to you? It's impossible! They not only help you become a better learner but a better person. They help you realize the best parts of yourself. Raifa managed to say it very eloquently.
This is maybe the cutest Twitter exchange I have ever witnessed. These two people clearly gave each other a lot and contributed to each others' lives in such positive, memorable ways. We often think about how teachers impact the lives of their students, but Jenny Thompson proves that the opposite is also true. Teachers not only remember their students but are often inspired by them while they're in their classroom and beyond.