TikTokers Reveal How "Cheap" Mattresses May Be Harmful to Your Health
Several TikToker have gone viral pointing out that potentially harmful ingredient in mattresses: fiberglass.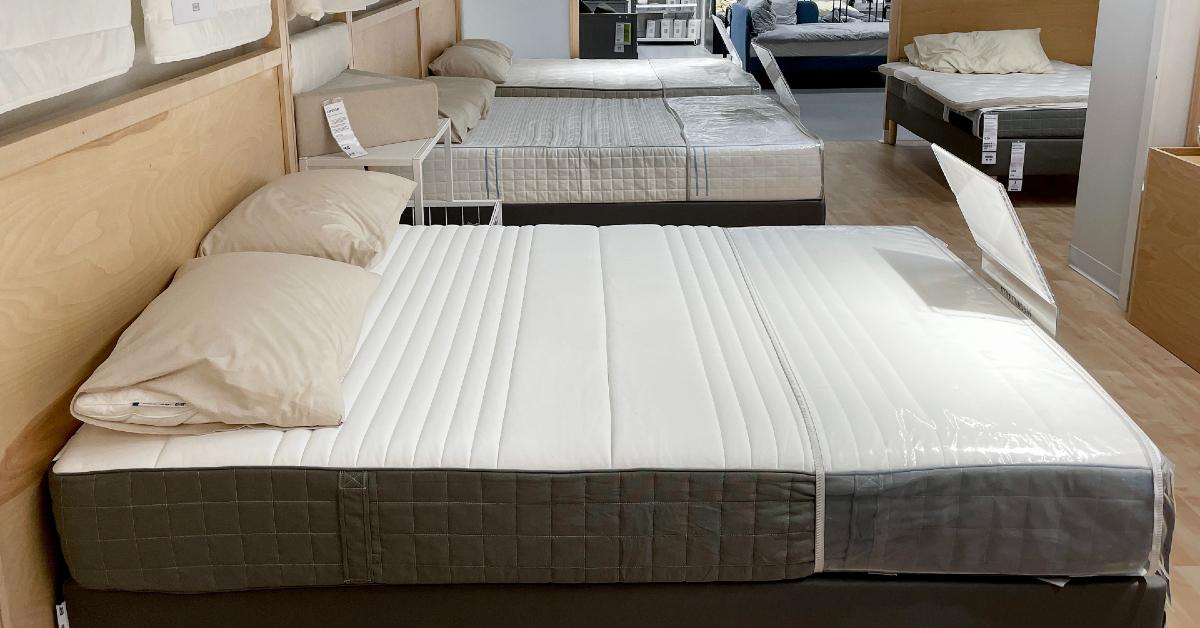 TikTokers are freaking out over the fact that some mattress manufacturers sell beds that are coated with fiberglass as a means of making the items fire retardant. However, coming into contact with fiberglass can have severely deleterious effects on one's health, and a number of other users on the platform expressed concerns over the fact that their own mattresses might contain reinforced plastic.
Article continues below advertisement
Are fiberglass mattresses harmful?
According to Sleepopolis, "the answer is yes and no." The outlet states that the only way fiberglass can harm an individual is if it comes in direct contact with a person's skin or if they inhale it.
The site goes on to quote Eric Rodriguez, CEO of Innerbody Research (a health and wellness company) about the potential dangers of fiberglass in mattresses. Rodriguez says that as long as a mattress cover isn't ripped or damaged in any way, you should be fine. However, if it is, it could ultimately "wreak havoc on your house and health."
Article continues below advertisement
TikToker Tony Vara responded to an alarmist video posted by @imcodyjacob grinning into the camera utilizing what appears to be a faux cheerful voice to intentionally mask the horror of discovering he is sleeping on a material that could potentially kill him. Cody begins by saying in a high-pitched voice: "I just found out that my mattress that I've been sleeping on every night for years and years and years is made almost entirely out of fiberglass."
Article continues below advertisement
Tony stitches his video with Cody's and begins by stating, "I'm gonna tell you guys something and this is gonna be a longer video but please listen to me if you're ever thinking of buying a mattress or if you're thinking of replacing your own mattress. Unfortunately most mattresses - actually let me explain what fiberglass is first."
He then cuts back to Cody's clip, where the other TikToker shows off a shimmering wall: "Look how my bedroom glitters. That's all fiberglass!"
Tony begins talking about the plastic, "OK I don't know how to like scientifically explain what fiberglass is but think of it as like little tiny shards of glass put into like a mattress in order for it not to catch on fire if your home ever catches on fire."
Article continues below advertisement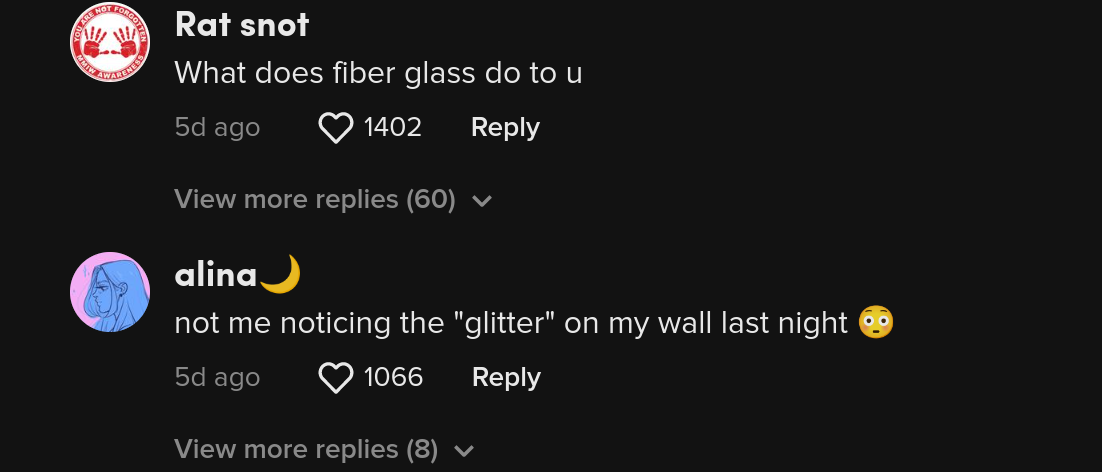 He goes on to say that despite the fact Fiberglass is utilized as a safety precaution in the manufacturing of mattresses, that it is a double-edged sword: because the stuff can kill you. "Most cheap mattresses that you get whether they're like the rolled up ones, the ones that are like memory foam - they have fiberglass."
Article continues below advertisement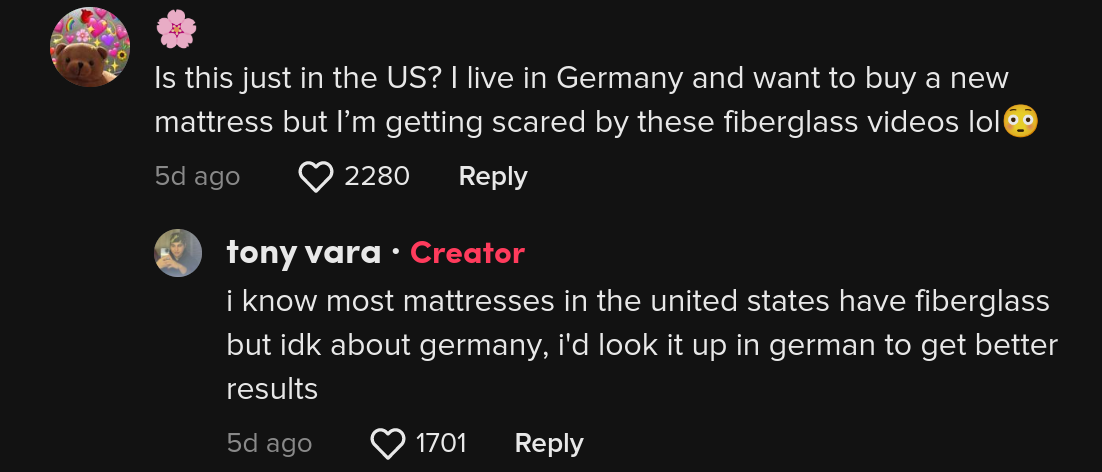 Popular mattress manufacturers like Casper do send mattresses rolled up in boxes, however, Casper doesn't utilize fiberglass in the production of its mattresses. Ironically enough, in Cody's video where he invoked Casper's name to send him a free mattress, viewers who misunderstood what he was saying thought that he was calling out the brand, which culminated in a slew of irate folks messaging the business.
Article continues below advertisement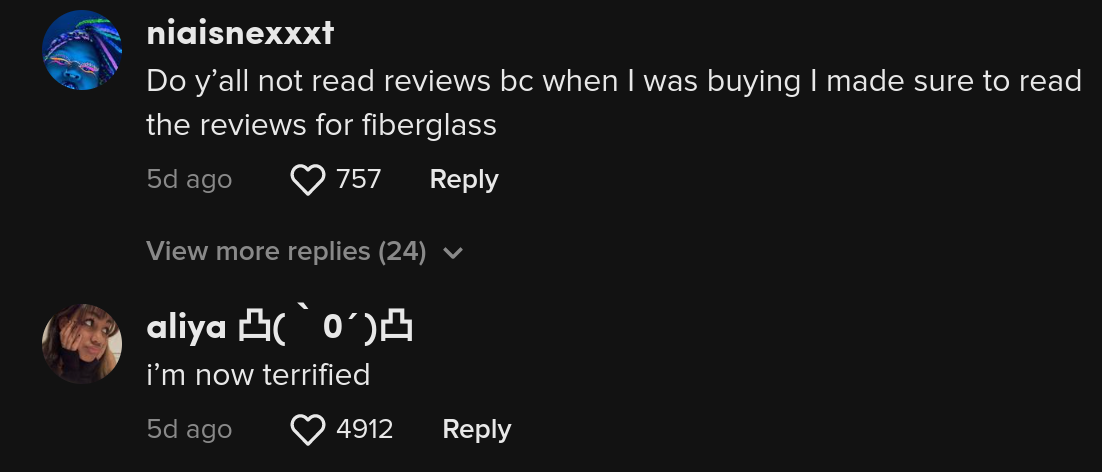 , and ended up with a lot of free mattresses from various companies as a result of his viral video.
But back to Tony's message to folks who are in the market for a mattress: "My mattress most likely has fiberglass, but, do not buy a mattress where the mattress cover can come off and reveal like the actual materials of the mattress."
Article continues below advertisement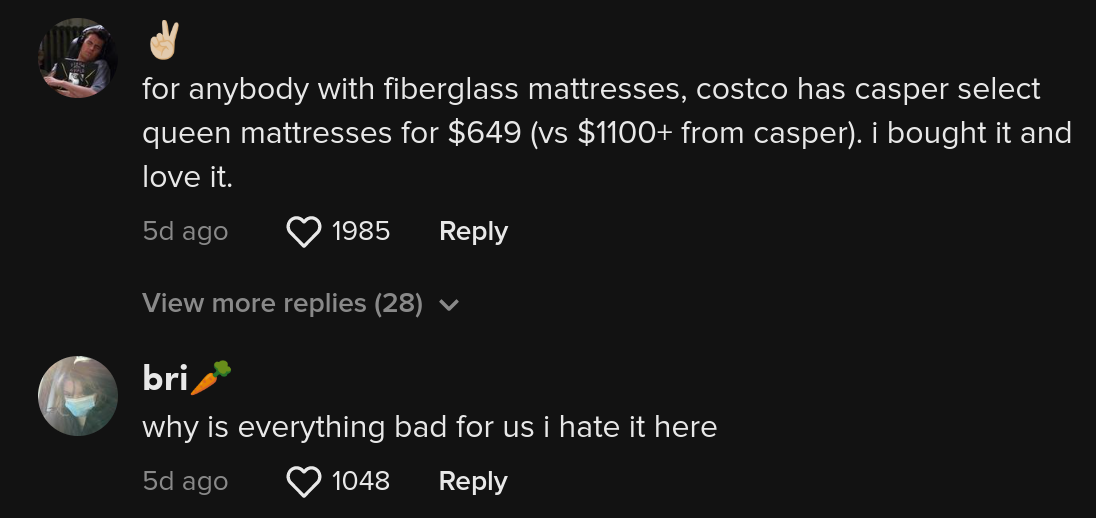 He continued, "Some mattresses have like a zipper or...some kind of thing where you can remove it to 'wash it' and it'll show the actual mattress. DON'T REMOVE IT. The second you remove it those fiberglasses are already on their way out. And even if you have a regular mattress like I do or one of the other ones that still have a cover on it, buy another mattress cover to put on top of it."
Article continues below advertisement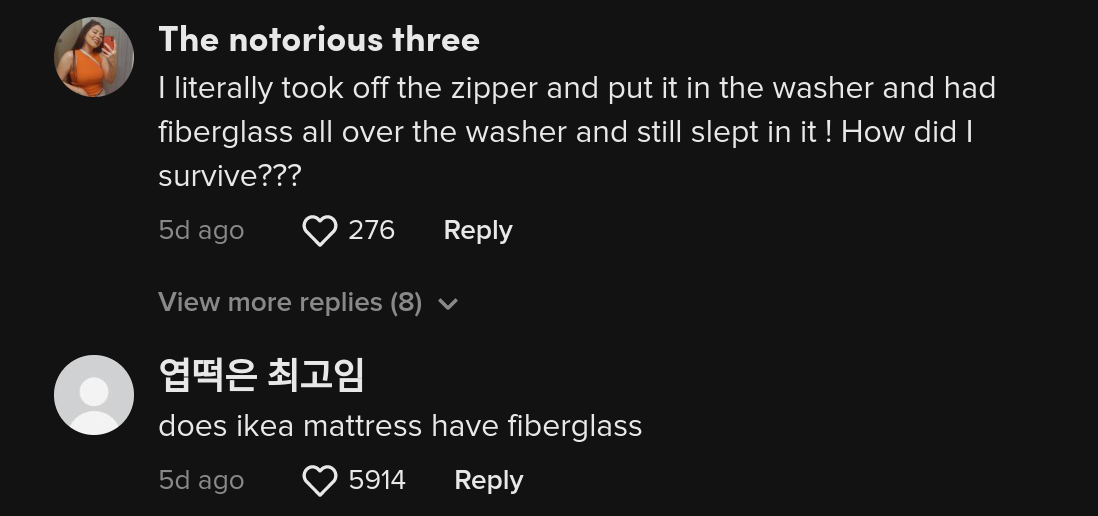 You can find high-rated mattress covers on Amazon for $22.49 on Amazon, but there are others that cost a bit loss or significantly more depending on what you're looking for.
Tony stressed that the second you remove that mattress cover, it's like unleashing a plague upon your entire room that'll be almost impossible to rectify.
Article continues below advertisement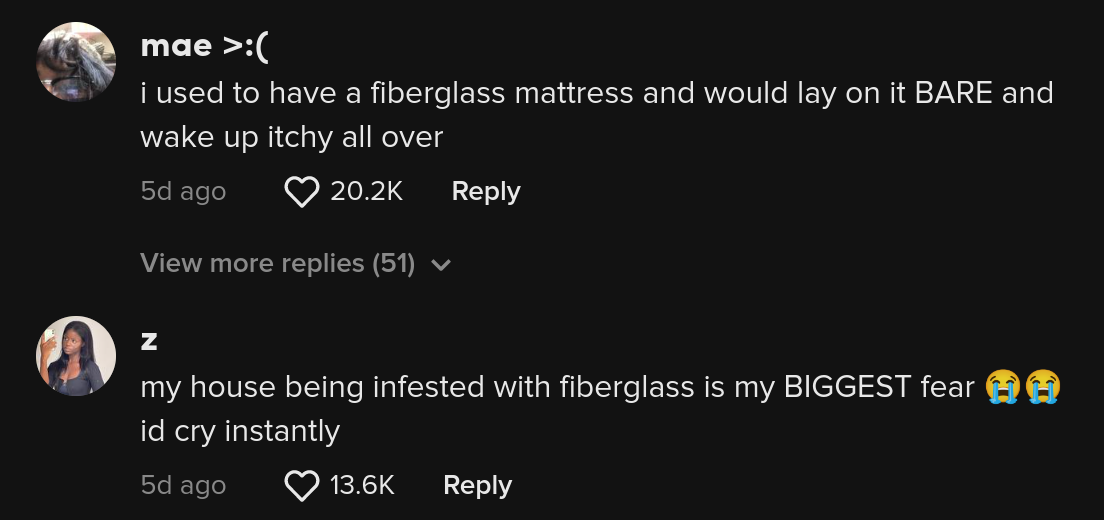 He also had an answer for folks who say, "You don't wash your mattress protector?!" And that answer is: "Shut up," because he buys a second mattress protector and that's the one he washes over the one that comes with his bed.
Tony also had a message for folks who said, "It's not that deep" when it comes to fiberglass in mattresses: it really is that deep.
Article continues below advertisement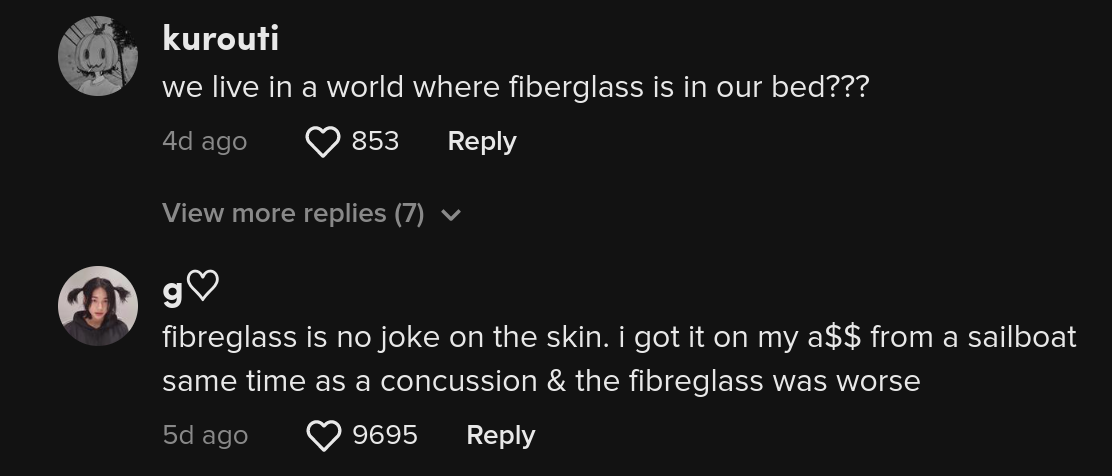 "If you get...fiberglass in your lungs you can get so sick to the point where you need surgery." The adverse health effects of breathing in or coming into contact with fiberglass are well-documented.
He adds that fiberglass is notoriously difficult to remove, and that companies who do specialize in ridding homes of the substance charge at least $10,000 to do so because it's such a difficult and painstaking process.
Article continues below advertisement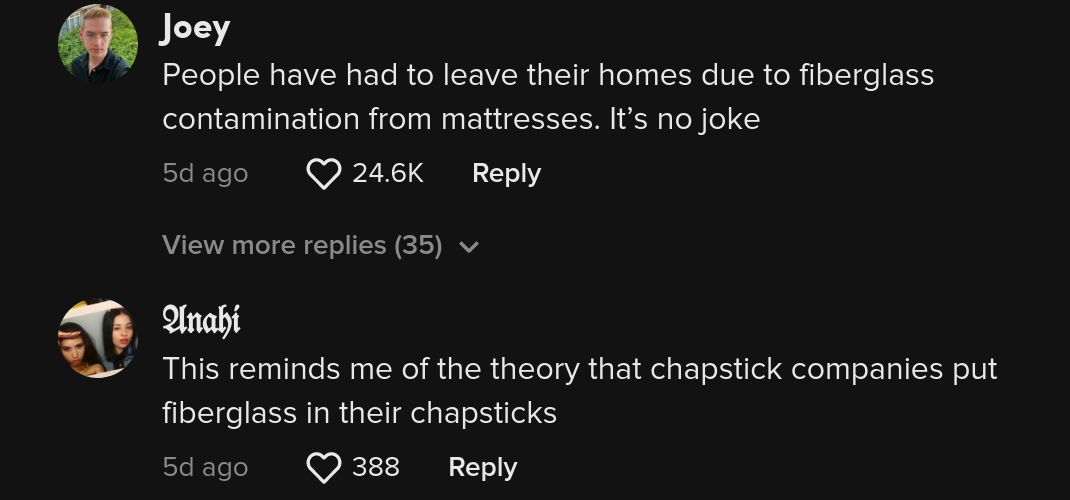 "If you don't believe me you could literally go on TikTok and look up fiberglass mattress and you'll see like hundreds of videos of people that had to get their houses cleaned from fiberglass because it was making their kids sick, it was making their pets sick, it was making them sick they needed surgery and they had to pay $20,000 to clean up their room."
Article continues below advertisement

Tony ended his video by stressing that folks looking for a new mattress should, again, get one that's sealed and doesn't allow folks to remove the cover, and to wrap it up in another mattress cover.
Have you ever had any negative experiences with fiberglass in the past? Was it a drag to get rid of?