FinalBossTV's Accuser Posted Screenshots of Their Convo Re: Allegations Online
The world of online gaming has been hit with a litany of different scandals, a lot of them unfortunately sexual in nature. It's gotten so bad that any bit of controversy surrounding a popular streamer has started a rumor mill of the worst presuppositions, just ask anyone following the Dr. Disrespect drama following his ban from Twitch. As of now, it seems like Herschel Beahm's departure is due to business disagreements, not sexual abuse allegations, which isn't the case for FinalBossTV.
Article continues below advertisement
A fellow 'World of Warcraft' gamer levied sexual abuse allegations against FinalBossTV.
Hodiaa wrote a lengthy post delineating exactly what occurred during a trip to BlizzCon 2015, where 10 - 15 gamers ended up traveling to the event together and had to share a hotel room (young and broke problems). Many people ended up sleeping on the floor or they shared double beds. FinalBossTV, whose real name is Adam K. and also goes by "Bay," ended up sharing a bed with Hodiaa.
As she tells it, at the time she didn't think anything of the situation as she was young and looked up to Bay at the time, plus it was one of the first big events she ever attended and was excited to be leaving her extremely strict parents' house for an overnight trip. While everyone was laying down to sleep, however, she alleges that Bay began placing his hands on her and touching her "genital area."
Article continues below advertisement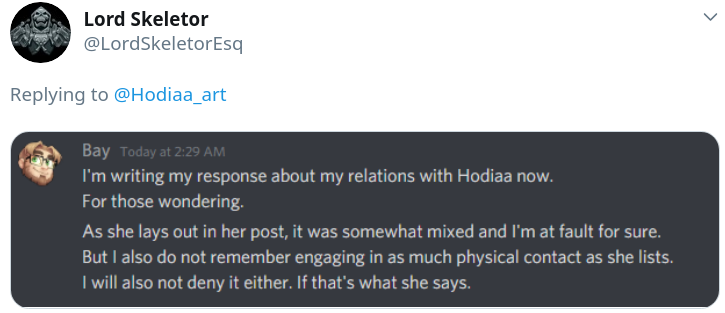 "I had no idea what to do in that situation; I just laid there pretending to be asleep as I thought over what I should do, should I stop him? Should I wake up everyone and call the police? I decided not to do that, because I was afraid if I did, I would never be allowed to travel by myself again. I had strict parents who were very protective of me, and fussed over my safety around strangers. Well, now I can see why," she writes.
Article continues below advertisement
While still at BlizzCon, she "justified it" and persisted in being friendly to him. However, when she got back home, things changed: "After I returned home, the more I remembered what happened, the more I realized how wrong it was, and how disgusted I should really feel. And I did. I felt like puking every time I heard him speak on voice comms. I told the GM about it, I told the officers about it, what they told me was: 'We can't punish him in game for what he did in real life.'"
Article continues below advertisement
Hodiaa hadn't planned to make her allegations against FinalBossTV public until he aired them out first.
Hodiaa says that Bay didn't reach out to her to speak about the event until years later, which she believes was spurred on by the fact that tons of livestreamers were having their careers compromised in light of sexual abuse allegations. He sent her the following message, saying that he doesn't really remember what happened between them, but he apologized for thinking that there was some unspoken attraction between the two.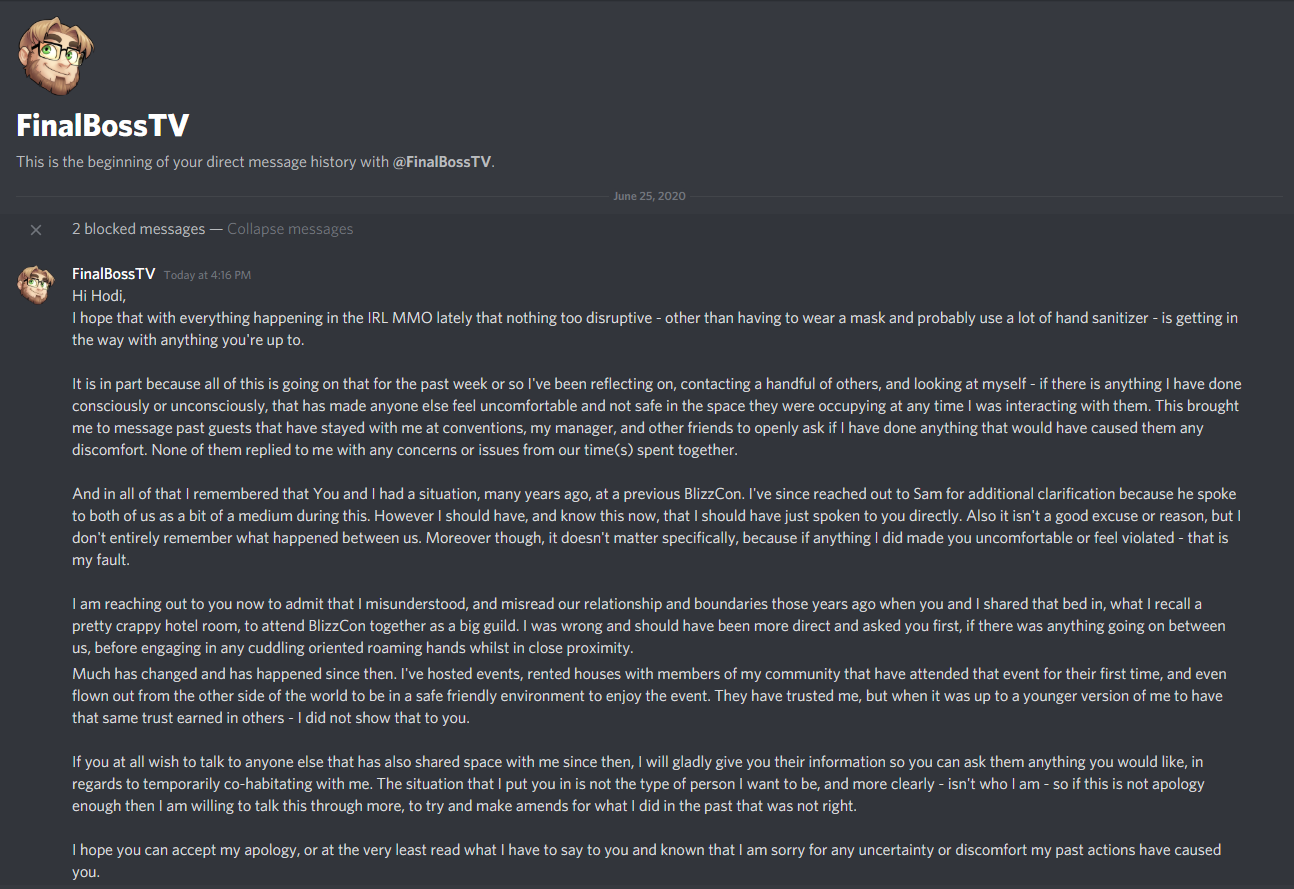 Article continues below advertisement
Hodiaa wasn't buying his "half-assed apology" and told him that she gave "up seeking justice [and] decided to move on." She added that she's "not an idiot" and flat-out told him he was "jump[ing] on the apology wagon." She shared some other choice words and then summarily blocked him from sending her further messages.

Article continues below advertisement
She decided to break her silence after he addressed the matter online and wanted to get her side of the story out before other people began making suppositions as to what occurred between the two of them.
Redditor handheldpillow compiled various tweets and video responses from Bay and Hodiaa regarding the incident in a handy thread here in case you wanted to follow more of the drama.
Article continues below advertisement
In a move that's rubbed a lot of people the wrong way, handheldpillow mentioned that "Bay has turned on sub-only vod's in an attempt to make money off his statement." Currently, the streamer is taking a "break" by only providing content to subscribers as of now.
If you need support, The National Sexual Assault Hotline is available 24/7 at 1-800-656-4673. You will be connected with a trained staff member in your area. Or visit RAINN.org to chat online with a support specialist at any time.