Woman's Former Classmate's Tinder Profile Proves Some Bullies Never Grow Up
A woman's friend showed her the Tinder profile of a guy who became class president in the 8th grade just to spite her — not much about him has changed.
School is a tough time, especially the "formative" years where our bodies and minds are going through a ton of changes we're unsure of how to really reconcile.
What makes it worse, particularly for girls, is the very common schoolyard practice of bullying someone you have a crush on.
Article continues below advertisement
This childish bullying is a phase most people outgrow, but apparently not the guy who tried to Meghan's life miserable in eighth grade. She was shocked to receive a message from a friend that showed her middle school bully is not only still thinking about their eighth grade presidential election — he's talking about it in his Tinder profile.

Article continues below advertisement
He lists it right in his bio under his academic achievements — because why shouldn't he still be bragging about it? Meghan "got wrecked" and the whole dating world needs to know that.
Article continues below advertisement
He wrote "Still proud of the time I became class president just to beat someone I found mildly annoying. get wrecked meghan." Meghan clearly left quite an impression on him, and when she shared a screenshot of his profile in a tweet, the internet crowd went wild. Cullen here devised a master plan that would make the most out of this wonderfully bizarre situation.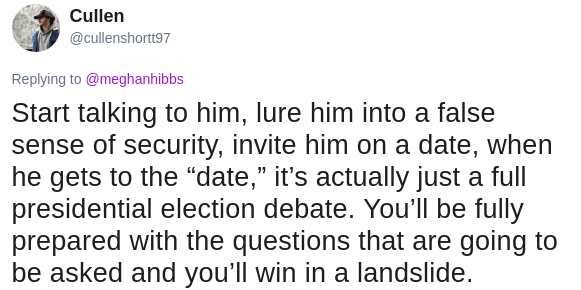 Article continues below advertisement

Some (sarcastically?) asked if this was a "swipe right" situation, which would be amazing if she actually did, planned a date, then stood him up.
Another person claimed it was a blatant display of his misogyny, while others just found it surprising he's still holding onto his middle school victory as if it were the Nobel Peace Prize. Seriously dude, get over it. If eighth grade is when you peaked, that's sad.
Article continues below advertisement


Article continues below advertisement
Many gave their own school election anecdotes to show Meghan that there may be a pattern among people who fight so hard to win such low-level positions of "power." It's proof positive that bullies, now and forever, will always be insufferable.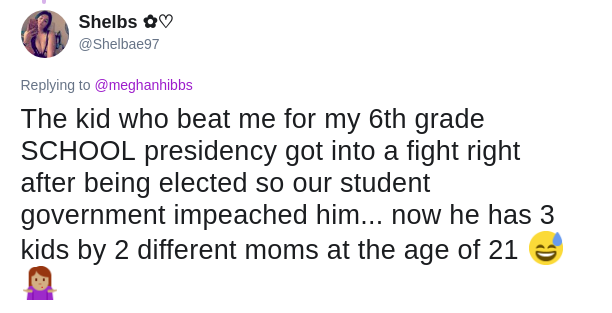 Article continues below advertisement

Meghan ultimately took the high road, unfortunately. However, folks kept suggesting she get some sweet revenge and kept urging her to take action.
Article continues below advertisement

Some tweets even suggested that he may still be crushing on Meghan and that this was just a childish way of showing it. If that's the case then it's not really a good look to Meghan or anyone else on the dating platform. It shows you're all types of petty, it shows you're immature, and it shows the entire dating world that you're still hung up on a girl who obviously made an impact on you a very, very long time ago.
Article continues below advertisement

Instead of trying to get even, Meghan took her middle school tormenter's pettiness for what it was and even changed her username to "get wrecked Meghan". How's that for a win-win situation? After all, she did make an impression on this guy that he can't seem to shake. People thought to remind her of this, in case any part of her is still seeing this as a loss.
Talk about red flags all around. Let's hope for this dude's sake he changes his profile and swaps out that rusty engine block photo. Or he could embrace it and replace all his profile pics with images of salt shakers.