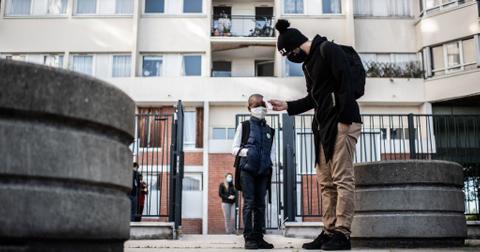 Photo of French Preschoolers Playing in Chalk Squares Provides Glimpse at a Post-Lockdown World
By Mark Pygas

May. 14 2020, Published 7:18 a.m. ET
Countries around the world are starting to reopen after going into lockdown to slow the spread of coronavirus. Many are going about it in different ways, with some choosing to reopen schools while others warn that kids won't be going back until after summer break.
Article continues below advertisement
Nursing and primary schools in France started reopening on Tuesday, according to France24. Classes will be capped at ten students at preschools and 15 elsewhere, with attendance not being compulsory to begin. Approximately 1.5 million children returned to school across the country.
Local reporter Lionel Top was at a preschool in Tourcoing, France, as it reopened. His photos of the reopening have gone viral for providing a glimpse at what a post-lockdown world may look like.
Article continues below advertisement
Top shared one photograph in particular, which has sparked a reaction from social media users. The picture shows children playing in chalk squares to ensure that they maintain social distancing.
"Very strange, even disturbing atmosphere," Top wrote.
Article continues below advertisement
Top told TODAY Parents that children weren't too bothered by the social distancing and that it hit parents much harder.
"They laughed and played together but from far away," he said. "The pupils did not see it like a punishment."
In a further tweet, Top said that parents and teachers were more disturbed by the social distancing. "It makes me sick, you can't imagine," one teacher told him.
Article continues below advertisement
Et si ces photos nous attristent, imaginez ce que ressentent les enseignants... « ça me fait mal au cœur, vous n'imaginez pas » me disait une instit'

— Lionel Top (@lioneltop) May 12, 2020
And social media users were just as disturbed by the photographs. "The picture of the children in the chalk squares will eventually illustrate this very strange situation in the history books later," one user wrote in French.
Article continues below advertisement
La photo des enfants dans les carrés dessinés à la craie finira par illustrer cette situation bien étrange dans les livres d'histoire plus tard...

— Antoine Diot (@antoinediotbw) May 12, 2020
Others were more optimistic, with one user saying that it "is not great but at least the children are not cloistered at home."
Article continues below advertisement
Faut arrêter de se lamenter constamment, non ? Il y a une situation exceptionnelle qu'il faut gérer, ce n'est pas génial mais au moins les enfants ne sont pas cloîtrés chez eux.

— Stephanie B (@chumunue) May 12, 2020
"You have to be completely crazy to impose this on children and believe that it will have no repercussions on their conception of school, not to mention the school phobias that lie ahead," another user suggested.
Article continues below advertisement
Faut être complètement cinglé pour imposer ça à des petits et croire que ça n'aura aucune répercussion sur leur conception de l'école, sans parler des phobies scolaires qui s'annoncent....

— patricia chaibriant (@PChaibriant) May 12, 2020
Most governors in the United States have ordered or recommended that school closures continue for the rest of the academic year, according to CNN. Officials in 48 US states, as well as Washington DC, don't want schools to open. Schools in all five territories will also remain closed.
The best way to prevent contracting or spreading coronavirus is with thorough hand washing and social distancing. If you feel you may be experiencing symptoms of coronavirus, which include persistent cough (usually dry), fever, shortness of breath, and fatigue, please call your doctor before going to get tested. For comprehensive resources and updates, visit the CDC website. If you are experiencing anxiety about the virus, seek out mental health support from your provider or visit NAMI.org.