Woman Confronts Frontier Employee After Being Told Her Purse Doesn't "Fit" in Size Bin
Frontier Airlines is getting slammed in a viral TikTok from a passenger who refused to pay extra for bringing her purse on board.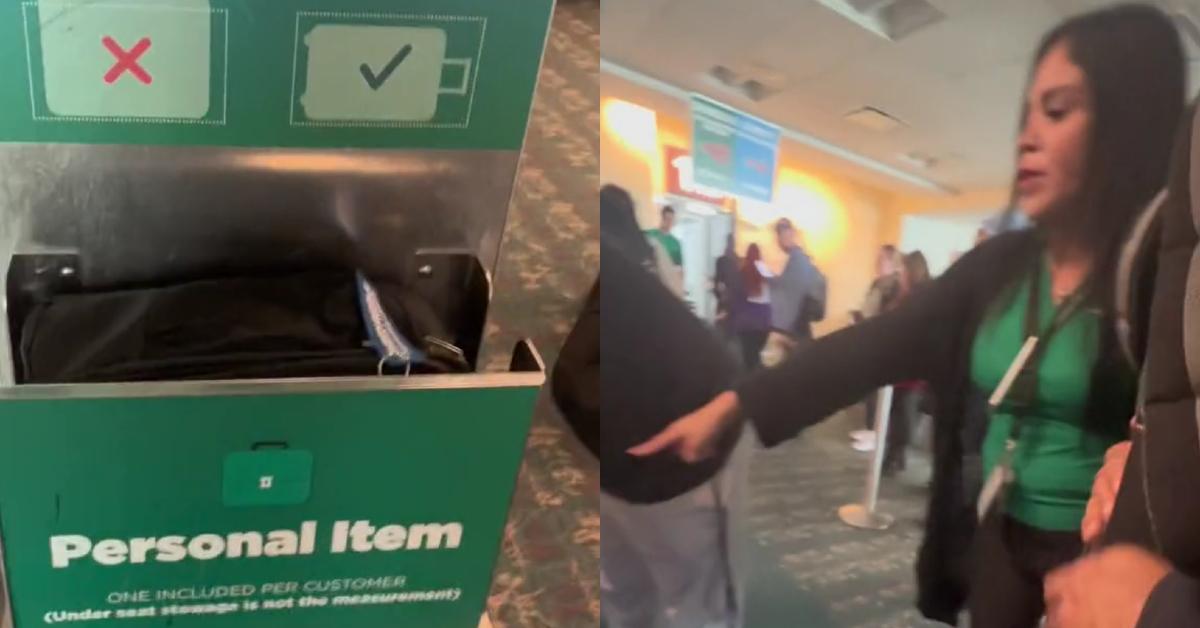 Budget airlines are often criticized for nickel-and-diming their customers in an attempt to make up for the relatively low fares that they charge for flights, especially Spirit and Frontier.
Article continues below advertisement
However, the latter airline has been receiving a ton of flack online for a particularly skeezy practice and that's putting an extremely strict size limit on personal carry-on items, one that the airline has been extremely strict in enforcing as of late.
Article continues below advertisement
So how does Frontier measure the size? Well, there are personal baggage-size checkers located directly out of the Frontier terminal gate. Fliers must place their item in the pre-sized box, but apparently, if a passenger has to "push" their item into it, an employee can determine that the item does not fit, forcing the flier to fork over some extra cash to board the plane with it.
And one TikToker named Irina (@irinakaulitts1) recorded what this boarding process outside of a Frontier flight looks like and captured an overbearing employee policing the bag sizes of a number of passengers. What's concerning in the video is that Irina's handbag appears to perfectly fit inside of the pre-sized metal box, but she is still told to pay the fee regardless.
Article continues below advertisement
In the clip, Irina stands in front of the "bag checker" box outside of the Frontier Airlines terminal where passengers must place their personal items/carry-on luggage to see if they fit.
Article continues below advertisement
The TikToker writes in a text overlay of the clip: "Looking for Frontiers Airlines victims"
"If it fits there you need to pay for your carry-on sir," the attendant says to one of the passengers.
Irina tells the Frontier employee that her luggage fits inside the box, but the attendant seems to disagree: "You were forcing the bag..." the TikToker begins to protest and the employee cuts her off "No you were forcing the bag you can't force the bag," she repeats, looking away from Irina.
Article continues below advertisement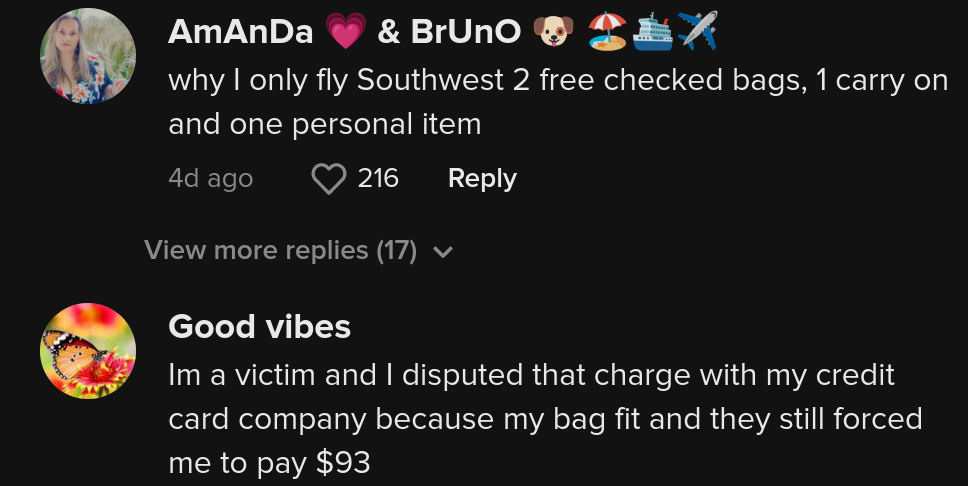 "You need to step on the side, pay for your bag," the attendant tells Irina, who won't move from the bag-fit checking area.
"Sir, you need to pay for your carry-on," the Frontier Airlines attendant shouts to another flier. "Step on the side please pay for your carry-on sir," she continues to say, waving her hands in the air and directing customers to a payment kiosk.
Article continues below advertisement
Irina then approaches another Frontier Airlines employee to inform them that her bag does fit inside the box. She demonstrates that it does indeed fit in the metal box, which she briefly shows on camera before she is asked by the female attendant to stop recording.
The TikToker refuses to comply with the employee's request, stating that they're in a "public place" and she is able to record if she chooses to do so, before the video cuts out.
Article continues below advertisement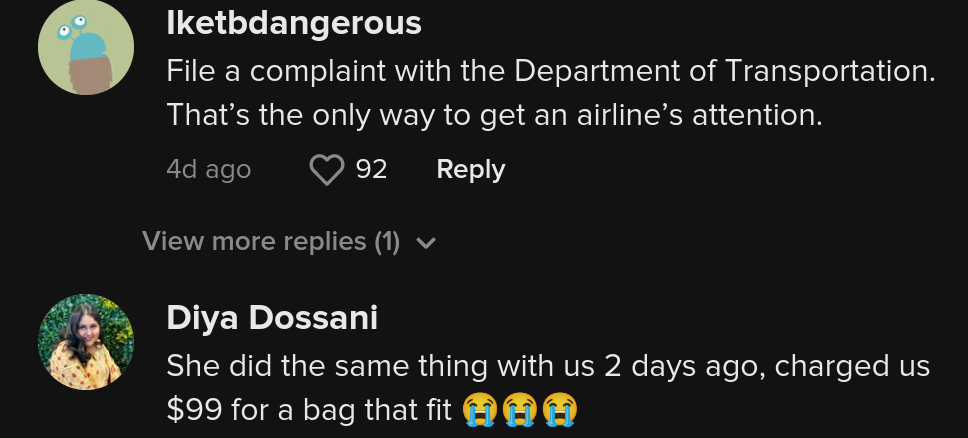 You might be wondering to yourself: why are Frontier employees so assiduously pursuing these fees? Well, the airline is purportedly paying its workers "bonuses" for every single fee that they charge passengers, meaning that they're earning a commission on the number of people they're able to finagle some extra money off of.
Article continues below advertisement
One commenter suggested that a massive class-action lawsuit be levied against Frontier for the practice: "Someone needs to file a class action. It's fraudulent to charge passengers for bags that meet size requirements"
Another speculated that Frontier employees must get a commission due to how much they persistently dog customers to pay the extra fee: "Gate agents must get a cut of the take."
Article continues below advertisement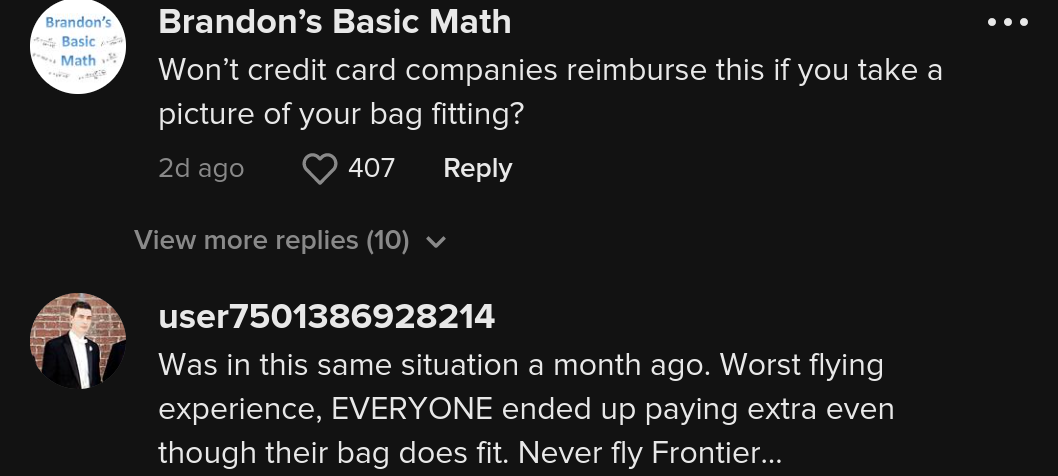 And then there was a TikTok user who suggested that Irina simply dispute the transaction on her card and contact the Department of Transportation: "Dispute the flight & everything with your bank & send them the proof. Then contact the DOT"