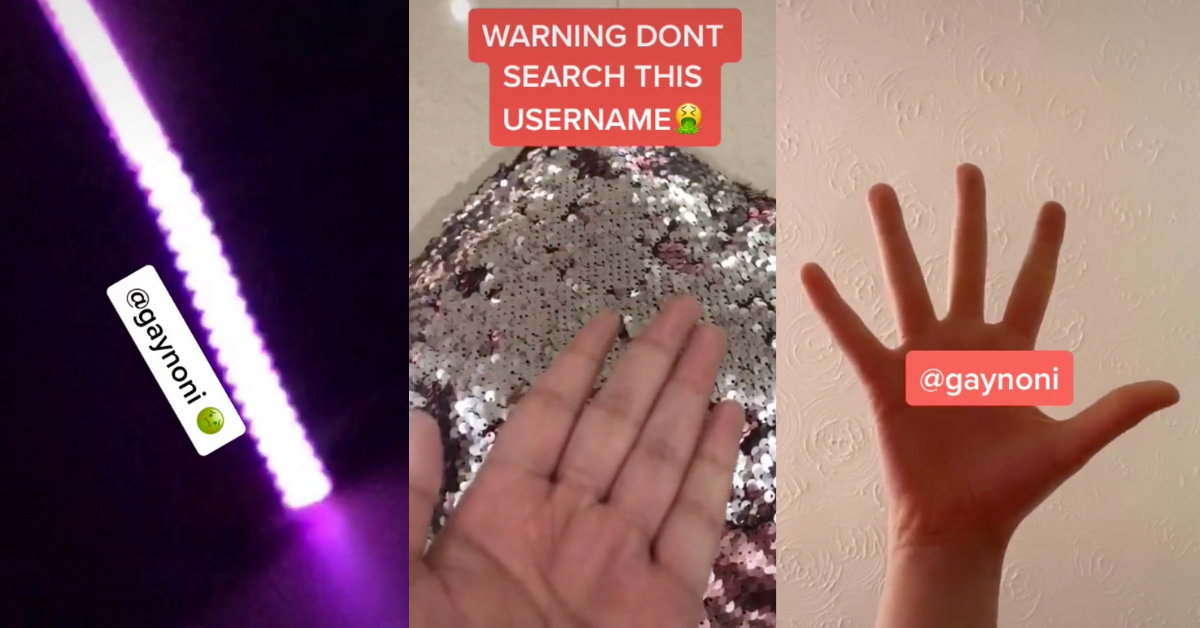 TikTok's Newest Trend — #Gaynoni — Is Strange and Confusing
It seems like there is a new TikTok trend almost daily. From new dances to memes about the latest pop culture news to some sort of challenge, TikTok has become a place where creators can really just let it all go and be weird. That's been made abundantly clear with the latest trend taking over the popular social media app.
Article continues below advertisement
There is something going around TikTok that mentions a username called @gaynoninin. There are multiple videos either tagging that account or using the hashtag #gaynoni or #gaynoninin. So what is this new trend and does it even have a purpose?
What is #Gaynoni on TikTok?
Currently, there are over 200k views on many different videos on TikTok who have used the hashtag #gaynoni. Some of the videos are in English while many others are in different languages though in some it's clear they are still talking about this mysterious "gaynoninin" or "gaynoni" character. The word has been used in a couple of different variations, depending on the video, including "gaynoni," "gaynoninin," and "gaynonin."
Article continues below advertisement
The username @gaynoninin leads to a TikTok profile with zero videos but over 5,000 followers. Their profile picture is also that of a topless woman. The mystery lies in the fact that many people are mentioning this account, but there is nothing posted to their page. Similarly, there is an account for @gaynoni, which has a whopping 35.5k followers.
Article continues below advertisement
Most of the videos mentioning @gaynoninin or @gaynoni are a warning.
One of the stranger things about this trend is that most of the videos mentioning the @gaynoni or @gaynoninin accounts are warning against other users searching their profile. One user wrote, "What does it do," to which another user responded, "It's inappropriate...It was a boys' p*."
Article continues below advertisement
In another video warning their followers to not go to @gaynoninin's page, a user commented, "OMG IM GONNA GO CRY NOW AND WASH MY EYES OUT," which seems like another clue as to what was originally posted on the account before TikTok (or the user) took it down.
It's safe to assume that, at some point, the user @gaynoninin had an explicit picture on his account. It seems that the videos are trying to stir others away from the TikTok user @gaynoninin, yet, due to all the buzz around their name, they've now gained over 5,000 followers.
Article continues below advertisement
This trend could be a part of Alt TikTok.
If you're unfamiliar, Alt TikTok is a response to the popular videos on TikTok that show influencers dancing and starting "mainstream" trends like "Wipe It Down." Alt TikTok consists of arbitrary, random trends and other "underground" hashtags. Many videos on Alt TikTok will have what some users call "Vine energy" — an ode to the now-deceased video-sharing app that walked so TikTok could run.
This strange and mysterious #gaynoni trend could be linked back to Alt TikTok or it could be something all it's own. Whatever it is, many are wondering what the purpose of warning others to not head to a TikTok account and then tag the page and basically tease intrigue so much so that all anyone wants to do is go ahead and see what the account is all about.