The Giant Banana in 'Mario Kart Tour' Is Actually Super Useful
'Mario Kart Tour' just opened its Tokyo Tour, and if you're looking for new challenges, here's how to use the Giant Banana in 'Mario Kart Tour.'
One of the reasons why Mario Kart is so compelling is because it gives users the ability to do things they can't do in the real world — diving out of the way from giant carnivorous plants, driving a car underwater, and powering up via magic mushrooms are just a few examples.
Article continues below advertisement
Starting this week through Oct. 22, according to Hit C, Mario Kart Tour's Tokyo Tour is available, and it comes with a ton of new features. It's introducing Rosalina as a new driver, as well as a few new courses... one being the highly infamous Rainbow Road, according to Gamepur.
But one of the absolute greatest aspects of the Tokyo Tour is the Giant Banana, a feature that can only be used by one banana-loving driver: Donkey Kong.
Article continues below advertisement
So, how does one use the Giant Banana in Mario Kart Tour?
OK. Diving right into it, the Giant Banana is DK (as well as Morton's) "skill." So, once either of them are able to get their hands (er paws) on one of these massive nanners, they will be able to use it as one of their most dangerous weapons to throw at other drivers.
This will ultimately throw them off course. According to Gamepur, the giant banana divides into three bananas when it's put to use. This makes hitting multiple opponents much easier.
Article continues below advertisement
And you'll want to use it all in order to complete the Giant Banana Challenge. 
However, focusing on placement doesn't matter. You literally just need to make sure you use all three parts of the enlarged fruit. Once you've completed that Challenge, you'll receive more challenges.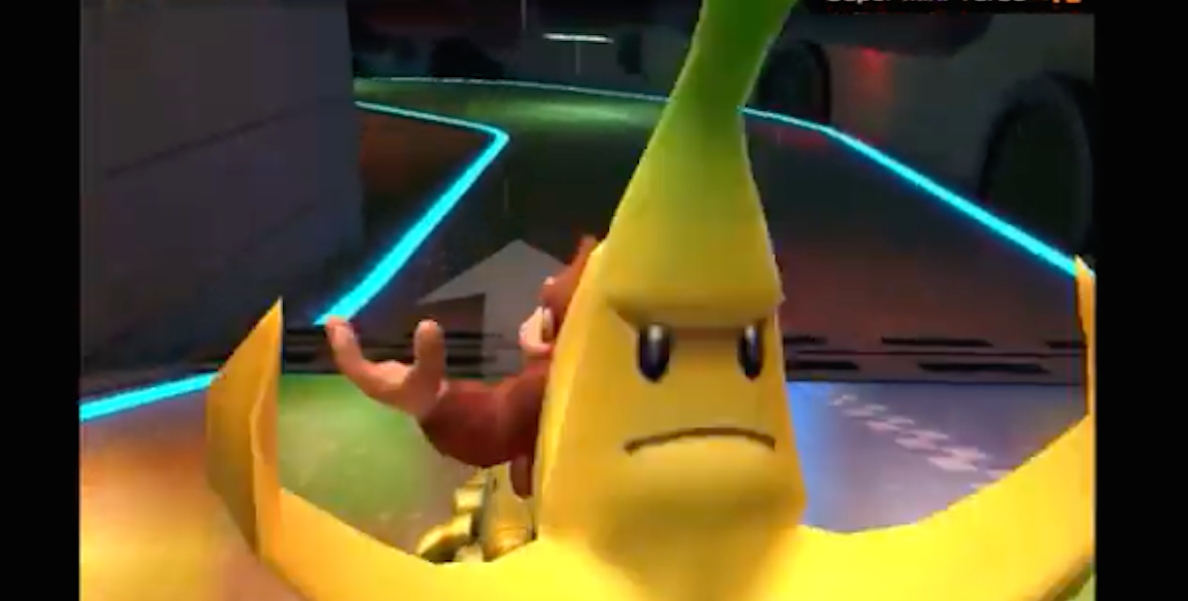 Article continues below advertisement
But how does one obtain a Giant Banana?
Apparently, you have the highest chance of obtaining the elusive Giant Banana from one of the floating item boxes when you're in second or third place. So, if you're already winning, you might not be able to snag one unless you sit back and cruise for a bit.
Getting in a Giant Banana Frenzy makes completing the challenge easier.
Donkey Kong is able to get a Giant Banana Frenzy on Dino Dino Jungle and Rock Rock Mountain, while Morton can get one in the Kalimari Desert.
If you get the Giant Banana Frenzy, completing the challenge in one race is simple. The Frenzy enables you to use your item repeatedly, one after another.
Article continues below advertisement
If getting in a frenzy with a Giant Banana sounds like your cup of tea, definitely take a spin on Mario Kart Tour's Tokyo Tour.
Make sure you remember to complete the challenge, though — it's all the rage in the monkey cage these days.